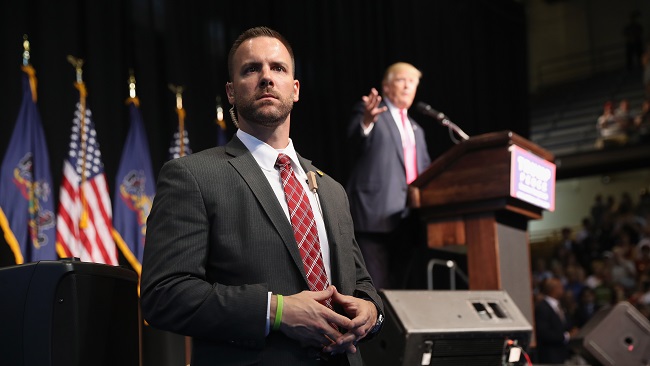 While some of the most heated moments from Donald Trump's campaign rallies have resulted in promising gestures, many of the president-elect's stops en route to the White House were plagued with violence. Many of these shocking moments were between his more boastful supporters and the protesters who confronted him, but sometimes Trump's own security detail got involved. This should prove interesting for his coming transition into the White House, as a new report suggests the New York real estate mogul intends on maintaining his own private security force while in office — despite the presence of the U.S. Secret Service.
According to Politico, the president-elect first broke tradition with "all modern presidents and presidents-elect" by continuing to employ his own private security firm following his election night victory. What's more, Trump plans on keeping "at least some members of the team" on hand following his forming administration's official transition into the White House on Friday, January 20, 2017.
While Trump's apparent preference for his own loyal security force isn't necessarily illegal, their use combined with the Secret Service's required presence has created logistical problems for his campaign before, during and after the election. Jonathan Wackrow, a former Secret Service agent interviewed by Politico, said as much when he described Trump's actions as "playing with fire" since combining a private force with the Secret Service "increases [their] liability" and "creates greater confusion and… risk":

"You never want to commingle a police function with a private security function," he said, adding, "If you talk to the guys on the detail and the guys who are running the rallies, that's been a little bit difficult because it's so abnormal."

Wackrow… said if he were the lead agent at a Trump rally, "I wouldn't allow it." But he suggested it's a tricky situation for the Service. "What are they going to do: pick a fight with the president-elect and his advisers? That's not a way to start a romance."
Keith Schiller, the Navy veteran and retired New York City cop who worked his way up from being Trump's part-time bodyguard in 1999, is most famous for removing Fusion journalist Jorge Ramos from an August 2015 press conference. Since then, Schiller and Trump's private security team have developed a reputation for deploying "rough" tactics and allegedly profiling perceived threats at rallies based on their ethnicity or appearance.
The full extent of Schiller and his team's reach once Trump transitions into the White House remains unknown. Per Politico's report, however, associates familiar with the president-elect's decision indicate that "Schiller is expected to become a personal White House aide who would serve as the incoming president's full-time physical gatekeeper." However, "he might not be able to offer his boss the wide range of services he has in the past" since federal law limits who can and can't carry firearms into federal buildings or anywhere near officials guarded by the Secret Service.
(Via Politico)