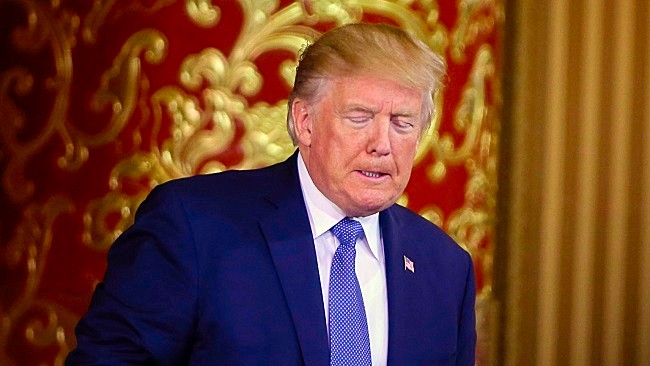 Donald Trump once wrote the book on real estate deals, but he's having less luck making sales in his new line of work. Reportedly, the president's attempts to broker arms deals while touring Asia weren't very successful, which he counts not only as a failure to make a sale but as a potential ding to his reelection hopes. Trump was aware of the stakes riding on this particular tour, and according to Bloomberg, he told his team he needed "quick wins" while already thinking about the next election.
After scoring arms deals in Saudi Arabia and Qatar earlier this year, Trump was likely hoping for a similar boost abroad. But Vietnam not only snubbed American weapons, they decided to buy from Putin instead. Even Secretary of State Rex Tillerson implied that Asian trade — not just of arms, but of all sorts of goods — was a bit of a bust.
Tillerson told members of the press that there is "a lot of work left to do to progress trade to the point that it will achieve President Trump's objectives. If you look at things from the perspective of Asian leaders, however, there's not much reason to do business with Trump. He abandoned the Trans-Pacific Partnership trade deal as soon as he took office. Since then, Trump has been provoking Kim Jong Un and uncertain of Xi Jin Ping. Then he showed up and demand the liberation of shoplifting basketball players without offering up much in return besides a lot of missiles.
Scott Snyder, Director of the Program on U.S.-Korea Policy, noted of Trump's Asian tour that "the president's presence in Vietnam and the Philippines at the region's premier regional gatherings was the minimum prerequisite. But in the absence of a more specific and clearly articulated regional strategy toward Southeast Asia, it will likely be seen as falling short of expectations."
(Via Bloomberg)