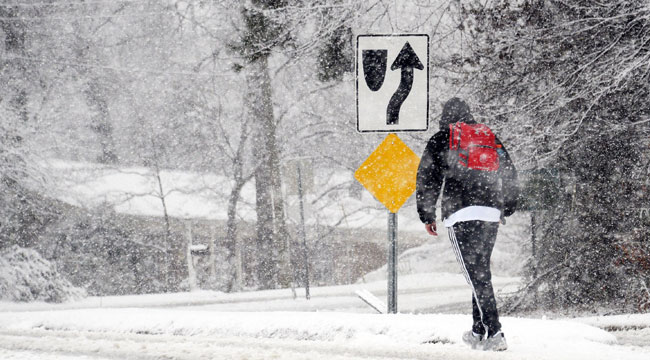 The current round of frigid weather striking the South may not have the sheer volume of show or the notorious labeling of the recent "bomb cyclone," but the storm is just as devastating in terms of lives lost. The Weather Channel reports crippling effects from the storm that's brought snow, ice, and record cold temperatures in several states, including Georgia, Louisiana, North Carolina, Oklahoma, West Virginia, and Texas.
The affected states are, by and large, unaccustomed and ill-equipped to cope with the treacherous conditions, which have resulted in at least 10 deaths (4 of them occurring in Louisiana), according to the Associated Press:
At least 10 people died, including a baby in a car that plunged off a slippery overpass into a Louisiana canal.

Icicles hung from a statue of jazz musicians in normally balmy New Orleans, and drivers unaccustomed to ice spun their wheels across Atlanta, which was brought to a near-standstill by little more than an inch (2.5 centimeters) of snow. The beach in Biloxi, Mississippi, got a light coating. And the University of North Carolina at Chapel Hill canceled classes as the storm unloaded at least 8 inches (20 centimeters) of snow in Durham and Greensboro.
On Tuesday and Wednesday, over 100,000 homes and businesses lost power, and hundreds of cancelled flights frustrated travelers in Atlanta, Charlotte, Houston, and New Orleans. As for road travel, conditions were so dangerous that they challenged the likes of NASCAR driver Dale Earnhardt Jr., who tweeted from North Carolina that he "center punched a pine tree" after helping some stranded motorists.
However, the Associated Press notes that Dale Jr. wasn't hurt, and his truck sustained only slight damage.
NBC adds that states of emergency have been declared in Alabama, Georgia, Louisiana and North Carolina. As a result, countless school districts closed, and some government offices saw reduced operations. Fortunately, some slightly warmer weather is on the way soon, and much of the South should rise above freezing on Thursday with some true relief arriving this coming weekend.
(Via Weather Channel, Associated Press & NBC News)