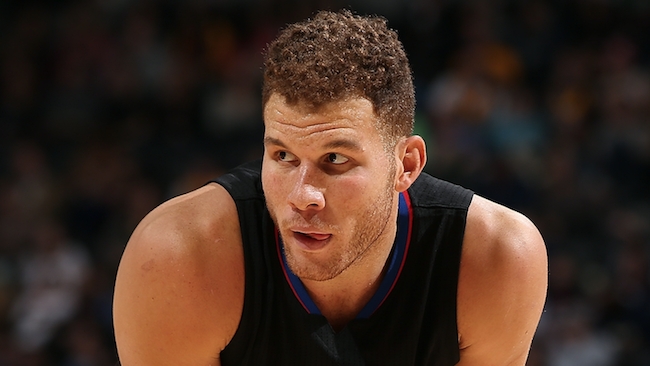 This is a huge season for the Los Angeles Clippers. Why? Not just because the team's aged roster is another year older and creakier, but also because several of its key players could be on the way out as free agents next summer.
Most important among them to Los Angeles' long-term prospects is Blake Griffin, who has the option to terminate the final season of his existing contract and hit the open market come July. As he told Sirius XM NBA Radio on Wednesday, though, the Clippers superstar has barely considered free agency – and certainly hasn't discussed it with anyone whatsoever.
"Honestly, it's nothing I even really think about. I haven't had the conversation with anybody. That includes friends, family, agents, coaches, teammates; it's not a conversation I have. I've got a lot of basketball left to play this year. Got a full season, postseason, still got preseason, so that's on the back of my mind. I'll deal with that when the appropriate time comes, but right now isn't the time."
Griffin might not be thinking about free agency, but the basketball world is definitely doing it for him. The possibility of the Oklahoma City native returning home to team with Russell Westbrook was broached even before the latter signed an extension. Thunder fans would obviously love to see that happen; what better way to ease pain gleaned from Kevin Durant's departure than replacing him with a homegrown All-NBA peer?
On the other hand, a report from late August cited people close to Griffin as being "adamant" he would re-sign with Los Angeles. One problem: These latest tidbits directly contradict that story.
Either way, expect Griffin to become a free agent next summer. The $21.3 million he's currently owed for 2017-18 is a substantially smaller amount than what he'd receive in a newly-signed maximum contract. Under a projected cap of $102 million, the five-time All-Star's initial max number would be just a shade below $30 million.
All of which is to say, let's revisit this possibility come June. For now, any talk of Griffin re-upping with or bailing on the Clippers is accompanied by a big grain of salt.
(h/t Hoops Rumors)