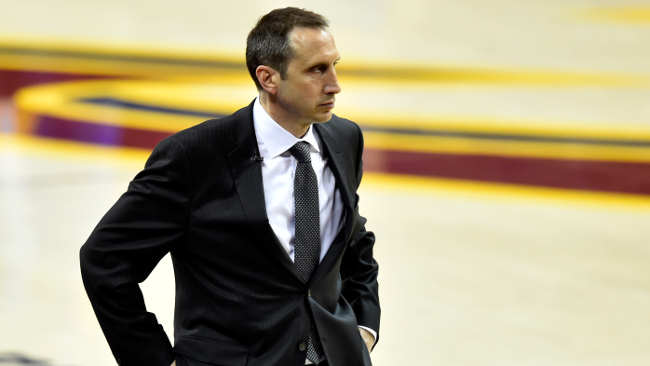 USA TODAY Sports
During the playoffs, the rotations tend to tighten as coaches aim for consistency. But game plans also tend to go awry, especially in a long series when opposing coaches grow familiar with each other's schemes and are forced to make adjustments and shift their priorities accordingly. During the Finals, in particular, there is an underlying danger in these types of reactionary tactics, but the stakes are such that they simply can't afford to stick to the status quo when it's no longer getting the desired results.
Steve Kerr understood this prior to Game 4 of the NBA Finals with Golden State facing the possibility of what would be a nearly-insurmountable 3-1 deficit. Shaking things up the way he did was risky business, but it also paid dividends and likely saved the Warriors' season.
Andre Iguodala was penciled into the starting lineup for the first time all season, and he gave the Dubs the jolt they'd been so desperately searching for by putting up 22 points and eight rebounds while pestering LeBron James into his worst game of the series. Andrew Bogut, who'd been the Warriors' defensive anchor all season, played less than three minutes. Kerr also awarded David Lee significantly more playing time after his perfect outing in Game 3.
When all was said and done, the Warriors' reconfigured small-ball attack seemed to work and resulted in the largest margin of victory for these Finals so far, a 103-82 win and a seismic shift in control of the series as they ride that momentum back to Oakland for Game 5 on Sunday.
But there were other factors at play. The Cavaliers are visibly fatigued, mostly because David Blatt is only playing a seven-man rotation. He has little other choice thanks to a rash of injuries that depleted his roster at the most inopportune time. The walking meme that is Matthew Dellavedova has played like a man possessed, but that burden finally caught up with him after Game 3 when he was hospitalized overnight for severe cramps. Delly was clearly still feeling the effects Thursday in Game 4 as he was mostly ineffective on both sides of the court, scoring just 10 points on 3-of-14 shooting and posting a minus-12 net rating.
LeBron also proved that he is, in fact, human and not some basketball-playing cyborg sent from the future to destroy his opponents. Even before his spill — which resulted in nasty lacerations to his head that had to be stitched up after the game — LeBron was struggling, and despite nearly posting a triple double, he was just 7-of-22 from the field and minus-15 for the game.
It was inevitable that LeBron would eventually hit a wall, given the Herculean task he's undertaken to drag this motley crew of overachievers to a championship. Through four games, he's played 183 minutes, by far the most of any player in the series.
Both teams have an extra day of rest before Game 5, but some are now wondering whether Blatt should take a page from Kerr and consider readjusting his lineup, which would ostensibly entail giving the nod to aging veterans like Mike Miller or Kendrick Perkins, who have played less than 20 minutes combined this series, or Shawn Marion, who hasn't sniffed the court at all during the Finals. According to Brian Windhorst of ESPN, there has indeed been some complaining about this among certain of the bench players:
"Several sources said Marion, who already has announced he'll retire following the season, is especially itching to get a chance. He's recently been bothered by a calf injury and also dealt with a hip injury in the regular season but is healthy and able to go."
Count LeBron among those who agree that a little extra rest wouldn't be a bad idea:
"That's the coach's decision if he decides he wants to go deeper in the bench," James said. "We haven't played many guys throughout this playoff run. I think it would help some of the guys that are playing some high minutes, for sure. Just give guys a couple minutes here, a couple minutes there. But I think the coaching staff will try to do what's best to help us be physically and mentally prepared for Sunday."
Blatt has every reason to be reluctant, given the fact that most of these players have been nonentities for the majority of the season and the postseason, but it's a catch-22 considering the fatigue factor. And how long can Blatt afford to stick with J.R. Smith, who's been positively atrocious the past four games, including his 2-of-12 outing in Game 4, including 0-of-8 from downtown, and a game-low minus-27 net rating?
Blatt's coaching has been superb so far during the Finals as he's transformed this rag-tag team into an unlikely defensive juggernaut, and it'll be interesting to see whether he sticks with the program or explores other avenues once Game 5 tips off back at Oracle Arena Sunday at 8 p.m. ET on ABC.