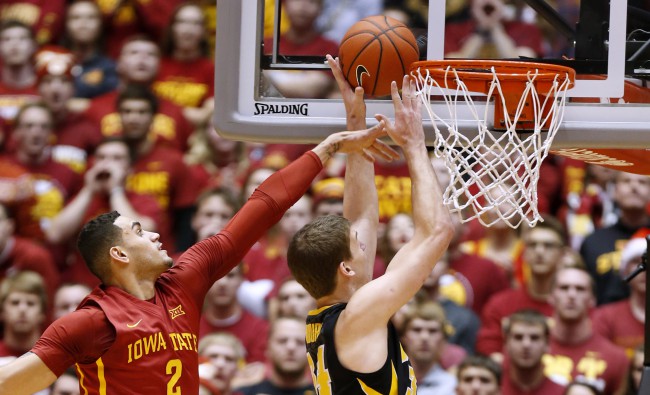 It's early in the 2015-16 college basketball season, but Iowa State probably had the comeback of the year against Iowa. The Cyclones rallied from what was a 20-point deficit (62-42) with 16:26 left in the second half to beat the Hawkeyes, 83-82. Monte Morris' jumper with 10 seconds remaining gave Iowa State the lead in what would ultimately be the game-deciding basket.
Even though Iowa State is ranked fourth in the nation and Iowa is unranked, such a comeback over a huge rival is a pretty big deal. And since this is college, where young people do things in the heat of the moment without thinking, it wasn't surprising to see Cyclone fans storm the court in celebration.
In the process, though, Iowa State beat writer Randy Peterson of the Des Moines Register sustained a broken leg.
Storming the court (and field) is a hot-button issue in college athletics. As Scott Van Pelt of ESPN opined, they're fun and traditionally part of the experience. However, all the fun typically goes out the window the moment someone — who's simply in the area doing their job, no less — reportedly suffers a compound fracture in their leg. There's a dangerous side to storming the court and now Iowa State may have to deal with the very real possibility that Peterson takes some sort of legal action.
No one enjoys being an active member of the fun police, but the risk of injury far outweighs the thrill of the moment — at least for the universities. They are the ones, after all, responsible for everyone's safety. Fans who aren't thinking clearly can do what they want, and even get hurt, without big-picture repercussions.
(Via The Big Lead)