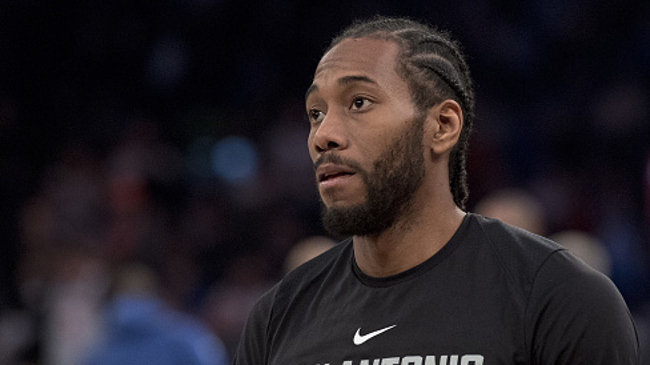 The San Antonio Spurs face an uncertain future after getting eliminated by the Golden State Warriors on Tuesday night. Pau Gasol may be committed to playing again, but many Spurs veterans could be in for summers of evaluation.
Manu Ginobili will mull his future and whether he should come back for a 17th season at age 41, but he has the support of many including Steve Kerr to return for one more run. The case of Kawhi Leonard, however, is probably the most pressing issue the Spurs have to deal with. He played in just nine games this season, and seemed to have issues with the team's medical staff about his injury.
Leonard was not with the team at the end of the regular season and throughout the playoffs as he rehabbed in New York. No one seemed to know exactly what was happening with his health, as the Spurs could not provide any updates and Gregg Popovich regularly referred reporters to Kawhi's "group" for any hope for answers.

Leonard and the Spurs will reportedly have a lot of talking to do during an exit interview the two sides have scheduled at season's end. But according to Adrian Wojnarowski, the team will need to repair a "broken" relationship with Leonard before they will commit to making a supermax offer this summer that could pay him $219 million over the next five years.
"The relationship between Kawhi Leonard is broken, and it's got to be put back together again before the Spurs are going to make that kind of commitment to a player. And that's going to take a lot of talking, communication and some comprise here in the next few months before the Spurs can make that offer. But the idea that an organization like the Spurs are going to just blindly walk in and give the biggest contract in franchise history to a player who has behaved the last few months like he doesn't want to be a part of them, it's not going to happen that way. So, there's a lot of repairing that's going to be done before they even make that offer, I believe."
If things really aren't fixable with the Spurs and Leonard, the team could trade him. That sort of talk has been quietly shot down by those close to the team, but there will certainly be a lot of attention on Leonard in the market should it come to that.
(transcription via NBC Sports)