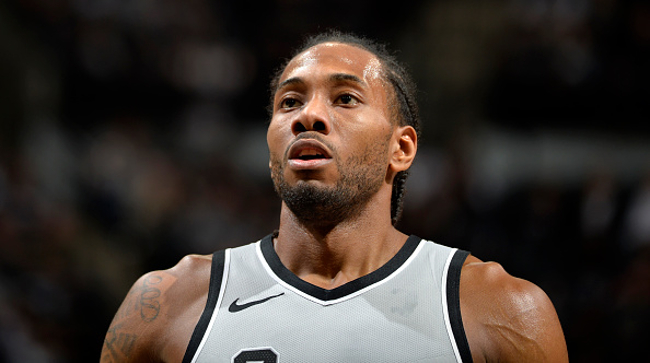 The weird and wild saga of Kawhi Leonard saw its latest chapter on Saturday afternoon when, well, no one saw Kawhi Leonard. Despite the fact that the San Antonio Spurs faced off against the Golden State Warriors in Game 1 of their opening round series, Leonard was nowhere to be found. He wasn't on San Antonio's bench, nor was he sitting in the crowd.
When put up against the fact that Steph Curry was in the crowd cheering on his teammates en route to a win, it was certainly a strange sight to behold. Perhaps this game will just be an outlier and he'll end up being there eventually, whether it be for Game 2 or once things move back to San Antonio.
But as Sam Amick wrote in USA TODAY Sports, this absence was the latest instance regarding Leonard that piqued the interest of executives around the league. Apparently, teams are monitoring whether the ongoing saga between Leonard and the Spurs, and are intrigued as to whether San Antonio will give him a contract extension this summer or if he'll be put on the trade block.

Should that be the case, Amick reports the Los Angeles Clippers are getting prepared to make a move. The Clippers reportedly are "planning a trade package" in the event that the opportunity to strike comes about.
Consider the Los Angeles Clippers one of the many teams keeping tabs on the situation. The Clippers are planning a trade package if Leonard ultimately becomes available, according to a person with knowledge of the situation.

The person spoke to USA TODAY Sports on the condition of anonymity because of the sensitivity of the situation.

Landing Leonard – who grew up outside of Los Angeles in Moreno Valley, hails from San Diego State and is known to be a favorite of Clippers consultant Jerry West – would be well worth the hefty price it would take to get him. Maybe the Clippers offer their two first-round picks in this June's draft, and whatever combination of other talent the Spurs want in return. And suddenly, they're back in Western Conference contention again.
The Clippers have a pair of lottery picks: their own and the pick that belongs to the Detroit Pistons. Both are expected to end up near the bottom of the lottery, but in what is expected to be a really good draft, those are valuable assets.
If a team is going to push all their chips into the middle of the table, it makes sense to do it for a player the caliber of Leonard. Los Angeles presumably wouldn't be the only team that tries to go all-out to acquire the MVP candidate — assuming everything checks out with his injured quadriceps, of course — but if the Spurs and Leonard decide to make a longterm commitment to one another, all of this would end up being for naught.
(Via USA TODAY Sports)