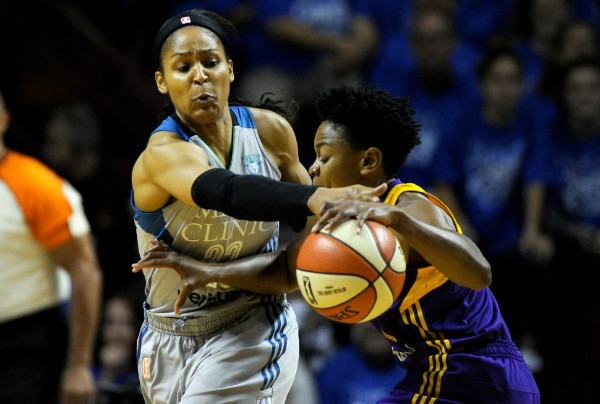 Before this season, one could've said that Maya Moore and the WNBA Finals were synonymous. Unfortunately for Moore and the Minnesota Lynx, 2018 was the first time in nearly five years that her team didn't reach the WNBA Finals. So Moore did something different than something she normally did, she announced that she wasn't playing overseas in Europe this year.
However Moore isn't taking the entire offseason off, instead she's helping U.S Cellular figure out who's the best coach in the nation at the K-12 level. Each of the Final 15 coaches will win $5,000 for their schools. The schools of the top three winning coaches will receive a $50,000, $20,000 and $10,000 donation, respectively
Moore spoke with Uproxx about her involvement with the program, whether she feels she has a future in coaching, her toughest WNBA season in a long time and whether or not we'd see her on Area 21.
You're doing this coaching series with U.S. Cellular. You've had some pretty good coaches in your career. What would you wanna pass on to the next generation?
Yeah, absolutely. I am of course just excited to be I teamed up with U.S. Cellular for the Most Valuable Coach Program. It's a program that honors and celebrates coaches K-12, so that really important time when those kids are young.
We get to vote for the Most Valuable Coach at themostvaluablecoach.com to make sure that our favorite coaches and our best coaches get a chance to get recognized. So as somebody who's had great coaches, I know how important it is to be coached well.
The most inspiring coaches are ones that really care about you as people, and try to bring out the best in you as a player and a coach that really inspires them on and off the court. I would just definitely encourage coaches out there to go to the website and look at some of these coaches get inspired and just remember the impact that your making on the kid.

You note K-12 is some of the most important coaching stages in a young athletes life. What was the biggest lesson you learned in K-12?
Wow, looking back at my time growing up there was a lot of development that happened in that K-12 time. I remember my first basketball team at age 7 and I think the main thing I remember from age 7 is the fact that I was like the only girl on the team that could actually get the ball into the hoop. I don't remember too much else other than eating pizza and orange slices after games.
But as I got a little bit older I did start to get more competitive and I remember having to learn how to lead and learn how to win well. And I think just overcoming adversity and working hard with all the little details are two things that I remember learning in my high school years and that really does help define my championship ways and the team that I've been on and overcoming adversity and to execute the little details together to just be a teammate.
Is there any potential coaching in your future?
(laughs) Maybe from the couch. To be a coach involves so much sacrifice and a lot of it is really rewarding work. I definitely know how hard it is just watching the great coaches that I've had and how much they've poured into it. So I don't know. That's a big jump.
You've announced that you're not playing overseas this year. What other changes are you planning to make to your game going into next season?
Honestly, I've really tried to do a good job this year of just kind of of decompressing and disconnecting for a little while. To recharge my batteries. You know this year was one of the hardest years of my career as far as going for about eight straight months. Right now, I'm not committed to anything right now and I'm just trying to rest and recover and just connect with family and friends. Next year will be here soon though.
Is there anything that you could take from this season that you are going to bring into next season?
I really am happy about the way our team has continued to fight throughout the season. Winning masks a lot of things, but to be able to stay together while your struggling. It proves a lot and I think it gives the team confidence knowing that we can weather storms.
I know that you've talked about resting but is there any chance we're gonna see you on Area 21 like Candace Parker during this upcoming season?
I haven't made any plans to be on KG's Area 21, but it definitely seems entertaining entertaining off the court moments with KG. No matter where KG is he's gonna bring some entertainment, so yeah we'll see.
U.S Cellular has reached the Top 50 voting stage of The Most Valuable Coach, you can participate at themostvaluablecoach.com/vote .Polls will close for the Top 50 voting stage on October 8th at noon CT.