Even in his sophomore year in college, the legend of Michael Jordan had started to grow to pretty unbelievable levels. His shot against Georgetown in the NCAA Championship his freshman year gets burn pretty much every March, his block against Ralph Sampson earlier in his sophomore season during a game in which UNC snapped Virginia's 34-game home winning streak still gets brought up in ACC circles, and his dunking ability started to show itself whenever there was an opening.
It was another block that still leaves people gasping any time the clip gets played. In the final regular season game of the 1982-83 season, North Carolina played Duke in Cameron. The Tar Heels turned it over after Jordan passed it into the post, and with Duke on the break, it seemed like the Blue Devils would have a really easy transition opportunity.
Duke guard and current Stanford head coach Johnny Dawkins had a step on Jim Braddock, who was still trailing to get back on the play, and Dawkins went for the layup. Almost out of nowhere, there was Jordan, flying through the lane and getting up so high that he hit his head on the backboard.
The Play
All men are created equal? Total bullsh*t. That's a lie.
~ Jay Bilas
The play was called a goaltend, and Dawkins got two points. But that's not important. What is important is that Michael Jordan hit his dang head on the backboard on a fast break getting back to try and block a running hook shot.
"That happened every once in awhile where somebody would do something in a game where you'd go, 'Shoot, I've never seen that before. I can't do that.'" Former Duke player and current ESPN analyst Jay Bilas told UPROXX Sports. "When Len Bias or Ralph Sampson or Jordan would do stuff that you'd say just wait a minute, I don't have that in my bag. All men are created equal? Total bullsh*t. That's a lie."
Jordan actually had to be tended to after the play because his head hit the backboard so hard and with so much speed. He was clearly shaken up, and he came out of the game. Bilas remembers not even knowing what to do at that point.
That doesn't happen. That's not supposed to happen.
~ Jay Bilas
"I don't really remember anything after that except for thinking: we have to go back out there?" Bilas, who was a freshman at the time, said. "Do we have to? That doesn't happen. That's not supposed to happen."
People knew by then that Jordan was a special player. As Bilas notes, "We had already seen some of the crazy stuff playing pickup before the season started. It's not like the fact that he was a stud came as any surprise to us." Plays like that were different. They were plays no one was supposed to be able to make, and in real time and in person, there they sort of plays you end up talking about for decades.
Even Jordan himself was surprised at the fact that his body could do things like that. He was still coming into his own and learning how to harness the gifts he had in college.
Every once in awhile, that sheer athleticism would burst through and be impossible to ignore.
"That was the amazing thing about his game and his athletic ability," author Roland Lazenby told UPROXX Sports. Lazenby recently penned Michael Jordan: The Life, a book where he dug into Jordan's past, including his family's relationship to the state of North Carolina, as well as Jordan's post-basketball life up through when he bought into the Charlotte Hornets. "The things he did surprised even him. He had no idea he could do these things. I will tell you pretty clearly he was shocked he hit his head on the backboard that day."
Dean Smith's Influence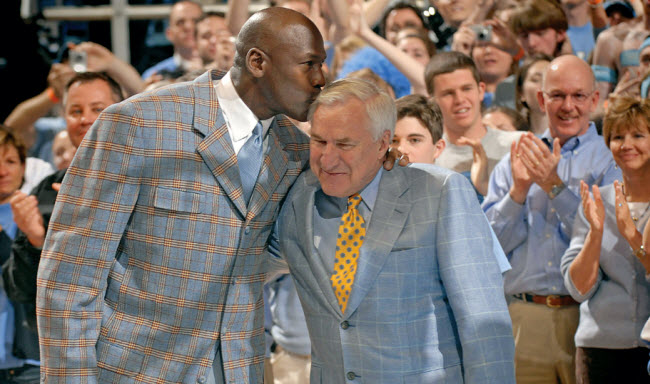 Dean Smith had a system that hid the athleticism of his players and it hid Jordan's athleticism.
~ Author Roland Lazenby
Michael Jordan became Michael Jordan in large part because of Dean Smith, but Michael Jordan was also held from being Michael Jordan at times because of Dean Smith. Smith wasn't a fan of flashy play, he emphasized team ball, and he shortened the game with his Four Corners offense.
Jordan's skill and explosiveness came out anyway. That was just Jordan. His Airness still found ways to wow everyone in sustained and targeted bursts. Just when you thought you'd seen him do something you've never seen before, he'd do something else to top it.
"Dean Smith had a system that hid the athleticism of his players and it hid Jordan's athleticism," Lazenby said. "The NBA scouts back then complained bitterly that Carolina's system made it hard for them to scout Carolina players because they couldn't tell how athletic they were. It was a challenge. When Jordan had his famous dunk against Maryland [in 1984], even though the ACC was using it in its promos, Dean Smith wouldn't allow the footage in his show. The one place where a player could show athleticism without getting into trouble with Dean Smith was on the defensive end. It's just the nature of how he ran things."
There was no hiding Jordan's athleticism when he'd make a play like that on the defensive end, and even Smith was likely pleased at the effort his star showed to get back on defense and try to stop the break.
Although there's a pretty good chance the Tar Heels coach didn't want Jordan hurting himself on the backboard. That's just the risk you run when you're as talented as Michael Jordan.