The 2015-16 NBA Season starts soon, preseason hoops are in full swing, and playoff prognostications have begun in earnest. Since season previews can get bogged down by team-specific minutiae, and we cover every basketball team, we're providing our readers reasons why you should care about all 30 teams in the Association.
---
---
The Milwaukee Bucks are traditionally thought of as boring. Don't shoot the weatherman, though; we caught a lot of flak from Wisconsin fans back in June of 2014 when we suggested it was odd how excited Jabari Parker was to be selected by the Bucks with the No. 2 overall pick. But Parker is from nearby Chicago, and the Bucks had just brought Jason Kidd in to coach, something that would excite any young player who grew up watching the Association. Plus, they're actually pretty good? They made the playoffs and everything.
Sure, it's the Eastern Conference, but the Bucks were so dreadful in 2013-14 (15-67) their surprising appearance back in the first round was revelatory. Implicitly, it was also an endorsement for first-year head coach, Jason Kidd. Yes, it was messed up that he reached out to the Bucks while Larry Drew was still technically coach, and only after his Brooklyn coup to replace GM Billy King fell through. But the future Hall of Famer whipped them into shape, and Michael Carter-Williams won't find a better mentor at the point. Plus, holy cow their offseason was almost as impressive as Kidd's inaugural year along the sidelines at the BMO Harris Bradley Center.
They landed Greg Monroe, perhaps the first coveted free agent to sign in Milwaukee since…(this comparison took up way too much of our time as we hastily searched for a comparable free agent signing and not just a rookie they lucked into, like they did with Jesus Shuttlesworth; we feel pretty safe saying he's the best free agent signing in the contemporary era). So, that's pretty big news.
But they weren't done. They re-signed Khris Middleton, an underrated off-guard who can hang with some of those Eastern wings (PG-13 etc). And the deal wasn't as much as it could have been; five years and $70 million isn't what it used to be, but it was enough for Middleton to re-up. We're not lying when we say he's the Klay Thompson of the East — a two-way player who competes hard on both ends and will surprise you with his efficiency when you actually look at the numbers. Plus, at this point, he's their only real deep threat left. More on that later.
Then they extended John Henson, an important backup forward and — unfortunately — someone who found himself face to face with our country's inability to look past their bigotry.
For any other team that's a genuinely impressive summer haul. For the Bucks, it's tantamount to an all-time franchise milestone. They are relevant, hear them roar.
Will they be competing for their first title since Kareem Abdul-Jabbar was more commonly known as Lew Alcinder? No, but they've got the foundation to turn into a real contender in the East, and that's a huge turnaround from just two years ago. Kudos to GM John Hammond (who also signed an extension this summer) and the patient fans with Fear the Deer Andrew Bogut signs deep in their closet.
Their starting lineup's gargantuan upside…on paper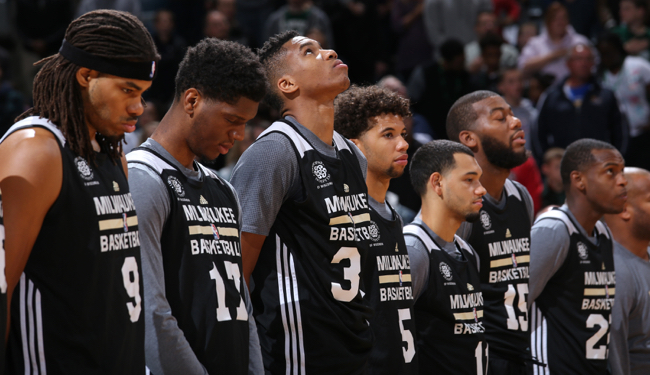 Milwaukee's starting lineup feels like four 1994 Scottie Pippen's and Monroe. All limbs and hands interrupting passing lanes and generally causing ruckus.
However, this team might still struggle to score the ball. Last year, only the Sixers turned the ball over more than they did. The Bucks also finished in the bottom five for three-point attempts despite finishing No. 7 in three-point accuracy. Huh?
Kidd needs to create more sets that give their shooters an opportunity to rectify that disconnect. Khris Middleton shot over 40 percent from beyond the arc in just under 3.5 attempts per game. But the rest of Milwaukee's most accurate chuckers are all gone. That leaves O.J. Mayo (35.7) and…no one. MCW and Giannis Antetokounmpo shot 14.9 and 15.4 from beyond the arc, respectively. For two perimeter players to shoot that poorly is a huge red flag for Milwaukee's eventual ceiling when their young roster matures, but perhaps it's owing more to their inexperience than any real shortcoming. We'll see.
They didn't draw many fouls last season, and on the other side of the ball got whistled for the third highest number of fouls. That last mark is fine because they allowed the second fewest points per possession in the entire NBA. Only the champion Warriors were more stout. But when you finish in the bottom five in points scored per possession, that almost completely nullifies a wonderful defensive effort.
On the scoring front, some of this will be alleviated by Michael Carter-Williams spending a full season in Milwaukee under the tutelage of Kidd. Still more scoring might come from Jabari Parker returning to the lineup (and hopefully showing off some consistency from beyond the arc). But most augmented scoring will come with the addition of Greg Monroe on the block.
There aren't many back-to-basket threats left in the league like Greg — Z-Bo is the most prominent one to come to mind, probably because he's a lefty — and that's a weapon Kidd should use to open up more space on the perimeter. If Monroe can generate double teams, that'll leave Milwaukee some space to attack an off-balance defense.
With Monroe at the five, Jabari Parker returning as a stretch four, Giannis Antetokounmpo as their Gumby small forward, and Khris and Carter-Williams manning the backcourt, that's as good a starting five as anyone in the East not named Cleveland or, possibly, Miami.
Sexy on paper is just that, though. Lets see if we're getting worked up about a real threat to advance in the playoffs after snagging homecourt in the first round, or a team whose promise last season was a chimera.
It really could go either way…
Glass half empty or glass half full: Are they on the cusp of contention, or fizzling out?
The Milwaukee Bucks are an anomaly.
Jason Kidd's team starts five players who stand between 6'6 and 6'10, plays a hyper-aggressive brand of defense that's become increasingly unique, and is defying all expectations associated with age to emerge as a near consensus playoff pick in 2015-16.
And unlike many teams in the midst of a youth movement, the Bucks likely won't look much different in a few years than they do now. Khris Middleton and Greg Monroe signed multi-year deals this summer, and Milwaukee will control the fates of Michael Carter-Williams, Giannis Antetokounmpo, and Jabari Parker come their respective restricted free agencies.
Milwaukee's core is firmly in place; players added to it going forward will almost surely come on the periphery.
When the Bucks made the shocking decision to trade Brandon Knight and replace him with Carter-Williams, they did so with a clear plan in mind. The 6'6 floor general is a poor shooter and questionable playmaker. At this early stage of his career, Carter-Williams has provided little evidence to believe he'll ever be an above-average offensive player.
Milwaukee just isn't counting on him to be one, though, which is one of the reasons why John Hammond and company gave Monroe a max deal this summer. The 24-year-old represents an offensive fulcrum the likes of which the Bucks sorely lacked last season, a deficiency that served as the driving force behind their post- trade deadline struggles. Carter-Williams wasn't the scorer or playmaker the admittedly limited Knight proved to be in the season's first half, and Kidd didn't possess another player capable of mitigating the extent of that subsequent weakness.
Monroe may not be a superstar, but he's certainly a good enough scorer and passer from the block to soak up a portion of the possessions left empty by Knight. Milwaukee is counting on an improved Carter-Williams, obviously, and Middleton might have another step left to take toward becoming arguably the league's premier '3-and-D' player.
Nevertheless, there's a ceiling on that triumvirate that doesn't apply to the two remaining members the Bucks' starting five. Just how good could Antetokounmpo and Parker eventually be? More than anything else, the evolutions of Milwaukee's tantalizing young forwards will decide whether or not their team is eventually able to compete for championships – a possibility that many league analysts deem inevitable.
It's not hard to see why. The impossibly long-limbed Antetokounmpo is already a disruptive defender and canny playmaker, and spent the summer working on extending his shooting range to beyond the arc. Parker is almost his teammates' inverse when it comes to overall identity, a versatile, preternaturally gifted scorer whose physical limitations will keep him from being consistently impactful on the other end of the floor.
Together, they have almost every attribute you could want in a basketball player. But it remains to be seen if Antetokounmpo and Parker can maximize their obvious, specific strengths to the point they become full-fledged stars. For all of their gifts, both players also have weaknesses they seem more likely to assuage than render completely nonexistent. And while that's certainly true of a majority of the league's best players, they all compensate by being close peerless in one venue or another.
Will Antetokounmpo and Parker get there? They definitely could in time, propelling the Bucks to years of title-chasing in the process. But if not, Milwaukee could become Memphis Grizzlies East, a team replete with many stellar individual talents that lacks the singular brilliance to truly get over the hump.
Time will tell. And either way, it will certainly be entertaining watching Antetokounmpo, Parker, and the Bucks compete for many seasons running.