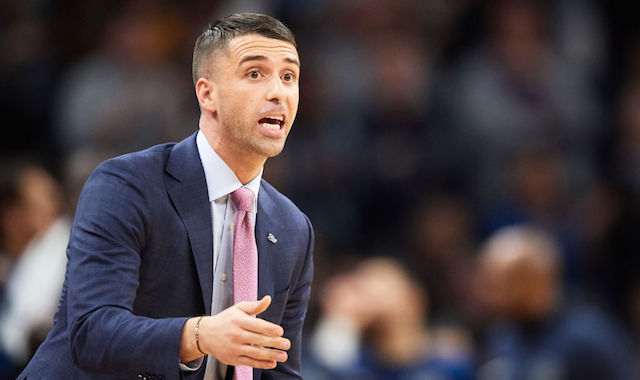 After taking over for Tom Thibodeau when the Minnesota Timberwolves relieved their head coach of his duties in January, Ryan Saunders is reportedly staying on as the team's next leader.
The Timberwolves have reportedly reached a multi-year agreement with Saunders to removed the interim tag from his head coaching status, per The Athletic. Saunders, just 33 years old, will become the youngest head coach in the NBA. The deal is expected to be announced later this week.
The deal was first reported by The Athletic's Jon Krawczynski early Monday and later confirmed by Shams Charania and ESPN's Adrian Wojnarowski.
Saunders went 17-25 after sliding in for Thibodeau, and the Timberwolves missed the playoffs after a tumultuous season that was marked by the trade of Jimmy Butler to the Philadelphia 76ers. But Saunders, whose father, Flip, coached the T-Wolves from 1995-2005 and again in 2014 before tragically passing away from Hodgkin's Lymphoma, earned the respect and support of his players, especially Karl-Anthony Towns, who's become the face of the franchise.
"He is Minnesota basketball through and throughout," Towns said of Saunders in March. "His blood's been here his whole life. His blood before him has been here their whole lives. I think he's a great candidate for the job."
The Timberwolves reportedly interviewed Miami Heat assistant coach Juwan Howard, Milwaukee Bucks assistant coach Darvin Ham, New Orleans Pelicans assistant coach Chris Finch and Portland Trail Blazers assistant coach David Vanterpool before settling on Saunders, per The Athletic.