As the Cleveland Cavaliers and President Barack Obama stood on the South Lawn of the White House, and forward Kevin Love presented a Cavs jersey with "16" stitched on the back, the first thing the Commander-in-Chief noticed were the sleeves.
"I like this," said Obama. "But these sleeves, they get tight. Can I rip them?"
"I'll show you exactly how to do it," said LeBron James, the four-time MVP whose 2015-16 season was capped off with an NBA Championship, but also as being the first — and only — player to rip the sleeves on his jersey in the middle of a game. When it comes to James' most-discussed highlights of the season, falling right behind the clip of him blocking Golden State's Andre Iguodala in Game 7 of the NBA Finals is that of him tearing at his black, alternate Cavs jersey after missing a jump shot midway through the second quarter during the team's 10-point win over the New York Knicks.
Forget for a moment that the 44th president of the United States plays basketball in sweatpants, thus making sleeves more of a utilitarian likelihood than an inconvenience. What Obama said, however, referenced more of the cultural impact of James' decision to rip the sleeves off of his jersey and NBA uniforms in general, more so than some sort of referendum on what a 55-year-old man deems to be fashionably hip.
As with anything related to James, the internet was ablaze following this act of mesh-tearing frustration. Two years earlier, when James was a member of the Miami Heat, he vented about the NBA's newfangled sleeved look, saying that every time he shot, it felt as if the fabric was bunching underneath his right arm. Anyone who follows James' game knows that shooting is the least dominant aspect of what the three-time champion does on a nightly basis, so encumbering his weakest aspect was a non-starter.
This time around, a mustachioed James physically tore the uniform, ultimately creating a bat-like appearance as the black sleeves hung down from his shoulders as if it were a witch's costume. As the web is wont to do, we immediately had videos of NBA TV's The Starters, TNT's Kenny Smith and ESPN's Lindsay Czarniak attempting to do the same.
Depending on who you ask, the new sleeved jerseys are big sellers for their respective teams as sleeves, by most accounts, are more socially acceptable than, well, no sleeves. A way to generate more revenue for the league, the NBA has always attempted to stay ahead of the pack when it comes to style-based items, but this — this was a drastic change.
Players weren't fans of the change, basketball purists were even less so.
What the purists were ignoring, however, was the fact that sleeves were all the rage back in the 1940s. Belts were as well, each pair of shorts having one sewn into the waistband, much like baseball pants today. Though elastic was patented in the mid 1800s, belts were being worn on baseball diamonds and football fields — alas, belts it was.
The late-40s basketball uniforms, short shorts and all, gave way to the 1960s where the belts were removed, but players names were added to the back. It was still form over function, however, as the uniforms were made of materials like polyester and satin — a far cry from the technology-laced, moisture-wicking materials of today. Prior to this point, each team had its own look as local vendors were responsible for the look of their respective team. It wouldn't be until the '60s when a more uniform uniform was created. It was also at this point where fashion would play more of a role than ever before.
In the 1980s, we started to get the look which closer resembled that of today. The short shorts were still around, worn loud and proud, but the uniforms started to have the big-holed mesh that would stick around for nearly two decades. It was at this time where the league began manufacturing and merchandising the jerseys for fans to purchase.
Champion would become the league's exclusive outfitter in 1989 and jerseys would quickly become synonymous with pop culture, featured everywhere from hip-hop videos and album covers all the way down to the closets of young NBA fans across the country. The Charlotte Hornets hired a menswear designer named Alexander Julian to design their look, signaling the first time a fashion designer would create a uniform for a professional sports team. Little did we know, it would also be signaling a sea change as the fashion world and National Basketball Association were on a collision course that would still be prevalent nearly 30 years later.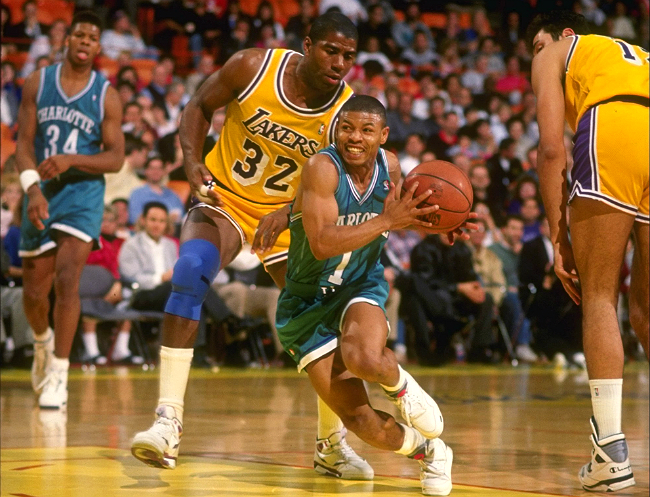 Mike Dunleavy Jr. grew up playing in those late '90s, ultimately being drafted in 2002 and playing into what is now his 16th season. Having played basketball for nearly 30 years, he's seen and worn every style of uniform, ranging from the wide-gauged mesh to the thinner, lighter materials of today.
"It's like anything else in society or fashion where things are constantly evolving, but always reverting back to where you first started," said Dunleavy, 36, now with the Cavaliers. "You started out short — short shorts, tight uniforms — then when I came into the league, everything was super baggy. Uniforms were heavier and not conducive to wicking sweat. But as time has gone on, given technology, guys are going for lighter, more aerodynamic, trim-fitting uniforms."
***

The Round Mound of Style
There's a popular image that was captured in 1994 postseason with Charles Barkley, who was playing for the Phoenix Suns, posting up on a young Chris Webber, then of Golden State. The image would live on as Barkley scored 56 points that night, but it would also be one that served as a bit of a baton passing in the way of NBA uniforms.
Barkley, who at the time was a 31-year-old dude with endorsements galore and a retirement plan ready to be tapped, had already been in the league for a decade. Webber was a rookie, a much-hyped big man from one of the most-discussed collegiate teams in the history of the NCAA. Their respective waistlines were nearly even, but the piping at the bottom of Webber's shorts continued on for roughly four more inches, covering his knees while Barkley's gave way to a pair of Barney-purple braces. No. 34 was the Round Mound of Rebound, wearing a uniform that hugged nearly every inch of his frame. No. 4 was a supremely athletic big man whose uniform hung off him as if it were the remnants of a melted candle.
It was this period in the early '90s where Michigan's "Fab Five" coupled with Chicago's Michael Jordan — you may have heard of him — tugged on his shorts to the point of creating a uniform revolution, one which lead to baggier tops, longer bottoms, and shorter socks. Brands like Nike and Starter entered into the fray, capitalizing on a pop culture shift while working on ways to improve technology, engaging in the never-ending wrestling match between form and function as what the players want and what the fans buy are not always one in the same.
When the Atlanta Hawks unveiled their top-down rebranding efforts prior to the 2015-16 season, the goals had multiple layers. What are the passion points of the target demographic? How could the team reinvigorate the Hawks as being a hyper focused part of Atlanta as opposed to some small portion of a national borg? And how could they customize it in a way where it meant just as much to the players as it did those who would be considered the most loyal of customers?
***

Kyle Korver, a marketing guy, and 2 Chainz walk into a bar…
Prior to 2015, NBA players had one element of their uniform which they could fully control: Their shoes. Jerseys had to meet specifications, tangential equipment like braces had to be of a certain color. Even their headbands had to be worn right side up so that the NBA logo could be (proudly?) displayed. The Hawks, however, turned this notion square on its head when they rebranded their entire organization, including a multifaceted uniform reboot.
In conducting research on what was most important to their younger, target demographic, the Hawks found that the three key elements of their respective lifestyles included fashion, a combination of entertainment and music, and sports. Their goal? To execute upon a strategy that ultimately reflected a straight-up collision between all three ingredients.
"The players told me it was frustrating that they were only able to control their shoes, and they didn't have any impact on the rest of how they look when they're playing," said Peter Sorckoff, Chief Creative Officer of the Hawks. "Inside of the rules, what if we could create uniform pieces that players, along with the training staff, could collectively decide to create a myriad of different uniforms instead of one or two — typical home, typical road?"
With that, the Hawks unveiled a new tricolor slate of uniforms which could not just be worn together, but mixed and matched in a way that had not been seen for 50-something years. Cranking things up another level, the Hawks blazed the trail for what is now a sock-based revolution in the league, spearheading the NBA's licensing agreement with Stance who is now the official hosiery partner of all 30 teams, in addition to having 16 different shoelace patterns from which players can choose.
The design elements of what the Hawks rolled out had multiple layers, including fashion and Atlanta's robust hip-hop scene. The pattern that is found within the jerseys as well as a portion of the shorts is rooted in the Hawk as a spirit animal, but also in style, specifically in the luxury space. To help confirm some of these ideas, the Hawks parlayed the pop culture brilliance of Atlanta hip-hop staples like T.I, Ludacris, and 2 Chainz, picking the brains of each in hopes of finding the right mix of colors and textures that not only best represented the city, but a fashion trend that would help carry the team into tomorrow.
The next stage came down to the actual fit of the uniforms, something which could only be critiqued by those wearing them.
"I had a full shoulder on the prototype," said Sorckoff. "At that time, Kyle [Korver], Al [Horford], and Paul Millsap gave us the most feedback. Kyle was going to be more conservative and we wanted different viewpoints. He said 'is that really the shoulder?' 'Yeah, it's a little thicker, more masculine,' I said He told me he hated it and that it was going to catch on his shoulder when he shot. So we immediately changed to a strap."
This, of course, wouldn't be the end of the player-fueled data. Horford inquired whether or not the uniforms were really altered because of Korver's feedback. When confirmed, he offered a bit of his own.
"Whenever we're running through the lane, guys try to grab the extra fabric in the jersey to slow you down and pull you off course," Horford stated. "Can you do anything about that?'
Thus, the Hawks went back, looked at the second edition of their prototype and decided to completely remove the side panels, opting to directly sew the front and back together to create a tapered feel, getting rid of the extra material around the waist much like a fitted dress shirt that can be found at any high-end retail shop.
The team has now even discussed bringing in tailors to give the team's home and road uniforms a bespoke feel — a little nip-and-tuck work no different than a high-end suit, allowing players to feel like the uniforms were custom produced for their bodies, much like the clothes they wear to and from the arena on a given night.
The Hawks, meanwhile, have seen triple-digit growth in their retail numbers.
***
The Body Issue
When LeBron James was drafted in 2003, the only image that has stuck out more than the shot of Cleveland fans reacting with pure glee is that of James standing next to then commissioner David Stern, clad in an all-white suit that was at least four sizes too large. The league, at the time, was undergoing a bit of a renaissance as players like Allen Iverson and Stephon Marbury were championing extra-baggy uniforms and Bone Thugs N' Harmony was still rocking them on album covers.
Something changed, however, as players began to focus just as much on what they were wearing on the court as they were off of it. The league's already-substantial endorsement arena was bubbling as kids like James were already being handed record-breaking shoe deals before playing a single minute of NBA action. If the NBA was a giant Venn Diagram, the Fashion and Style circle was overlapping with the Mesh and High Tops circle more than ever before. Prior to this era, it was Michael Jordan and everyone else. With the influx of social media and celebrity culture, the style-based element of the NBA was merely provided rocket fuel.
"Back in the day, with Michael wearing the baggy shorts, it sounded like it was a comfort thing, allowing him to move more freely," said Dunleavy. "Then it started getting more into fashion — guys were taking it to a whole other level with the bagginess where they're swimming in their shorts. We've since toned it down and brought it back."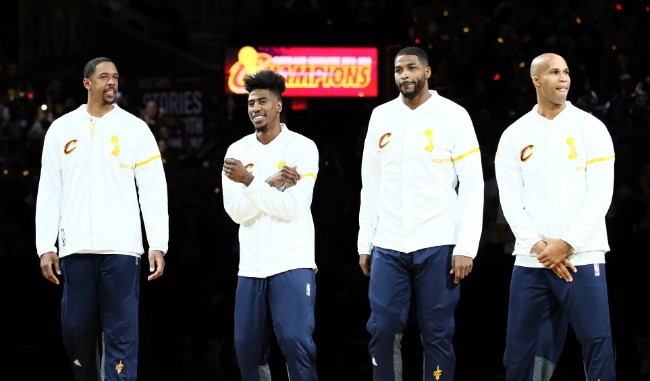 Channing Frye, another one of the Cavaliers' veterans, has a slightly different take on the matter, comparing today's NBA players to entrepreneurs whose on-court image is a part of their entire marketing deck.
"It has to do with a look," said Frye. "It's a model the NBA has taken after. They don't necessarily need a dress code because guys want to dress nice now. With our jerseys, they've become sleeker, cleaner, and way more functional. With as much money as the NBA is making, you need to have an image. You don't see NFL uniforms looking frumpy. Our bodies are a part of the image of the NBA. It's the end of the hip-hop era of the NBA; it's now the fashion, Fortune 500 era. If you want to portray yourself as a million dollars, you have to act accordingly."
A wiry 7-footer at Arizona, Frye was no stranger to the tent-like Nike uniforms of the early aughts, his half-tucked jersey top nearly hitting his thighs.
"It was a sign of the times," said Frye of his baggier Arizona Wildcat uniforms. "At the time they were awesome, now I couldn't imagine playing in something that heavy."
Today, players, with the help of their marketing and uniform departments, are enlisting the help of custom tailors to make uniforms to exact specifications of those wearing them.
So what happens when the face of the NBA personally alters his uniform in the second quarter of a nationally televised game?
"I would never want to champion something the players didn't want," said Sorckoff. "If they're unhappy about the uniform, that's how they're going to talk about the uniform. What that says is that I was out of sync with his needs. I'm trying to fulfill them being the best players they can be on the floor. That's what people came to see: They came for hoops; they're not coming to see what I made a guy wear."
Since the day James ripped the sleeves to nothing more than wilted elastic, he's had his uniforms custom made to his desired fit. During the 2016-17 season, the four-time MVP was questioned for wearing shorts that were visibly shorter than the rest of his colleagues, stating that he wants the baggy uniforms of yesteryear to be a thing of the past, placing a renewed emphasis on the more professional appearance Frye describes.
"The sleeves are as big a mistake as the league has ever made," said Dunleavy. "They look bad, and functionally, they get in the way of your shot, and when you sweat, you get cold. You find yourself being colder in a sleeved jersey than an unsleeved one. If you ask me, I'd rather have a sleeveless jersey. I think it's come to the end of the road with that, though."
And Frye?
"They don't matter shit to me. I've had some of my best games in the sleeves."
Talk about an endorsement. Here's hoping President Obama at least gives them a chance.