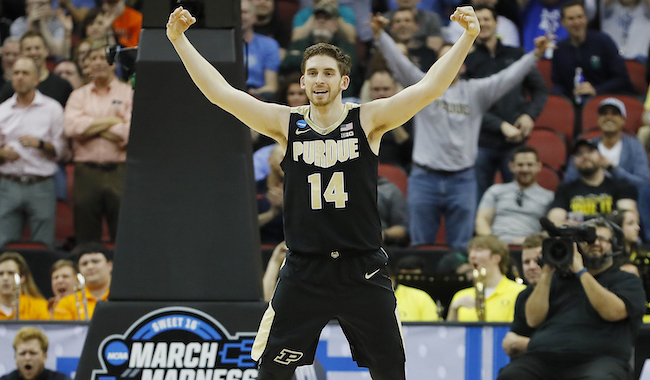 At the 16:18 mark of their Sweet 16 matchup, Purdue's Ryan Cline hit a jumper to put the Boilermakers up by 18 points over the Tennessee Volunteers. The 2-seed in the South Region looked a little off all evening, while everything was going right for Matt Painter and his 3-seed. Then, everything went completely insane, and basketball fans were treated to the best 45 minutes of the 2019 NCAA Tournament.
Tennessee stormed back in the second half, miraculously forcing overtime on the back of an unreal run. But thanks to some insane shot making and the Vols hitting a wall, the Boilermakers found a way to pick up a thrilling 99-94 win in overtime.
No one would have blamed you if you turned the game off at halftime — Purdue took a 40-28 lead into the locker room, and absolutely nothing Tennessee did worked.

It didn't look like anything was going to change during the second half, either, as the Boilermakers just kept coming out of the break.
But something clicked for the Volunteers. Tennessee is a tough, veteran squad, and after chipping away at the lead a little, they managed to find a way to get back in the game thanks to an 14-0 run.
Eventually, veteran forward Admiral Schofield, as he's been wont to do when Tennessee has needed him, hit the bucket to put the Vols ahead.
But Purdue just kept fighting. While star point guard Carsen Edwards is expected to take over in these moments, Cline could not miss if he tried down the stretch to the tune of 22 second half points.

It looked like Tennessee would pick up the win when Grant Williams cleaned up the miss with a huge dunk to put them up two …
… but Edwards got fouled on the following possession while taking a three. He hit two, the Vols couldn't hit a game winner, and the proceedings went to overtime. While there, Tennessee just did not have the energy to keep up with Purdue, and despite Cline fouling out after a career-high 27 points on 10-for-13 shooting and seven made threes, the Boilers will keep on dancing.
Despite the second half collapse, this win is worth celebrating for Purdue, which showed some real fight to not completely melt down and win the game in overtime, and advance to their first Elite Eight since 2000. As for what's next, the Boilermakers will play the winner of Thursday's Virginia vs. Oregon matchup on Saturday.