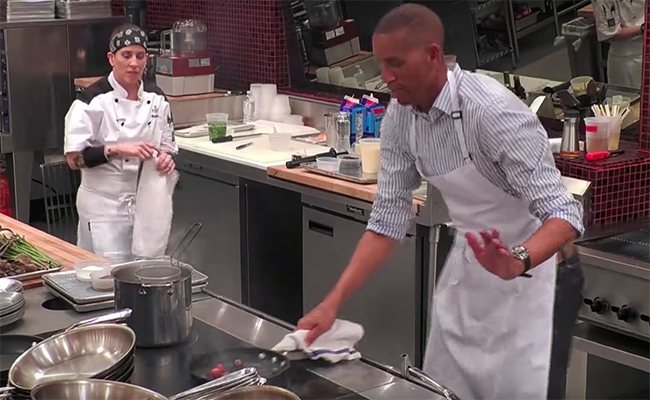 It may be hard to believe, but Hell's Kitchen, the cooking competition reality show starring Gordon Ramsay and a slew of up-and-coming cooks who get yelled at by Gordon Ramsay, is in its 17th season. It's true! The current season is an "All Stars" season, where 16 former Hell's Kitchen competitors return to attempt to become the last chef standing.
Also this season, those selfsame "All Stars" will team up with some heavy-hitter celebrities and athletes, as they try to overcome the obstacle of "cook a good dish with a seven-foot weirdo as your partner." It's a tall order (cooking term), to say the least.
This week, Reggie Miller and Robyn Miller stop by the titular kitchen to assist some cooks, along with a handful of other athletes. Reggie, as you might expect, does pretty much everything infuriatingly, and spends most of his time in the kitchen dancing, taunting, and singing. If Reggie Miller were ANY OTHER PERSON in the history of Hell's Kitchen, he'd be getting called a "f*cking donut" or worse by a frothing Gordon Ramsay. Luckily, he's Reggie Miller.

Come on, Reggie. You're on the cussing-est cooking show in history, and THAT'S the smack talk you bring? Come on, man. I know you retired, but come on.
The full episode airs on FOX at 8 p.m. on Friday, and the full synopsis of the episode reads like a Mad Lib where every blank space is either [ATHLETE] or [CELEBRITY].
The remaining All-Stars must instruct athletes Candice Park (WNBA), Jordan Wieber (2012 Olympic Gold Medalist), Ricky Williams (Heisman Trophy Winner, Univ. Of Texas), Shawne Merriman (NFL football linebacker) and Reggie Miller (NBA Hall of Famer) to cook their signature dishes – using only verbal instructions. Later, for the first time ever, the all-star contestants will be cooking in one kitchen during dinner service, with special guests rapper and musician Wyclef Jean and actor Mathew Moy ("2 Broke Girls"). Find out who makes it to the final four in the all-new "Stars Heating Up Hell" episode of HELL'S KITCHEN airing Friday, Jan.19 (8:00-9:01 PM ET/PT) on FOX.
I'll certainly be watching to see Robyn trounce Reggie in the kitchen, just like she always did on the court. How about you?