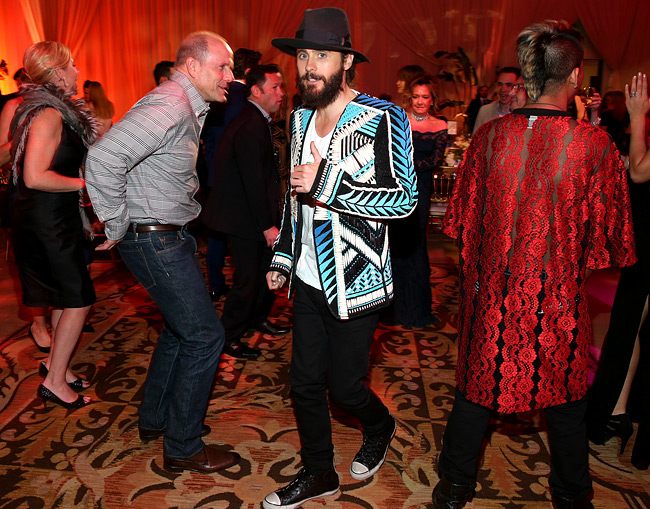 On a historic day like today, it's easy to overlook this country's greatest hero, Jared Leto, who once used his award for playing a dying transvestite with AIDS to inspire the people of Ukraine and Venezuela. That award forever justified Leto's penchant for wacky method acting, which, prior to Dallas Buyer's Club, had led mostly to ignominy. Now fully vindicated, he's free to be the eccentric genius he always thought he was. Leto's Suicide Squad co-star Jai Courtney says he's yet to see Leto out of character (as the Joker), and Scott Eastwood says he was afraid to even approach him. Leto seems to have gone full method for Suicide Squad, which is funny because he's literally playing a cartoon character.
Now E! Online has the scoop on Jared Leto's collection of strange gifts that he's given to his co-stars.
"He sent [Margot Robbie] a nice love letter with a black box with a rat in it—a live rat," Adam Beach, who plays Slipnot in the Warner Bros. film, told me last night at the premiere of Joe Dirt 2: Beautiful Loser. "It was beautiful. Then he sent bullets to Will [Smith] with a letter."

The cast also received a video and—get ready for it!—a "dead hog."

"Basically, what he said was, 'Guys, I can't be there but I want you to know I'm doing my work as hard as you guys,'" Beach said. "The video he showed is in character. It blew our minds away. Then we realized that day, this is real."
"He sent us a dead pig and a video where he acted like the Joker, and we were like, whoa, this guy is actually a cartoon character."
I would love to see the requirements to be Jared Leto's assistant.
Own transportation – preferably with all-weather floormats
Available nights/weekends
Suicide Squad opens August 5th, 2016, so we have another year-plus worth of stories about Jared Leto's unprecedented commitment to turning himself into a psychotic cartoon clown. I can't wait.