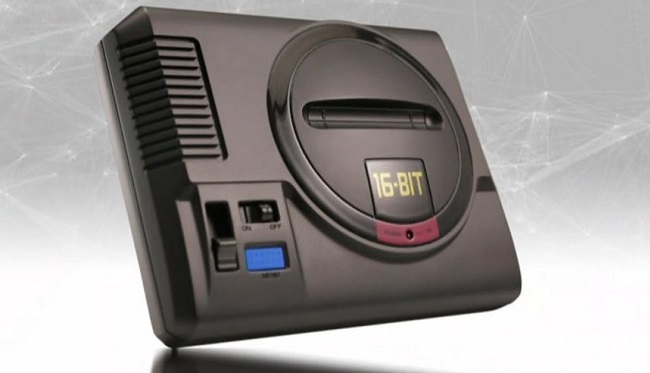 The last time Sega released new hardware was 2001 with the Sega Dreamcast, but after the successes of the NES Classic, the Famicom Mini, and the SNES Classic, Sega's COO has said they want to get back into releasing hardware. Now Sega has announced (via a live Twitch presentation in Japan on Sunday) that they're re-releasing their own miniature version of the Sega Genesis (known as the Mega Drive in Japan). It's tentatively titled the Mega Drive Mini and it is indeed tiny:
The 16-bit console will release in Japan first, to commemorate the original Mega Drive's 30th anniversary, and the United States and other unspecified territories will be getting the console later this year, according to a since-deleted Facebook post from AtGames. You might recognize AtGames as the makers of last year's Sega Genesis Flashback HD, which was panned in reviews. It sounds like the new version is an improvement upon that console, and AtGames revealed quite a bit about the new version before deleting their Facebook post.
The Mega Drive Mini (or Sega Genesis Mini, as it'll more likely be named in the U.S.) will include a rewind feature, and all versions except the one released in Japan are said to include a cartridge slot. AtGames wouldn't reveal which games are included, but they did confirm one game that won't be on the new console. They say Sonic the Hedgehog 3 can't be included due to licensing issues with the music. We suggest just replacing the Sonic 3 music with Smash Mouth instead.
Sega also announced they're going to release 15 classic Sega games for the Nintendo Switch. They'll be available this summer in the Nintendo Switch eShop only in Japan at first. There's no word on when (or if) the games will be available outside Japan. Only three of the fifteen games have been confirmed so far: Sonic the Hedgehog, Thunder Force 4, and Phantasy Star.
(Via Polygon and Nintendo Life)