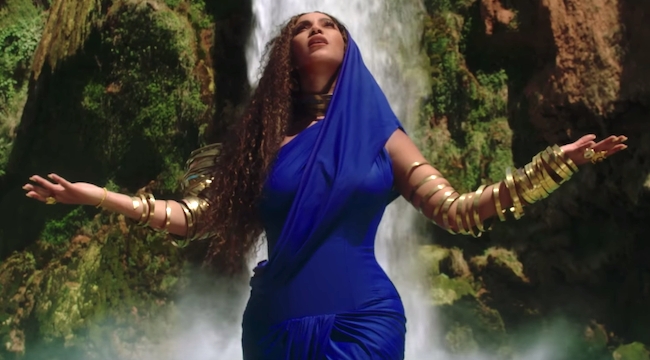 New music from Beyonce has become synonymous with a cultural moment, which is why the last two releases from the global star have been big news, even if neither qualified as an out-and-out album. If last year's joint album with her admonished-but-forgiven husband Jay-Z was an act of devotion to her marriage, this year's companion album to the remake of The Lion King is her first musical act of motherhood. Even if Blue Ivy didn't appear prominently in the double videos that Bey released to accompany two of her tracks for the film, "Spirit" and "Bigger" respectively, it's hard for me not to note that Blue is currently a seven-year-old, right around the age I was when the original film was released.
The Lion King was the first movie I saw in a proper movie theater. At six, just the experience of finally going to a movie was overwhelming enough, but the movie itself became an instant favorite, too. I learned all the songs from the film, gleefully belting them out for days and weeks later, and looked for anything that might've come out in conjunction with the film. For me and plenty of other kids born into the oft-mocked millennial generation, it was one of those era-defining films: a window into the ecosystems of animals, into a different place than the one I lived in, into relationships and family dynamics, and into even the scariest subject of all — the death of a parent.
Regardless of how the film fares critically, it covers a lot of ground that's important in the development of any kid, but takes on special meaning for one of the most prominent Black mothers in the world. Beyonce's decision to support a film that centers the Black experience and shines a light on the film's decidedly African story, a facet that was played down in the animated version, is another act that marries the personal and political. And even if there were blind spots in the album's production — no artists from the region highlighted in the film's fictional storyline were included, for instance — Beyonce's focus on legacy, and how her children will live in a world defined by her own is a throughline in the pan-African body of music she has created, curated, and executive produced.
Opening up with a meditation on this subject, "Bigger," which coincides with the themes of the film — "I'll be the roots, you be the tree / Pass on the fruit that was given to me / Legacy, we're part of something way bigger" — the song also finds Beyonce in reflective mode, as though she's finally giving herself some room to breathe.
Consider the trajectory of Beyonce's last decade: She released 4 in 2011, gave birth to Blue Ivy in 2012, at the end of 2013 she redefined global album release strategy by surprise-releasing her self-titled record, in 2014 her husband and sister fought in an elevator, and in 2016 she released Lemonade, widely considered to be one of the greatest critical achievements of the last two decades. In 2017, she gave birth to twins, in 2018 she headlined Coachella and released Everything Is Love, and in 2019, she gave us this soundtrack. It takes a paragraph just to list out her annual accomplishments, so the fact that "Bigger" also includes lyrics about being tired makes sense: "I can't get no days off / I don't get no days off / Truly, I'm feelin' it, I had to say that thing twice."
Her biggest commercial and critical success has been completely concurrent with her foray into motherhood, and while plenty of other material has centered around reactions to her professional success, The Gift functions as the first real reflection on her status as a mom. Now, as a mother of three, she finally has the chance to sit back and think about how her children will grow up. Part of that means excavating her own childhood of course, and early standout "Find Your Way Back" is a meditation on the same relationship addressed in "Daddy Lessons," another grappling with the complicated relationship she has to her own father, letting her memories mirror the connection between Simba and Mufasa.
And though the connection to the characters and plot of The Lion King are frequent, they're not always necessary on this companion album. For instance, her collaboration with Kendrick Lamar, "Nile," unfurls more like a meditation on the exhaustion of being at the top; and it's immediately followed by the extremely quotable "Mood 4 Eva," which features both Jay-Z and Childish Gambino, but channels a braggadocious vibe more in the vein of Everything Is Love than anything else on the soundtrack.
Speaking of the movie, intermittent snippets of dialogue are the worst part about this record, even if they're Beyonce's own lines as Nala. The effect of their inclusion is a reminder of how savvy Kendrick and his team were to keep them off the Black Panther album, an obvious counterpoint when considering this release. However, where this record obviously trumps that one is in its inclusion of often unknown international talent, artists who will hopefully benefit from the boost. The Gift doesn't hit as just another Beyonce album — a route she could've taken, and succeeded — but as a project that considers a whole diaspora of talent.
The best parts of this album when Beyonce lets African talent shine, lending her generous spotlight to the artists who wouldn't get this kind of mainstream recognition, even if they've crossed over to American audiences. Things will shake out as they do, but if there's any justice in the world, "Don't Jealous Me" — a star-studded collab between Nigerian artists Tekno, Yemi Alade, Mr Eazi, and Ghanian Lord Afrixana — will make its way to the club circuit and beyond. Its bewitching beat — which Beyonce co-produced — is sliced with a chorus that gives a sly warning: "Sheep don't run with lion / Snake don't swing with monkey."
Aside from showing up in the videos, Blue also appears on the album itself, singing on the tender collab with Nigerian star Wizkid and Saint Jhn, "Brown Skin Girl." Though Beyonce often sings empowerment anthems directly geared toward Black women and women of color, this song feels like a love letter directly to her young daughter, and other Black girls of that age, functioning as an important shift from the very adult themes of her most recent work and reframing it for a new generation.
And that may be what this album's legacy eventually becomes — an album for the children who will watch The Lion King and fall in love with the story all over again (critics be damned), only to find themselves humming and singing "Brown Skin Girl" for so many days that they finally look up that sings it, and discover the artist who is Blue Ivy's mom.
The Lion King: The Gift is out now via Parkwood Entertainment/Columbia Records. Get it here.