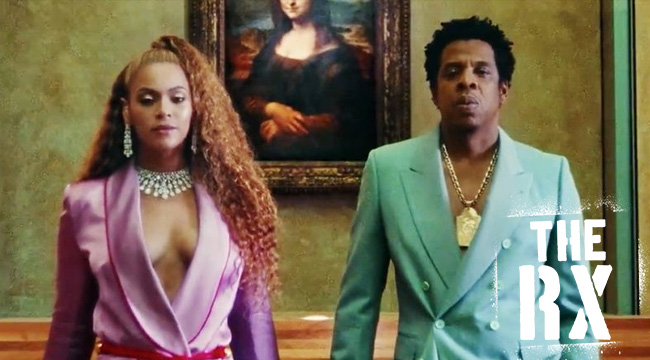 The RX is Uproxx Music's stamp of approval for the best albums, songs, and music stories throughout the year. Inclusion in this category is the highest distinction we can bestow, and signals the most important music being released throughout the year. The RX is the music you need, right now.
On the most explosive song off Beyonce's 2016 album Lemonade, she flips the expectations for a song called "Sorry" in the accompanying video by dancing on a party bus with an all-female crew, and grinding all over a mansion with none other than Serena Williams, in heels and a bodysuit, wagging her finger at an absent, male betrayer. The song was immediately adopted with a kind of frenzy by women online as mantra, clapback, and proverb; her pain was our pain, the resounding reaction was I've been there.
Caught up in a doomed half-relationship with an absent man of my own, I remember putting the song on infinite loop, fascinated by the song's anger and pain, but also by its unapologetic celebration — there is real joy in the video as these women dance out their freedom: I ain't thinkin' 'bout you. I hypothesize the power of "Sorry" was part of what made the eventual forgiveness and reconciliation of Lemonade so confusing. Why keep the pin in the grenade?
Anger is a secondary emotion. If you've been to therapy (sup Jay), this phrase might ring with a certain familiarity. The point is not to dismiss the validity of anger but instead recenter its power. Anger is also a destructive emotion, one that tears other people down and inflicts pain back on those who hurt us, a cycle of wounds and woundedness that never stops. At the core of anger is sadness, pain, rejection, anger is a response that seeks to cover up those more vulnerable feelings with annihilation. Beyonce could've done that, if she stuck in "Sorry" mode.
Even after forgiving her husband, and choosing to keep her marriage to him intact, hordes of her fans refuse to offer him the same grace. Imagine a world where Beyonce used her anger as a weapon against Jay, Louis slugger all day? Annihilation barely begins to cover it. On the final track of the pair's eventual joint album, Everything Is Love, you can almost hear her getting started on "LoveHappy," a snarl, demurred, then reframed: "My love is deeper than your pain / And I believe you can change." Or earlier, back on Lemonade: "They say true love's the greatest weapon."
"To forgive is the highest, most beautiful form of love," wrote Robert Muller, a French civil servant, and former refugee and soldier best known for his decade-spanning work with the United Nations. Intent on achieving the actual goal of world peace, Muller worked tirelessly with wartorn countries and global factions in pursuit of what he considered to be a tangible possibility. Forgiveness was the cornerstone upon which he built his philosophy.