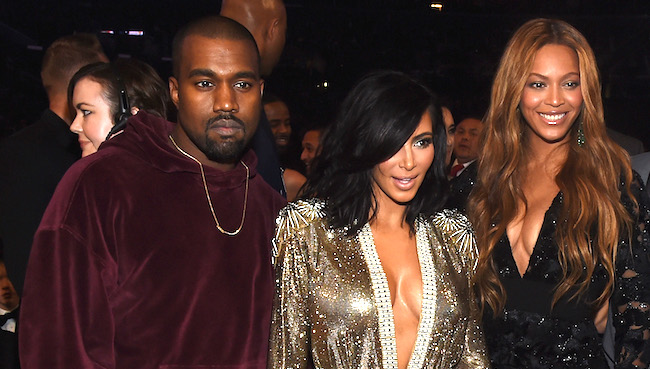 For years, Kanye West was clearly the world's biggest Beyonce fan. It was Beyonce, after all, that was the reason Kanye infamously interrupted Taylor Swift's VMA speech when he felt the need to defend Bey and declare her "Single Ladies" video was "one of the best videos of all time." Now though, it seems the relationship has soured because according to rumors, Yeezy is furious at Beyonce for not respecting his wife, Kim Kardashian.
New gossip reports claim that Kanye "goes 'nuts' thinking about the fact that Queen Bey feels that she is more talented and is superior to Kardashian." The report, which credits a family friend as an unnamed source, says that "Beyoncé treats Kim like she is inferior and not worthy of her friendship," and it "infuriates" Kanye.
The beef reportedly goes all the way back to Kim and Kanye's wedding, which Jay-Z and Beyonce famously skipped, and was reignited when Beyonce showed up at Serena Williams' wedding recently, with Kim in attendance as well.
"As far as Kanye is concerned, Beyoncé has no right to look down her nose at Kim," the report continues. "Sure she is a reality TV star, but she is also a wildly successful businesswoman and a self-made multi-millionaire."
And apparently, with Jay-Z and Kanye's own feud still brewing, amends won't be fully made until Jay and Beyonce "are willing to treat his wife with respect." Finally, the report says that, though "Beyonce is always polite to Kim when she sees her," she simply doesn't respect her, and "never has, even before Kim got with Kanye."
Sure, this all sounds a little bit like fan fiction, but it also seems plausible, whether Bey is hanging up photos of Kim in her studio while she records or not. Kanye is notoriously defensive of his wife and family, and if he feels even the slightest bit of a slight, him reacting furiously seems natural. Either way, this will probably all play itself out naturally — and that might just be sooner than you think.