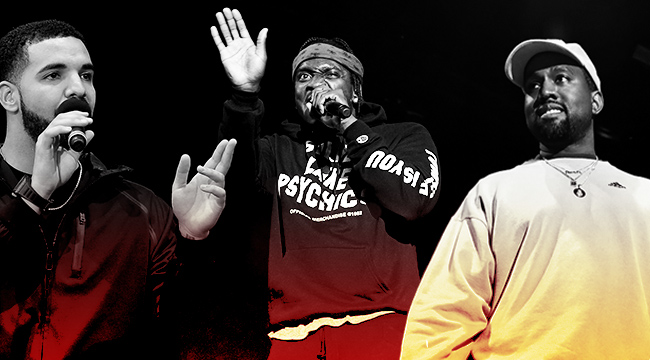 Kanye West has never been embroiled in any serious on wax beef. He threw an errant line at Ray J and has previously had various levels of acrimony with Jay-Z, Consequence, Wiz Khalifa, and others, but those spats never reached the booth. It doesn't seem like he's ever gone into the studio with the intention of tearing someone down bar-for-bar. It's not in Kanye's creative process to go there. Drake knows this, which is why he's seen fit to antagonize Kanye for most of the summer.
The rap portion of his Scorpion album was littered with subliminal disses toward Kanye such as "too rich for who? Y'all just got rich again" on "8 To 10." He aligned with Jay-Z on "Talk Up," who may still have his own tiff with Kanye. He threw shots at him during his Behind Barz freestyle in London and has been switching a line on "Know Yourself" from "Kanye dropped" to "Kanye flopped" while on his Three Amigos tour. Now, he has an upcoming track with French Montana where he rhymes "I told her don't wear no 350s around me," referencing Adidas signee Kanye's Yeezy 350 Boost sneakers. This follows Drake "checks over stripes" line on Travis Scott's "Sicko Mode," referencing the brands' iconic logos. The Yeezy line is Kanye's passion — more than music at this point — and after Nike was lauded by Black consumers for supporting blackballed football player Colin Kaepernick in their #JustDoIt campaign, neither he or Adidas can afford to lose any more ground.
The Adidas shot — and perhaps a messy Twitter thread about Drake and Kim Kardashian — was the final straw. On Tuesday, Kanye apologized to Drake on Twitter. He wasn't paying attention while his artist Pusha T dropped the ruthless "Story Of Adidon" diss exposing Drake's child and an odd picture of him in Blackface. Kanye said he didn't tell Pusha about baby Adidon, and he didn't hear Pusha's Drake diss on "Infrared," the Daytona song that ignited the most vicious exchange in Pusha and Drake's ongoing cold war bequest from Clipse, Birdman, and Lil Wayne. The Adidon exposé apparently torpedoed an apparel line that Drake was planning with Adidas, and whatever relationship Kanye and Drake had.
Kanye's Twitter apology follows a recent radio interview where Kanye said that "it ain't no beef" on his end toward Drake. Elsewhere in the interview with Chicago's 107.5 Morning Show, Kanye bemoaned Drake sending him "purple demon emojis" in anger when Kanye used the "Lift Yourself" beat meant for Drake and turned it into a joke track full of lines like "Poopy-di scoop".
In response to Kanye's comments, Drake posted a picture on Instagram with what else but a devil emoji. He's clearly being petty, which is his modus operandi when people cross him. As he rapped on Scorpion's "Mob Ties," "it's too late for all that lovey-dovey sh*t, I'm your brother sh*t" in his eyes. This is the same guy who played "Back To Back" over Meek Mill and Nicki Minaj's Toronto hotel room all night in 2015 — what was the Toronto native even doing in a hotel? When Kendrick Lamar referenced Drake on his infamous "Control" verse as one of the artists he was gunning after, he cut all ties with him. Tellingly, Pusha T tweeted to Kendrick, "I hear u loud and clear my n—-." While Drake felt that him giving Kendrick looks during his early 2010s come-up gave him some kind of pass from being in Duckworth's crosshairs, Pusha understood that, "the Kendrick verse was about sport," as he told HotNewHipHop in 2013.
But when it came time for Drake to be a rap sportsman and reply to "Adidon," he walked out of the ring like boxer Curtis Harper did recently. He allegedly recorded a diss record which J Prince said had "career-ending" info on Kanye that Rap-A-Lot affiliate Yukmouth intriguingly said was "way too much," disrespectful in a self-sabotaging manner, and could have "ended Kanye's marriage." That sounds good, but victories aren't accomplished with hypotheticals. In the eyes of the public, Drake lost their one-on-one exchange of disses. That's why Drake switching his ire toward Kanye makes him look like the kid trying to bully his bully's brother while he's not around.
It's akin to a scene in season four of The Wire when lousy drug dealer Namond tried to bully his frenemy Dukie after their mutual friend Michael, Dukie's protective figure, already saw Namond's cowardice when he refused to beat up an underling that owed him money. Michael ended up beating up Namond for picking his battles like a coward, and if Drake isn't careful, the same could end up happening to him lyrically by Pusha T's "surgical" bars. It took a titanically successful double-album and the viral #InMyFeelings craze for Drake to get the stigma of "Adidon" off him — does he want to risk a round two by continuing to snipe at someone who publicly states that he wants no problems?
The beef this spring was between Pusha T and Drake, not Kanye and Drake. And while Kanye's oblivious MAGA-haze enabled it as Pusha's superior, and he needs to get the dream of them working together out of his head for now, that doesn't mean that he deserves the brunt of a counterattack that should be directed at Pusha. Drake may call himself "going for the head" as Kanye is Pusha's boss, but Pusha isn't Memphis Bleek, a Jay-Z subordinate who Nas merely baited in order to bring Jay-Z out to play in 2001. Pusha's been rapping longer than both Drake and Kanye, and arguably put out a better album than both this year. He deserves respect as his own man, and Drake wouldn't have given him a full diss on "Duppy Freestyle" if he felt otherwise. Plus, Pusha already preemptively nixed Drake's current pivoting strategy when he rhymed, "how dare you put Ye in my verses?/I'm selfish, I want all of the curses" on "Adidon."
But Drake has nothing for Pusha. It's likely he knows Pusha wasn't bluffing about his "surgical summer" arsenal of ammo to throw at Drake, just like Kanye knows that Drake has similarly damaging info about him. That's why it's best for both parties to let their issue rest and move on with their careers for now. Kanye needs to stop picking at the scab of a nightmare period in Drake's life with apologies that probably have Drake saying "Take A Bow." Kanye's insulation enabled his employee free reign to tarnish his other friend's image, and he needs to understand Drake's coolness toward him is partly his fault. But on the flip side, Drake needs to stop poking at Kanye if he isn't going to address Pusha T, whose behind their current turmoil. The more he snipes at Kanye, the more his detractors will remind him that he has nothing in the holster for Pusha.
This piece could be torpedoed by Drake squashing his beef with Kanye at the September 12 show Kanye said he plans to pull up to. But more likely, it will take another year or two for the air to be clear enough for Drake to consider mending their issues. Joe Budden dissed Drake four times in 2016 and recently got tickets to the Three Amigos tour. That positive energy doesn't seem likely to manifest anytime soon for Kanye and Drake — especially as Drake keeps sustaining the negative energy with his shots. He looks like the big man now, but the more he chips away at Kanye (and Adidas especially), the more he risks Kanye washing his hands of the situation and letting Pusha off the figurative leash. After all, Pusha probably wouldn't mind more headlines for his alleged upcoming post-tour album. He may have another "Story" to tell that neither Drake or Kanye wants to be divulged.