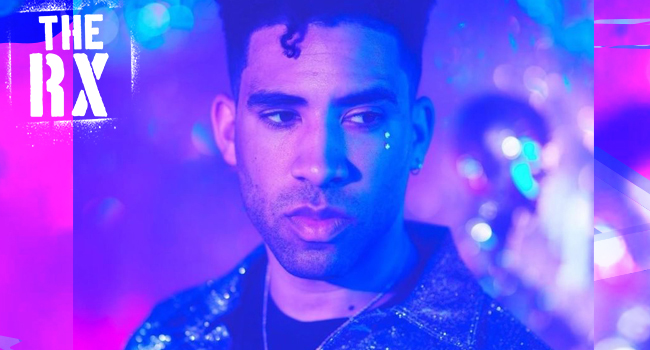 The RX is Uproxx Music's stamp of approval for the best albums, songs, and music stories throughout the year. Inclusion in this category is the highest distinction we can bestow, and signals the most important music being released throughout the year. The RX is the music you need, right now.
"2016 hit me like a bag of bricks / 2017 switched up like 'Ooh, it's lit."
So, Kyle, how do you know my life so well? Seriously, if there was ever an album I was going to relate to spiritually, how is that this kid from Ventura, 80 miles away from where I grew up in Compton, so tapped into my emotions?
I don't know. I doubt I'll ever know. But damn if Light Of Mine isn't my pick for the album of the year already purely off the strength of those two lines from its bubbly intro.
It's a long-held, open secret in rap that almost no one actually lives the content of their raps; if everyone was selling as much cocaine as they boasted about, there wouldn't be anyone left to buy it all — and everyone would promptly go to prison. Rap is a movie that is constantly playing, and everyone has a role to portray. Kyle started out the same way, flexing empty, retread brags about guns and drugs, until he realized that however convincing he could make those songs, he'd be creatively unfulfilled.
For me, none of that stuff has ever been all that appealing, simply because I grew up around it, but not directly involved in it. I can't relate to songs "for the hustlers," but worse, their tales don't sound exciting, intriguing, or interesting to me. They remind me of harrowing nights awakened by drug raids taking place across the street, shootouts next door, and the chaos and fear and paranoia that swirls around the gangland stories that rappers tend to glamorize. There is a human cost and real victims, and I related to them more than anyone.
That's why I've always gravitated toward sunny, happy rap like Lil Yachty's early work and Amine's Good For You debut last year; some part of me still needs reassurance that everything is going to be okay, that trouble is temporary, that there is something to look forward to and believe in. Things fall apart, true, but they also get better. I naturally gravitate toward sounds that remind me of that fact. Case in point, this section of the aforementioned "Ups And Downs":
"Hey, Kyle, how you doin'?
What is this dream you're pursuin'?
What are these feelings you mention?
Are you from a different dimension?
My n—-, do you have dementia?
Why is you rappin' bout happy? Think about all the bad sh*t that happens
Which is why Light Of Mine is so truly perfect for me. "Ikuyo," for instance, is a dorky concept; with its J-Pop aping hook, and guest singer Sophia Black's squeaky vocal affect, it could just as easily be the theme song to a magical girl anime as a serious rap song in 2018. But here's the thing: There's a whole cadre of dorky-ass hip-hop fans who grew up on watching huge-eyed Japanese cartoon characters pursue mystical McGuffins through colorful adventures, and I assure you they can see themselves reflected back in this song more than Pusha T's earnest crack-slanging exploits, however well-executed they are.
Of course, what makes the album so strong isn't just those regular-guy raps and goofy concepts, but the care Kyle has obviously put into the execution of each, as befits a project with a three-year gestation period as Kyle ascended from quirky unknown to main-stager at Coachella. "iSpy" dominated the airwaves a year ago, but it's been long enough that the perky single might not fit among the newer fare. Kyle cares enough to make it work, extending Lil Boat's guest appearance to the thematic connection of the album as a recurring interlude featuring Yachty as his conscious. When he questions, "Like Jiminy Cricket?" Yachty barks, "Yes, you Disney-ass motherf*cker," which sounds to my ears like the perfect summation of the inner dialogue of any hood kid who has to reconcile their fantastical interests with the gruff exterior expected of young, Black men in America.
The plinky, piano-driven beats blend perfectly with Kyle's bouncy, optimistic lyrics on "Zoom," "Playinwitme," and "To The Moon," and Kyle's delivery lists from his trademark sing-song, nursery rhyme rap to outright crooning on "Babies," where he out-croons guest singer Alessia Cara and even dips into dance floor funk on "iMissMe" and "Rodeo." He deals with depression here too, hinting toward it throughout the album, but never wallowing in it. He'd rather focus on the highs than the lows, and spends less time than contemporaries getting high to escape those lows. His boasts are centered and down-to-earth, focusing on his accomplishments within the last year — which were more the result of his hard work — than on the usual accouterments of success that might proliferate in a more materialistic rapper's verses.
While Kyle does spend at least a few bars here and there celebrating his success, for him, it's less about the flex than the triumph over his previously dire circumstances. He's earned the right, in his mind, to be happy — which is worth more than all the gold grills, 24-inch rims, and hefty necklaces in the world combined. After all, happiness is the only commodity that, if shared, only multiplies, which seems to be the guiding principle of Light Of Mine — Kyle feels good, so he's paying it forward in the hopes of making his listeners feel good too. To that end, shine on, Kyle, and may your light never be dimmed.
Light Of Mine is out now, courtesy of Atlantic Records / Independently popular. Get it here.