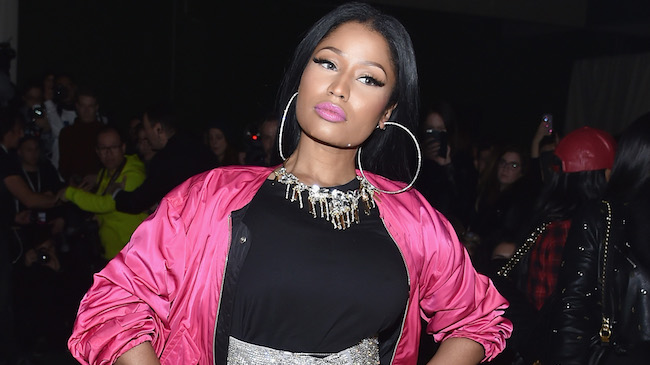 One thing is for certain: Nicki Minaj took her time and didn't strike back at Remy Ma until she was good and ready. In a calculated move that felt rather Drake Vs. Meek Mill-esque, Nicki waited two weeks while Remy basically sunk her own ship and finally struck back on Thursday night with a new track "No Frauds." While it was no all-time great diss track, it was effective and showed she's willing to spar with her foes even after she'd feigned that she had no interest in doing so.
Nicki wasn't satisfied just dropping a track though, and much like Drake she utilized social media to strike at Remy again, posting a lengthy caption below a video playing a portion of her verse dissing Remy.
In the passage Nicki said — amongst other things — that Remy herself had plastic surgery, and "we don't do diss records we drop hit records and diss you on them." She even went so far as to proclaim she's been writing her raps since she was 11 years old and reminded fans that "the greats took 3 months to respond to diss records" fighting back at the claims she took too long to respond. It's another salient point, because in another lifetime in an entirely different climate, Jay Z premiered "Takeover" at Summer Jam in July 2001 and Nas didn't respond with "Ether" until December.
From there Nicki did some gloating, reminding the world that she would soon claim more Billboard Hot 100 hits than any woman in history and went so far as to offer Remy $500,000 if she could make a hit and book any show or interview without mentioning her name.
#NoFrauds #FactsOnly ft @champagnepapi & @liltunechi #YoungMoneyTilTheDeathOfMe committing perjury #IGotB4andafterPicturesOfYourSurgery #StopSurgeryShamingB4IPostThem #Fraud diss records can't be lies. Great diss records are FACTS. But here @ Young Money, we don't do diss records, we drop HIT RECORDS & diss u ON them. I got a bunch more on cock. Pauz. The greats took 3 months to respond to diss records. Queens don't move on peasant time. Queens shut down Paris, then drop hits on #QueenTime. I love my fans. Y'all the real MVP's. Been writing my own raps since I was 11. GOD knows. Next week I'll beat Aretha for the most Hot 100 hits on billboard by ANY woman in the world EVER in the history of music. Stay in your bum ass place. Jealousy gets u no where. Love to all my bad btchs. Now I got a countdown of my own for Sheneneh. U got 72 hours to drop a hit and I'll give u half a million dollars if u can book ANY show or interview w/o mentioning the Queen name. On another note, my album is nothing but waves. Lol my babies, you're gonna get your complete LIFE. love u guys so fkn much. Let's go. #NoFrauds #ChangedIt #RegretInYours Reggie Martin and S/O to Lady Luck for spkn facts. They act like they didn't see her interview tho. Lol ????
Popularity and prominence probably shouldn't win battles, but it's been that way since forever. LL Cool J told Canibus he'd go platinum for every time his "grimy ass was on the train," Jay Z told Nas he sold what his whole album sold in the first week, and after scorching earth on "Hit Em Up," 2 Pac reminded Biggie "Our sh*t goes triple and four-quadruple."
So yeah, it's fair game for Nicki to tell Remy "I'm so much more popular than you, bum" and, whether people want to admit it or not, it matters. Simply put, more people are going to hear "No Frauds" and have opinions about it, and those voices will likely drown out the minority that will champion "ShETHER."
The ball is in Remy Ma's court now, and whatever she does next will have to be better than "Another One" that's for sure.