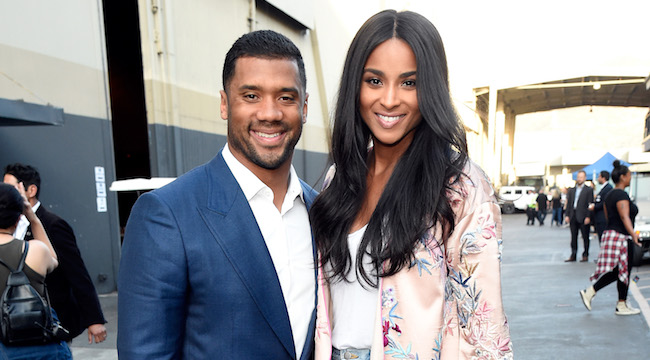 Seattle Seahawks quarterback Russell Wilson takes a lot of trash talk online for being, shall we say, a bit corny. To be completely fair, he does seem a little square, but if we're being honest, everybody is square to somebody. One person who seems perfectly happy to take him as he is? His wife, Ciara, the subject of a short video he recently shared online that has added a surprising new dimension to his public perception — namely, that his "inside voice" is a lot different than the one he uses in public.
Wilson shoots Ciara trying on his high school football jersey in their bedroom, while he gasses her up saying things like "Oh yeah, the official, official," and "Girl, you look good in that jersey," while she poses and preens for the camera. The odd thing is, the established, professional tone that he uses in interviews and public appearances is nowhere to be found, replaced by a serviceable imitation of a slick-talking character from a Blaxploitation film.
Ciara shuts down the show when Wilson gets a little too frisky, saying, "Girl, if I would have known you in high school, we would have about six of these kids!" It's not at all in line with the staid, straight-edge image that social media commenters have saddled him with, but now that he's revealed this bedroom voice, perhaps that public perception will start to change.
In any case, the reactions have been priceless, with many of Wilson's former critics changing their tune or expressing confusion and even wondering whether this is the real Russell Wilson. Check out some of the best reactions below.