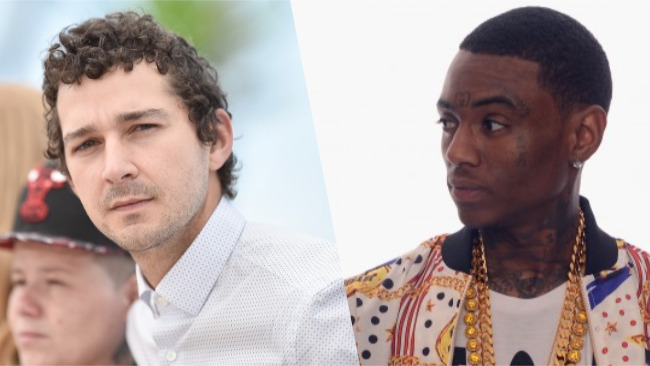 In a year of weird rap beefs, Soulja Boy taking aim at Shia LaBeouf is now in contention for the year's most head-scratching. Soulja was so offended by a lyrical jab thrown at him by LaBeouf that he's attempting to institute a no-fly zone over Atlanta for the rapping actor.
The rift between the two originates from a new freestyle by LaBeouf premiered on The Breakfast Club by Charlamagne Tha God. On the track, the Transformers star namechecks several different hip-hop figures ranging from Drake and Jean-Claude Van Damme to Lil Yachty and radio personality Peter Rosenberg, who LaBeouf rhymed with "frozen turd" in a stroke of genius. The audio performance isn't up there with his recent "5 Fingers of Death" freestyle by any means.
Soulja Boy caught wind of the fact his name was mentioned and went on an expletive-filled Instagram rant in response.
"Shia, you a b*tch *ss n****, you could never come to Atlanta, you could never come to the streets in the hood. You could never live my life, you need to stick to acting, real shit n****. This rap shit ain't for you n****, for real have some n**** pull up on you, f*ck Shia LaBeouf n****, f*ck you talking about keep my name out your mouth, you don't want no beef, on my mama. You better stick to acting n**** cause this sh*t get real."
https://www.instagram.com/p/BNk-bJWhjQE/
Yeah, all of that energy for Shia LaBeouf.
Rappers have been imposing no-fly zones ever since Trick Trick effectively banned Rick Ross from setting foot in Detroit a few years back. However, all these young rappers typically lack the muscle or street credibility that Trick wields so their attempts end up being little more than social media taunts and chest-thumping.
Those keeping score will quickly realize this is just another blow-up for Soulja Boy, who has spent the past few weeks beefing with other rappers. SB's posturing on IG probably won't even make LaBeouf's radar and I doubt the guy visits Atlanta like that to test the SODMG rapper's threats anyway. Yachty had enough sense to realize the actor's corny little raps aren't worth the time and Soulja Boy Tell'Em would be wise to do the same.
For what it's worth, listen to LaBeouf's freestyle below.