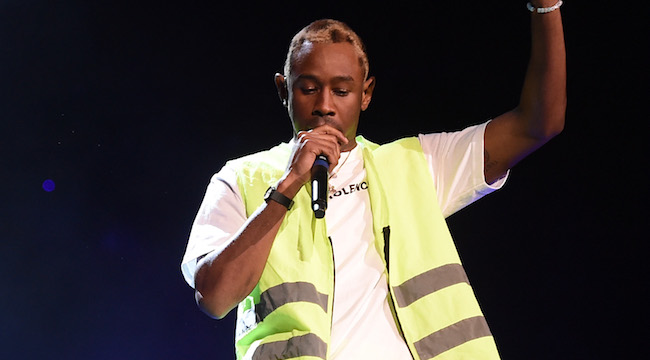 Tyler The Creator's 2015 album Cherry Bomb was nowhere as well received as his 2017 breakout, Flower Boy, but truth be told, it secretly contained some of his better beats and the seeds of what would become the well-received, soulful sound of Flower Boy. Now, those beats can be enjoyed on their own, thanks to a sneaky reissue on streaming services titled Cherry Bomb + Instrumentals. It's a clever way to keep Tyler's name buzzing while he works on new music and effectively utilize the malleability of the streaming format without announcing obnoxious "updates" that turn out to be mixing tweaks no one but hardcore audiophiles would notice.
It also seems to be part of Tyler's freewheeling nostalgia of the past few months. Tyler became notorious throughout the summer and early autumn for dropping loose tracks, footage, photos, and rough drafts from his Flower Boy recording process. Each of these gifts was well-received by Tyler's fans as he spent the year performing on tour and popping up at festivals to promote his latest album. Each new drop caused a flurry of affection for the onetime rabble rouser to break out online — particularly with the Timotheé Chalamet shout-out from "Okra." And while Tyler may have been too busy recording and looking back on his achievements to pursue any romantic endeavor, he still had plenty of time to play matchmaker for a fan's missed connection from one of his recent concerts:
Check out the newly revamped Cherry Bomb + Instrumentals here.