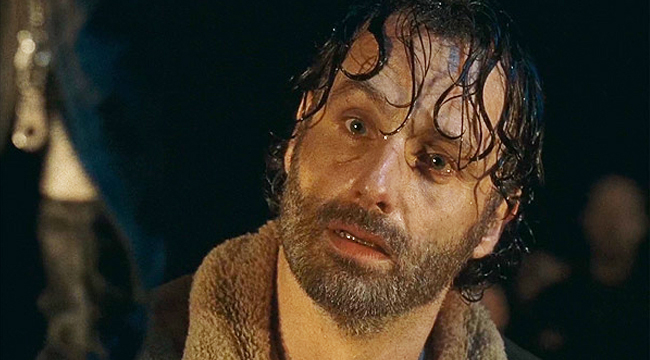 It's officially official: Andrew Lincoln is leaving The Walking Dead. The actor confirmed television's worst-kept secret at San Diego Comic-Con over the weekend, saying, "This will be my last season playing the part of Rick Grimes. I love this show. It means everything to me. I love the people who make this show." He added, "This has been the most extraordinary, amazing, and beautiful experience of my career." At the conclusion of the panel, Norman Reedus made everyone in the massive Hall H give Lincoln a standing ovation. Little did the fans know that the applause could have been for Reedus, too.
During an interview on EW Radio, Reedus revealed he and Lincoln "made a pact" to leave The Walking Dead at the same time. "I think it was like season three of four," he said. "We're like, 'If you leave, I leave. Right?' And that was the thing." When Lincoln, who was sitting next to him, jokingly asked if viewers should expect to see the last of Daryl Dixon in season nine, Reedus replied, "Oh, hell no." He then got emotional talking about working with Lincoln.
"He was the first person I saw in the morning. As soon as we wrapped, he immediately called me in the car. We speak all the time. We spent every lunch break in my trailer. We shared a trailer for forever… When he told me he was thinking about doing this, I get it. I have a son in New York, and I'm constantly bouncing back and forth all these nine years to go see him. And I get it. He's got two beautiful children, a beautiful wife. His whole family's awesome, and you can't be mad at him for going. It's very understandable, but I'm going to miss the hell out of him." (Via)
In a separate interview, Lincoln also divulged that he first considered exiting The Walking Dead years ago. "It was a lot to do with a conversation that Scott and I had a few years ago, maybe in season four," he told Digital Spy, "about a shape, and finding some way to complete something that was never going to be completed." His final episode will air later this year.
(Via Entertainment Weekly and Digital Spy)