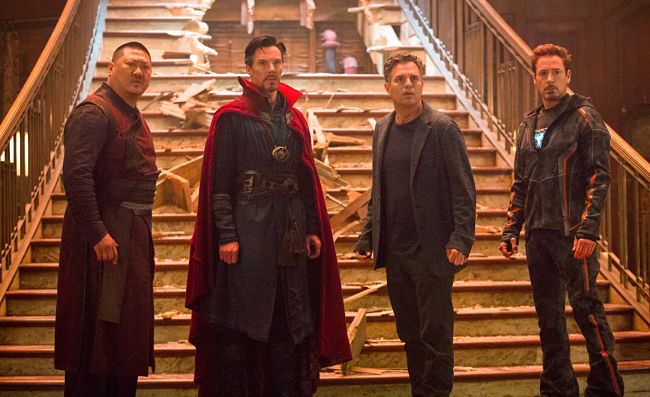 Of the many character crossover moments that were peppered throughout Avengers: Infinity War, one of the more uniquely hilarious was Tony Stark (Robert Downey Jr.) and Dr. Stephen Strange's (Benedict Cumberbatch) first big scene together in the latter's Sanctum Sanctorum. That's because, as many fans know, both actors have played variations of the famous Arthur Conan Doyle character Sherlock Holmes — Downey in two Guy Ritchie movies, and Cumberbatch in BBC's Sherlock series. Despite the opportunity, directors Joe and Anthony Russo decided not to include a joke or a reference to this fact, though they almost did.
According to The Hollywood Reporter, the Russo brothers said as much in their directors' commentary track for the upcoming home release of Infinity War on DVD, Blu-ray and 4k. "I should've said, 'No shit, Sherlock,'" they revealed. "Everybody really wanted that joke." Unfortunately, they ultimately concluded that "[it was] a meta joke that requires you to be a fan of other movies," as well as "a very obvious joke." Even so, they added, "Not that we can't be accused of having made obvious jokes before."
Aside from Cumberbatch and Sherlock co-star Martin Freeman's recent back-and-forth in the press, little is known about when, or if, another season of the popular show will come to pass. As for Ritchie's Sherlock Holmes film series, Downey and co-star Jude Law are eyeing a third collaboration, possibly in 2020.
(Via The Hollywood Reporter)