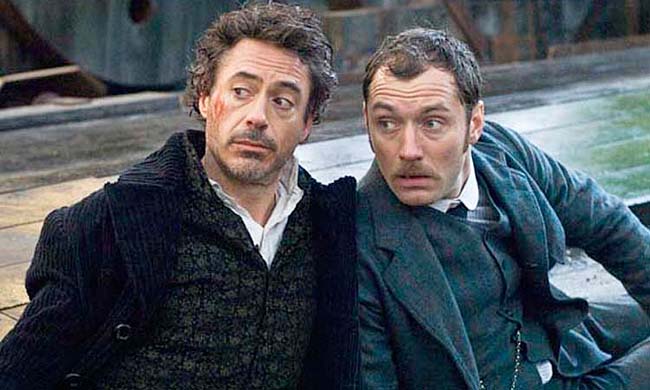 While it is unknown if Robert Downey Jr. will continue on as Iron Man following the release of Avengers 4 next year, he will be officially returning to another franchise he's led in the past. Sherlock Holmes will be back for the third film during Christmas 2020, the first since 2011's Game Of Shadows and Downey's first real blockbuster away from Marvel since the release of The Avengers.
There is no confirmation on the return of Guy Ritchie to the franchise given his attachment to Disney's Aladdin live-action adaptation, but it seems like it is Downey's show no matter what. According to a recent interview with Entertainment Weekly, Downey ran down his laundry list of future projects and proved that he's far too busy:
First of all the missus is front and center with Joe Roth producing Doolittle. I'm having a good time, though I decided to give myself, like, 40 additional challenges, like a Welsh accent — which even Welsh people say is hard to do. Then there's all this stuff down the pike. We're looking at another Sherlock Holmes, we're developing Perry Mason for HBO. I still want to do Pinocchio.
Doolittle should hit theaters right before Downey's Avengers finale — and it is a return to the old-timey Doolittle, away from the Eddie Murphy films of the late 90s. So there will be no real slowdown for the actor over that period. As for his future as Tony Stark, it is still a mystery. We might see him in the Spider-Man: Homecoming sequel or he might hang up the suit for good with Avengers 4. His post-Marvel future is starting to shape up, though.
(Via Deadline / Entertainment Weekly)