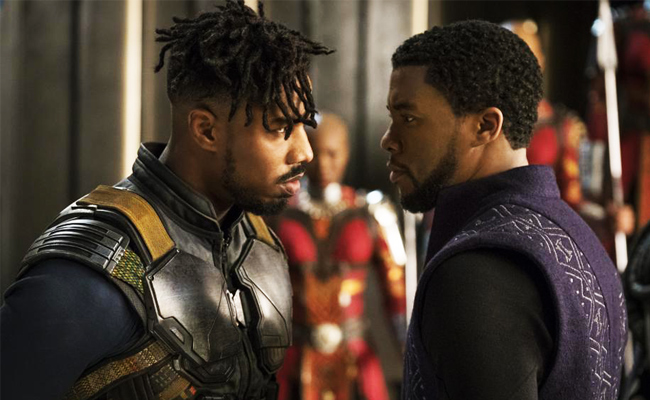 Black Panther is king of the box office.
The Ryan Coogler-directed film, which had the biggest February opening of all-time and is one of only four movies ever with a $100 million-plus second weekend, continues to rake it in. With another $8.1 million added to the coffers on Monday, Black Panther passed Iron Man 3 and Captain America: Civil War to become the third-highest grossing movie in the Marvel Cinematic Universe.
Black Panther took in $8.1 million on Monday, lifting its domestic total to a sensational $411.7 after only 11 days. Its international gross on Monday was $10.9 million, lifting that total to $316.2 million. Black Panther has gone past Iron Man 3 at $409 million and Captain America: Civil War at $408 million to reach 22nd place on the all-time domestic chart, just behind Wonder Woman for the 21st slot. (Via)
Black Panther is now only behind The Avengers, with $623.3 million, and Avengers: Age of Ultron, with $459 million. It should pass the latter quickly, possibly as soon as Saturday, but does it have a shot at the former?
Black Panther dropped 45 percent from week one to week two — let's say the same thing happens again for week three. That would place the seven-day total around $62 million, which is about even with The Avengers. Black Panther hit the $400 million mark after 10 days; The Avengers did it in 13. It would take remarkable staying power, but Black Panther has a shot for two reasons: 1) lack of competition (it can withstand the openings of A Wrinkle in Time, the weirdly-no-one-is-talking-about Tomb Raider reboot, and Ready Player One), and 2) a surge of late MCU interest before Avengers: Infinity War comes out.
I'm beginning to think Marvel knows what it's doing.
(Via Variety)