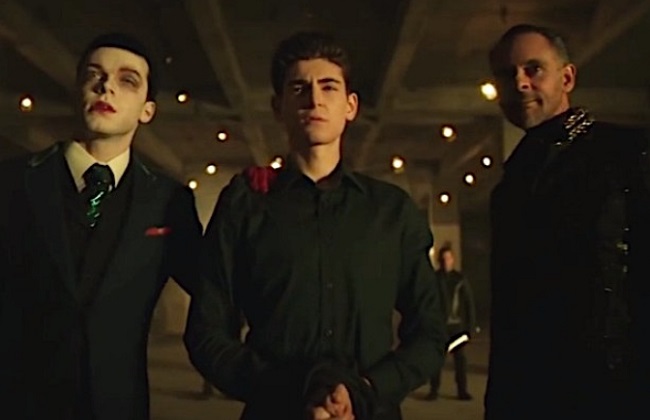 Gotham's fifth and final season doesn't premiere until January 3rd, but that hasn't kept them from divulging upcoming storylines or hinting at Joker and Harley (two characters they can't actually use on the TV side of things). Now they've also released some revealing episode titles and a couple of brief promo videos.
The "Day 1" video shows the beginning of the "No Man's Land" storyline started in the season 4 finale, in which Jeremiah and Ra's al Ghul blow up all bridges leading into Gotham, stranding the city and allowing for villains to carve out their territory (Penguin creates a monopoly on ammunition and Riddler takes over the public library, of course). The second video picks up 21 days later when supplies are running low and people are getting more desperate:
We also have the Gotham season 5 official synopsis and the titles of the first seven out of twelve episodes, which hint at Bane (Shane West) looming large in episode 5 and something potentially Joker-like happening in episode 7.
With Gotham on the brink of total anarchy and cut off from the outside world, only Jim Gordon, Bruce Wayne and a handful of heroes remain behind to retake the city. Inspired by the "No Man's Land" arc from the comics, villains including Penguin, the Riddler, the Sirens and Jeremiah have taken claim on various regions of the city. Will order be restored, or will chaos reign in Gotham?

Gotham Season 5, Episode 1 — "Year Zero"
Gotham Season 5, Episode 2 — "Trespassers"
Gotham Season 5, Episode 3 — "Penguin, Our Hero"
Gotham Season 5, Episode 4 — "Ruin"
Gotham Season 5, Episode 5 — "Pena Dura"
Gotham Season 5, Episode 6 — "The Air is Getting Slippery"
Gotham Season 5, Episode 7 — "Ace Chemicals"
We're assuming episode 5 refers to Peña Duro, the prison in which Bane was born and raised. Or maybe "Pena Dura" is the brand of hockey gear Bane hot-glued together to make his costume.
Speaking of villains, we know a little bit more about what to expect thanks to people on the show. The actor who plays Jeremiah and Jerome (Cameron Monaghan) hinted at the "vile, vicious, nightmare-fuel horror" of his character's last scene:
The actor who plays Penguin (Robin Lord Taylor) spoke about the time jump showrunner John Stephens confirmed at New York Comic Con. The finale will show Batman ten years in the future. Taylor revealed his character will also be seen in the time jump, and he's going to look more like the comic book version of Penguin. Yes, he's getting a fat suit. "Yeah, I get chunky," Taylor told Comic Book with a laugh.
(Via Bleeding Cool, Comic Book, and Gotham)