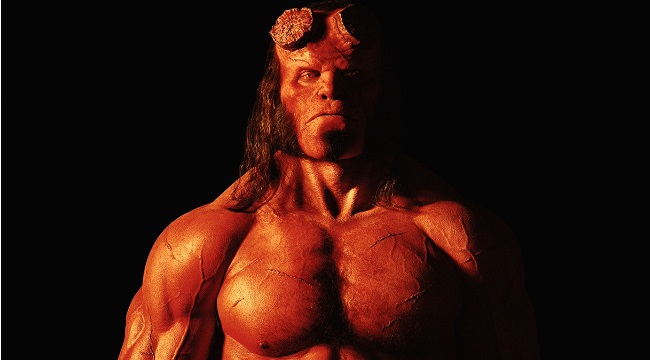 Saturday morning's panel for the Hellboy reboot was one of the biggies at this year's New York Comic Con, especially since it offered the first sizable look at the reboot starring David Harbour.
There was a two-minute sizzle reel, which Harbour — who's so popular as Chief Hopper on Stranger Things that fans have had him officiate their wedding in character — boasted wouldn't be heading online. According to The Hollywood Reporter, it was "[f]ast-paced and filled with action," and that Harbour's cigar-chomping demon scion made for "a witty, violent hero who has little patience for the supernatural world around him, or even the other members of the B.P.R.D. [Bureau for Paranormal Research and Defense] who aren't thrilled at working with him."
Attendees also learned more about the tone, and how it would differ from the previous two Hellboy films made by Guillermo del Toro. Those entries, from 2004 and 2008, were more thriller-fantasies, making extensive use of del Toro's yen for strange and mystifying creatures. This one, helmed by Neil Marshall and due in April of next year, will be more like Mike Mignola's comic, according to Mignola himself.
"This version is so close to the comic that we will be able to go back to the comic to pick what happens next," Mignola said.
"It's a little darker and it's a little funnier,"said actor Daniel Dae Kim, who plays B.P.R.D. agent Ben Daimio. Neil is a very funny man, and that's something that a lot of people don't get to see."

Harbour also went into further detail about how Marshall — who's directed The Descent and two beloved Game of Thrones episodes ("Blackwater" and "The Watchers on the Wall") — approached his Hellboy.
"He's a really great director, for horror stuff especially. He knows how to do scares and monsters, which is so great for this," Harbour said. "At its core, it's a monster movie, more than it is a superhero movie."
"It has a completely different feel," Harbour argued. "I want to get to the core of Mike's stuff, which to me is horror, even an existential kind of horror. It has a bit more of a Mignola feel rather than a Guillermo del Toro feel."
Of course, they also have to contend with Ron Perlman's beloved turn as the eponymous semi-hero. Harbour admits to being anxious about living up to the original films.
"I was nervous because Ron's iconic and he's a great Hellboy," Harbour said. "So I was like, I'm not going to imitate that. I'm going to do my own thing because I do not do what he does. My approach was a little bit more down and dirty. My Hellboy feels a little younger. He's got hair, which is a big thing. He's got a lot more inner turmoil, he's a little more lost in the universe. He's got more what I bring."
(Via THR)