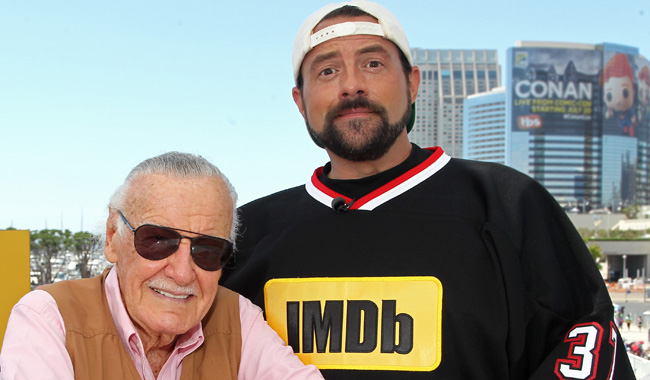 Friday would have been Stan Lee's 96th birthday. The comics god passed last November, leaving behind legions of grieving fans. Among those was Kevin Smith, who was, on top of being a lifelong Marvel devotee, one of the first filmmakers to give the co-creator of Spider-Man, Hulk, and Black Panther a movie cameo, in his 1995 picture Mallrats.
There was no chance that Smith would let Lee's birthday pass by without honoring it. And so he has. Smith posted his tribute on Instagram, in the form of a video of the last time he saw him in person: on Lee's 94th birthday in 2017, on December 28, to be exact. The video was short and simple: just Lee walking into a surprise birthday soiree.
"One year ago today on his 95th birthday, I saw @therealstanleein real life for the last time," Smith wrote in his caption. "Stan's faithful body man Max invited me to a steak house in Beverly Hills for a surprise party on behalf of our beloved Mr. Lieber." (Smith was employing Lee's birth surname.) He continued:
I asked "Are you sure it's a good idea to throw a *surprise* party for a 95 year old?" But it truly was: as you can see in the video, Stan made it through the surprise just fine. I remember nearly not going because I had a HOLLYWOOD BABBLE-ON with @ralphgarman that night (like we do Monday for New Year's Eve; Tickets at the link in my bio). But then I said "The Man's only gonna turn 95 once…" I'm SO glad I went, as this was the last time I'd ever see my friend and hero: two months later, I had a massive heart attack. And nine months after that, Stan would leave us for a better place where the master storytellers gather and reminisce about how their magic words changed the world. Happy Birthday, Stan! We all miss you because you hung the moon, man.
Smith bows to no one in his Marvel fandom. The filmmaker, podcaster, and occasional actor had a highly emotional reaction to the first teaser for Avengers: Endgame, the breathlessly anticipated follow-up to Avengers: Infinity War, which, as of mid-December, he claimed to have watched 48 times. (That's 119.2 combined hours, incidentally.) Of course, that was about three weeks ago, so who knows how many times he's re-watched it since.
(Via ComicBook.com)