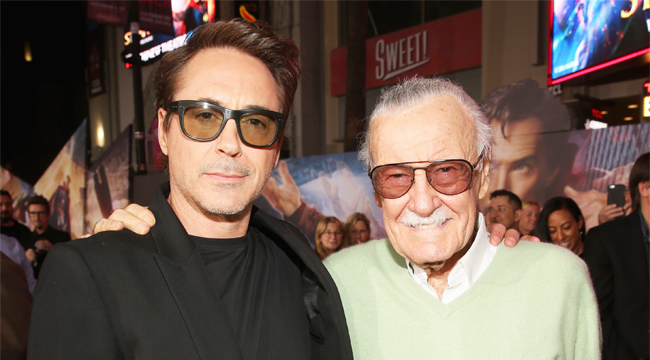 The passing of Stan Lee on Monday immediately left a Thanos-like void in the universe, not to mention a huge spiritual hole in the Marvel Cinematic Universe, known affectionately and necessarily as the MCU. Comic book fans everywhere flocked to social media, and it's clear that Lee's influence also reverberated within the hip-hop realm. At age 95, his legacy extended deep throughout not only comic books themselves but also film and TV that has endured through decades and cinematic phases with no signs of slowing.
To that effect, Lee's collaborators are showing an outpouring of emotion, and that includes several core members of the MCU, who are all paying tribute to the man who began it all. Marvel Studios President and CEO Kevin Feige addressed the matter without saying goodbye. "No one has had more of an impact on my career and everything we do at Marvel Studios than Stan Lee," Feige tweeted. "Stan leaves an extraordinary legacy that will outlive us all."
Chris Evans, a.k.a. "Captain America," then kicked off a stream of effusive tweets from MCU actors and directors. In doing so, Evans concluded with Lee's own signature sign off: "Excelsior!!"
Sebastian Stan, who plays Winter Soldier/Bucky Barnes, also thanked "great legend" Lee while adding, "I wouldn't be here without you."
Robert Downey Jr., whose career was undeniably resurrected by embodying Iron Man, Instagrammed a photo of himself with Lee in front of a green screen. "I owe it all to you," Downey recognized. "Rest in peace Stan."
Anthony Mackie, who files high as Falcon, got real. "You were a man before your time," he tweeted. "[N]ow it feels like you are gone before your time."
Avengers: Infinity War directors the Russo Brothers thanked Lee for "filling our childhoods with such joy."
Doctor Strange director Scott Derrickson bid Lee a "[g]oodnight."
In the wake of Lee's death, Mallrats (directed by Kevin Smith) is now trending due to Lee's cameo, in which he doled out life-enriching advice to Brody. On that note, Smith paid tribute to his hero on Instagram for "showing me it's always better to be a hero instead of a villain."
Outside the MCU proper, Ryan Reynolds and Hugh Jackman, who have played Deadpool and Wolverine, respectively, also paid tribute.