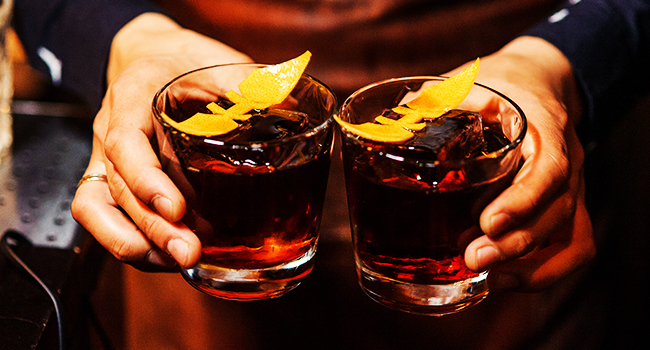 When it comes to bourbon cocktails, it's hard to beat the thoroughbred that is the Mint Julep. This combination of bourbon, ice, simple syrup, and mint is one of the most popular classic cocktails and the go-to drink for fans of the Kentucky Derby. It's also a perfect cocktail to build an alcohol-fueled bridge between the cool, rainy spring days and the warm, sunny summer days ahead.
Since you'll be partaking in many Juleps on May 5th (if you're anything like us), why not try one of the other classic bourbon-based cocktails in the weeks leading up to the famed horse race? There's a whole world of bourbon-based cocktails to fit every palate. Check out some of our favorites below.
Boulevardier
This simple, yet nuanced cocktail is made with bourbon, vermouth, and Campari. The bourbon's sweetness is tempered by the bitter Campari to make a very refreshing, well-rounded spring sipper.
It's well-suited for an after dinner drink on a warm, spring night.
The Seelbach
This iconic bourbon-based drink gets its name from the famous Louisville hotel where it was invented (and is still served today). Made with bourbon, Cointreau, Angostura bitters, Peychaud's bitters, and champagne, this cocktail is the perfect accompaniment to yard games and good times.

Manhattan
Though the classic Manhattan is usually made with rye whiskey, you can easily change up the recipe and use bourbon instead. On top of bourbon, this drink named for one of the boroughs of New York City, also contains sweet vermouth, angostura bitters, and a maraschino cherry garnish.
Brown Derby
https://www.instagram.com/p/BhFsNZlHlA1/?tagged=brownderbycocktail
This sweet and sour cocktail is named for the famous Los Angeles restaurant of the same name. It's made with bourbon, grapefruit juice, and honey syrup. This combination is like an amped up version of the whiskey sour and it's a great drink to pair with a barbecue and good friends.
Gold Rush
The Gold Rush might seem like a classic cocktail, but it was actually created by bartender T. J. Siegal at New York's famed Milk & Honey in the early 2000s. It's almost like a cold toddy — in that it's made with bourbon, lemon juice, and honey syrup.
Brooklyn
When you think of whiskey cocktails, your mind carries you to the aforementioned Manhattan first. But, you shouldn't sleep on its close relative The Brooklyn. This alternative take on the classic drink is made with bourbon, dry vermouth, maraschino cherry liqueur, and Italian Amaro.
Old Fashioned
This classic cocktail's genesis can be traced back to the early 1800s and its popularity has never seemed to wane. Made by muddling sugar and Angostura bitters before adding ice and bourbon, sipping on an Old Fashioned is the best way to start (and end) a big meal.
Whiskey Sour
Sometimes this cocktail gets a bit of a bad rap because of the use of overly sweet sour mix. But, when the cocktail is made as intended with bourbon, lemon juice, gum syrup, and an egg white, it's extremely delicious, delicate, and well suited for spring (and summer and every other season for that matter) imbibing.