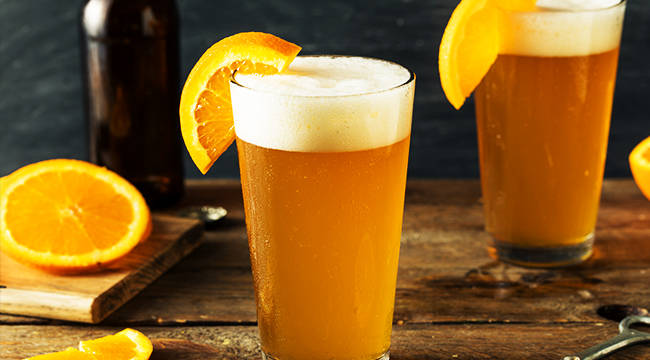 Summer '19 is the summer of light, refreshing, fruit-based beers. Whether it's a rhubarb and strawberry gose, peach Berliner Weiss, a grapefruit IPA, or a raspberry-based pale ale, this season is full of fruit flavors. Big, juicy, tart, sweet. We're so keen on this trend that we wrote about bartenders' favorite fruit-based beers for summer '19 a few weeks back. Well, it wouldn't be fair to leave out the brewers.
To make sure that we knew every fruit-based or fruit-forward beer worth knowing, we asked some of our favorite brewers to tell us their favorites. Cheers to a refreshing summer!
Russian River Consecration
Eric Hernandez of Concrete Beach Brewery
My favorite fruit beer is Consecration by Russian River Brewery. This beer is brewed with black currants and aged in wine barrels. It's perfectly balanced, sour and refreshing. It's one of the few sour beers I can have multiple of in one sitting.

Cantillon Fou' Foune
Brian Morris, innovation brewer at Deep Ellum Brewing Company
Of all of the types of fruit and styles of beer that are out there, the most magical combination of the two has to be Fou' Foune from Cantillon. The complex sourness of their spontaneous fermentation pairs incredibly well with the apricots that the beer ages on. It may be bit difficult to come across unless you have a secondary market source.
New Glarus Raspberry Tart
Mark Safarik, brewmaster at Dogfish Head
Raspberry Tart from New Glarus Brewing. The aroma and flavor on this beer is a decadent explosion of fruit. It's raspberry dialed up to 11.
Crux Fermentation Freakcake
Rhett Dougherty, Head Brewer at Veza Sur Brewing Co
The single fruit cranberry Freakcake from Crux Fermentation Project is on a different level. This bourbon barrel aged Oud Bruin is refermented in oak with Brettanomyces and cranberry. The depth of flavor created is heaven-like, pairing the roast of the oak with bright and tart fruit character.
Rare Barrel Ensorcelled
Joe Peach, head brewer at Kairoa Brewing Company
Ensorcelled by The Rare Barrel. This dark sour beer with raspberries affords brilliant harmony in the form of dark chocolate and stone fruit with vibrant fresh raspberries. Truly a dessert beer that pairs perfectly with anything loaded to the gills with chocolate.

Cantillon Rose de Gambrinus
Yiga Miyashiro, director of brewery operations at Saint Archer Brewing Company
Cantillon Rose de Gambrinus. It's the most balanced refreshing lambic I've had. Full of fruit flavor and aroma, not sweet, the right amount of acid, tart, and sour to create an amazing experience.
New Glarus Wisconsin Belgian Red
Phil Leinhart, brewmaster at Brewery Ommegang
New Glarus Wisconsin Belgian Red has a nice cherry aroma and flavor combined with lively carbonation. This beer is really nice on its own, but it's also an excellent pairing for desserts and cheeses. It's delicious.
Three Notch'd Watermelon Gose
Cameron Compton, Brewer and co-owner of Midwest Coast Brewing
Call me nostalgic, but I'm giving the nod to the first fruit forward beer I remember really liking. The Watermelon Göse from Three Notch'd in Charlottesville, Virginia. I think fruit beers always felt overly sweet to me, so bringing some tartness from the göse to the table changed the game for me. They knocked it out of the park with this one.
Denver Princess Yum Yum
Brad Manske beverage director at Viewhouse VH Beer
Princess Yum Yum by Denver Beer Company because it's fruity and fun both on its upfront aroma and lingering flavor. This beer is very sessionable and keeps you craving more.

Burley Oak Double Blackberry Cranberry Jream
Ryan Liotta, brewer at Blue Point Brewing Company
My favorite fruit-based beer is indulgent and sweet. It's from Burley Oak Brewing Company in Berlin, Maryland. Specifically, the Burley Oak Jream Series Double Blackberry Cranberry. It tastes like pie. Need I say more?
Cantillon Kriek
Carl Heinz, brewmaster at Breckenridge Brewery
Cantillon Kriek has a tangy taste with cherries and other red fruits and is an absolutely unique and special brew that my wife and I had the privilege of enjoying on our honeymoon in Belgium. We had a fantastic experience at the brewery as well which will always be a fond memory for us.
Flying Dog Numero Uno
Mark Hellendrung, CEO of Narragansett Beer
I really enjoyed the Numero Uno from Flying Dog at a Nationals game last summer. Super refreshing on a hot summer night.
New Glarus Strawberry Rhubarb
Scott Ungermann, brewmaster at Anchor Brewing
New Glarus Strawberry Rhubarb is a personal favorite because it blew my mind at first scent, and then the first sip followed up beautifully – all the best parts of Strawberry Rhubarb pie in a glass!