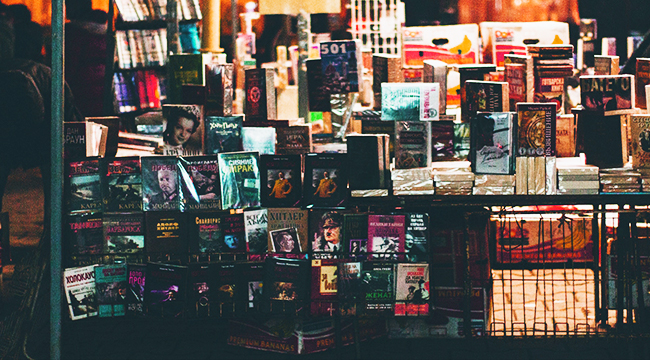 Switching Scenes is brought to you by Boost, a brand that knows the best experiences come when you change things up.
I used to walk down the street blindly, reading a book and only peeking at my path every few steps. Or I'd trail after my mother in grocery stores — a novel completely covering my face, with just enough peripheral vision below the pages to follow her heels as they clomped across the white-tiled floor. Or I'd sit under the jungle gym at age 10, hanging out with Harry Potter and members of The Babysitter's Club because we'd just moved and I hadn't made friends yet.
Growing up, reading books felt like my calling in life. The thing I was best at. And because my book obsession bordered on religious fervor, bookstores were always my place of worship. Even today, walking into a bookstore fills me with deep reverence and a sense of awe. Sure, the world has changed in terms of physical bookstores and I'm as guilty as anyone of ordering a book for the beach on Amazon or loading up a Kindle to lighten the load, but the magic of a brick and mortar bookstore can never be replaced by convenience.
Indie bookstores are important to our society. So if we want to keep them around for subsequent little girls who wander with a book in front of their faces, we need to visit them and help them thrive. Start with one of these book paradises around the country.
1. Women & Children First — Chicago, Illinois
Women & Children First is a small store in an unassuming location in Chicago's Andersonville neighborhood. It's not towering with a million books — displayed with artistic, sculptural impressiveness. It's not also a bar and there's no garden with globe lights in the back for comedy. At first glance, it's a pretty ordinary bookstore, but it's hard to explain the feeling you get when going into this magical place. You can just sense that it's special. That every person at this feminist indie spot loves books. The staff suggestions are deeply thought out and detailed. You can read every one of the suggestion cards and know, "Oh that sounds interesting, but it's not for me" or "Yes, that's exactly the kind of book I need in my life right now."
Women & Children First may be the inspiration for Portlandia's "Women and Women First" spoof, but there's truly nothing disingenuous about the store itself. It's a place you just want to linger
.
2. Skylight Books — Los Angeles, California
There are a lot of terrific bookstores in L.A. and because I live here, I struggled to pick one. But Skylight Books in Los Feliz just has this airiness about it that you can't help but be drawn to. There's an impressive tree in the middle, and it really is filled with light, like its name. It's the kind of bookstore that you walk into and immediately feel the tension rising out of your body.
3. The Wild Detectives — Dallas, Texas
Could you imagine anything better than a cozy little house transformed into a reader's paradise with a bookstore, coffee shop, and full bar all wrapped up in one? I literally cannot. Wild Detectives opened in Dallas in 2014, but it feels so much a part of the fabric of the city that it's strange to realize it wasn't there forever. With cozy nooks and a welcoming backyard for daytime sunning and reading or nights with performances under twinkling strings of lights, Wild Detectives is a place to disappear for hours… or days.
You know, until your family hires a private detective to track you down.
4. Powell's City of Books — Portland, Oregon
Powell's is a truly legendary independent bookstore. They say they're the largest indie bookstore in the world, and walking in, you believe them. The new and used bookstore is an embarrassment of riches, books as far as the eye can see. It would be overwhelming if it didn't also feel warm and welcoming.
One great thing about Powell's is that it's rare for an independent bookstore to truly have the kind of selection you could find at any of the larger retailers. If you need something specific, you're likely to be able to pop in and grab it, making it one of the most convenient "shop local" joints in the country.
5. BookBar — Denver, Colorado
https://www.instagram.com/p/Bgh0IWLndSi/
Another fantastic option for a glass of wine, a bite, and browsing the fiction section, BookBar is a gorgeous space with welcoming seating to curl up in while you dive into a new title. It feels bustling and alive inside — it's not a place in which you feel removed from the world. It's the kind of bookstore you want to go with a friend to drink and talk animatedly about what you just read.
Be sure to check out their awesome back patio, it's the perfect place to spend a low key evening that still feels special.

6. Books Are Magic — Brooklyn, New York
A relatively new entry to the indie book scene, Books Are Magic, opened in 2017 by novelist Emma Straub, feels exactly that: magical. It's also modern — with a bright mural outside, exposed brick walls, a sleek tan leather couch, and neon lettering on the wall.
This store is a realization of childhood dreams, filtered through an adult's hip lens.
7. Full Circle Bookstore — Oklahoma City, Oklahoma
Full Circle is unassuming at first, located across from the main mall in a smaller mall — the kind with that dark, empty feeling, that's slowly dying, and you think, "Oh man, somebody should put this thing out of its misery." But then you walk inside the book store in the corner and it's like everything around you springs to life. Floor to ceiling books offer a fantastic selection, a cafe buzzes with artistic folk, and events make the whole place hum.
Full Circle is a place to immediately feel at home while reading the afternoon away.
8. The Last Bookstore — Los Angeles, CA
This massive store in downtown L.A. feels like DTLA itself. A surprise, a delight, expansive, unique, and whimsical. Books are everywhere, surrounding you. And you can spend 15 minutes inside and suddenly realize, it's closing time, and those 15 minutes were actually hours and hours.
You just get lost in entirely the best way. The Last Bookstore is part art, part dreamy getaway, and all book lover's paradise. It's a must-visit in Los Angeles — skip the beach, you can read about it later.
9. The Spiral Bookcase — Philadelphia, PA
When you think of The Spiral Bookcase it's almost impossible to remove it from the image of its cat, Amelia, curled up on a yellow, crushed velvet chair, begging you to curl up too, with a mug of something hot. It's tiny, the kind of bookstore you go into when you aren't looking for something specific, just something you'll love. This is a place that feels like a rarity these days — slow-moving, warm, and full of wonder.

10. The Strand — New York, New York
It's not possible to have a list of best indie bookstores without mentioning The Strand near Union Square. It's what you imagine when you hear "classic indie bookstore" — having survived since 1927 against the odds with high-profile authors reading to intelligent crowds and towering shelves jam-packed with titles. The books come first here, with over 2.5 million titles. It can be overwhelming inside, lots of people, but when you walk into an independent bookstore that's survived almost a hundred years and is packed on the daily, you can't help but smile.