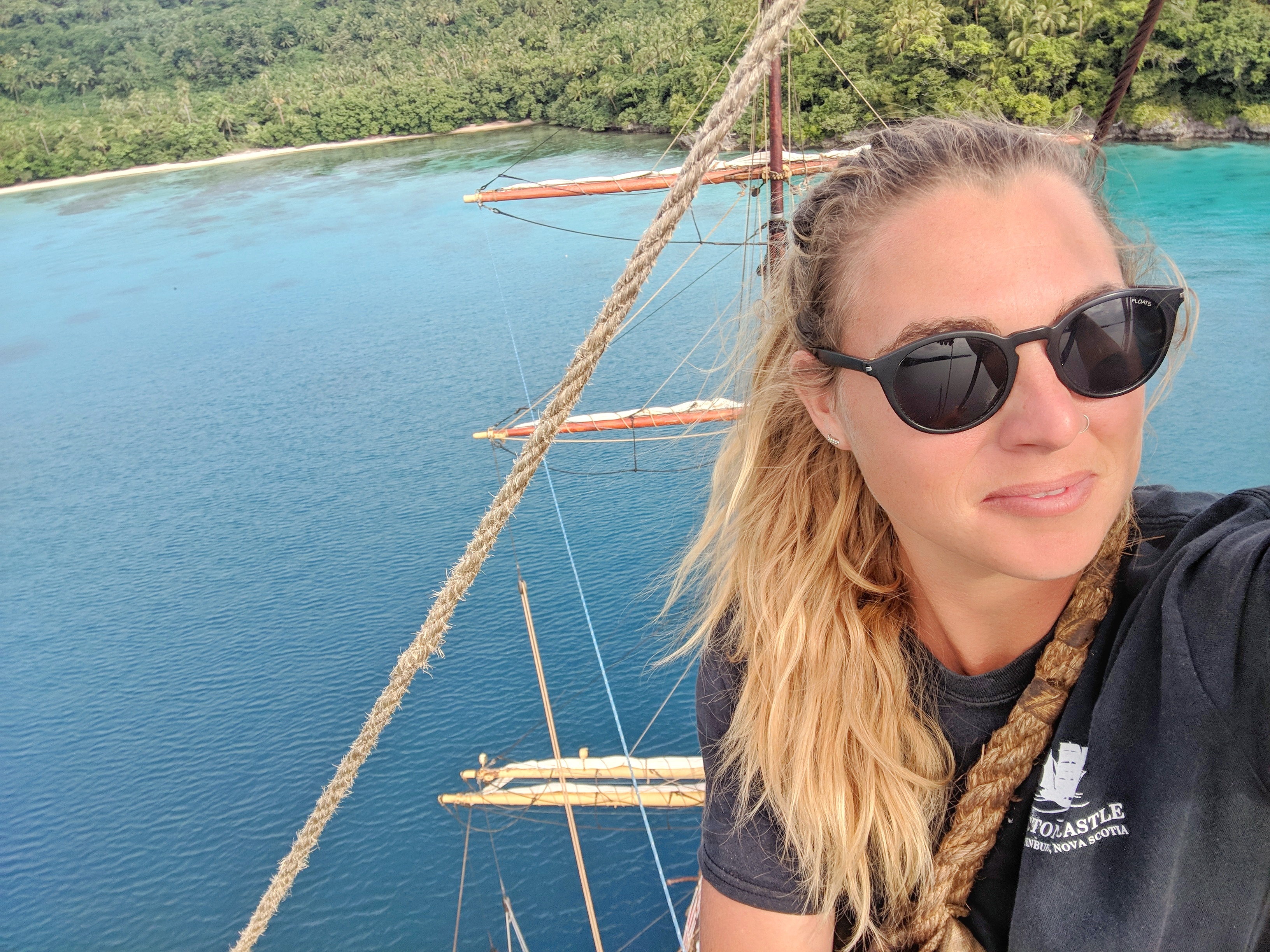 If you're anything like our team here at Uproxx Life, your nostalgic travel fantasies likely include delusions of grandeur on the high seas. Would you be living the pirate life like Steve Bramucci? Defending indigenous populations from foreign invaders like Zach Johnston? Or perhaps you'd be a murder-for-hire bounty hunter like Allison Sanchez. My own daydreams usually involve blockade running on the swiftest ship in the fleet, and then navigating the supplies to far off lands in need of shipments. But alas, the sailing life was and always would be a pipedream, right? I mean, in the age of supertankers, mega yachts and cruise ships who lives on a tall ship anymore?
Well, turns out there are a handful of badasses actually pursuing this bold endeavor on the ocean tides. Meet Erin Greig, Chief Mate on the Picton Castle, a square rig tall ship that is currently on its seventh circumnavigation of the globe. Though it was recently docked in my hometown of New Orleans, I caught up with Erin between weeklong legs in the South Pacific to find out what life is like on board an old world-esque maritime vessel.
Erin, can you start by telling us about who you are and where you're from?
I am a navigational officer and Chief Mate of the traditional sailing ship Picton Castle. I was born and raised on the island of Bermuda and can be found circumnavigating the globe in tropical latitudes.
What are the main purposes of the Picton Castle?
Picton Castle is a sail training ship that sails around the world with a crew of twelve professional mariners and thirty-six trainees, of all ages, passing on the skills and traditions of the Age of Sail. We also, whenever possible, transport cargo to islands in the South Pacific, which may only receive supply shipments three or four times a year.

What are the duties of the Chief Mate? What is a typical sea day like on the Picton Castle?
As Chief Mate, I run the vessel — in so far as maintenance, crew organization, and navigation. An average day at sea starts at 3:15 am when I awake to stand watch from 4 am to 8. During these times I'm guiding the helmsman on where to steer, tracking weather and setting sail accordingly. At 8 am, I am relieved by the 2nd Mate. I go for breakfast and then will monitor the ship's work throughout the day. Maybe I get to do a bit of sail making myself. I'll catch a nap after lunch before I am needed back on deck at 4pm, the time when the Captain or myself will hold a workshop for the crew. Generally, it can be teaching them rope-work, seamanship skills or navigational components. I'm still on duty when dinner is served, and at 8 pm, when I am once again relieved, I will dive straight down to my cabin for some much need sleep.
How about a standard port day?
When we are in port we have a fantastic rotation of one day on two days off. After we spend twenty-four hours aboard, doing what the ship needs and keeping her safe, we are allowed to explore unique countries and islands for up to forty-eight hours before we will be required to return back aboard. Having the most responsibility after the captain, I'm generally around more than that. However, few other maritime jobs give you so much time ashore.
Describe briefly to a layman (like me) how square rig is essentially different to more traditional sailing or boating?
Sailing a square rig ship around the world is different in so many ways. The community you sail with, the attention to detail required to sail a ship like the Picton Castle and the innate responsibility that the ship fosters to care for her, your shipmates and yourself is completely unique than to doing what we would do on a yacht. The program has been facilitating these voyages for twenty years. So, in the ports we return to are always locals who anticipate our arrival. It gives us a rare look into their cultures which makes our time ashore even more incredible.