As a new year begins, many of us are making resolutions, goals, or intentions about the things we want to accomplish or manifest in the coming months. If you're anything like me, the top of the list is always traveling more, spending more time in nature, and taking better care of your physical and mental self. As I've traveled extensively over the last several years I've realized these goals are all interconnected and positively correlated – an increase in one generally creates an increase in the other.
So I'm planning for them all this year. All at once.
I've spent the last seven years traveling solo to National Parks all across the United States. Now, after visiting 58 of the major 63 parks and all 50 states on my own, the questions I get the most often sound something like "I have a week off in ____ month – where should I go?" or "When is the best time of year to go to _____ National Park"?
In some ways, I'm hesitant to answer. Because, of course, every traveler values different things. Some want to see their destination at peak conditions. Others want to avoid crowds or be able to explore without worrying about reservations and permits. Many travelers are now focusing on wellness destinations. I tend to land… somewhere in the middle. But after visiting so many parks multiple times and at different months of the year, I do have some strong opinions on the best time to see the towering granite of Yosemite or the blue waters of Dry Tortugas. And while I wish I could just hop in my car at any time and drive to an unplanned National Park destination – with record visitation numbers that just isn't feasible anymore.
In order to have a memorable National Park getaway that fuels your body and soul you need to plan in advance – for reservations, permits, lodging and activities. As 2023 begins, there is no better time to start planning than now. Of course, there is almost never a bad time to visit an outpost of America's Best Idea. But there are better times than others. So here's your guide to my picks for the best major United States National Parks to visit for each month of 2023 – and how to maximize your health and wellness in the process:
JANUARY — Death Valley National Park — California
With temperatures that have reached as high as 134 degrees Fahrenheit, Death Valley National Park truly has the potential to live up to its name in the summer months. Because of the extreme heat, I love to visit the park in the dead of winter and gloom of January for a warm pick-me-up. With January temps averaging in the 60s, winter is a great time to visit this otherworldly park.
What to do:
Start your day watching the sunrise at Zabriskie Point before heading down to Artists Drive. The single-lane road is one of the most incredible in the United States, leading to the pastel hills of Artist's Palette. Take an hour or two to walk onto the salt flats of Badwater Basin – the lowest point in North America – and run around on the Mesquite Flat Sand Dunes (which won't be scorching this time of year).
Where to stay:
You'll want to stay in Furnace Creek – where the park is located – to maximize your time on a visit to Death Valley – the next nearest town is 45 minutes away. But luckily you have options, from the more luxurious (and aptly named) The Oasis at Death Valley to developed and primitive campsites within the park (Furnace Creek Campground takes reservations here and fills fast).
How to maximize wellness while you're there: CONNECT WITH THE COSMOS
Studies have shown that darkness benefits our overall health through melatonin production which not only leads to better sleep but fights some diseases. But in our increasingly connected and busy lives, it's rare to experience total natural darkness. The International Dark-Sky Association has named several US National Parks to its list of International Dark Sky Parks that "possess an exceptional or distinguished quality of starry nights and a nocturnal environment that is specifically protected for its scientific, natural, educational, cultural heritage, and/or public enjoyment" – and, you guessed it, Death Valley is one of them. Not just on the list, but a Gold-Tier — the highest possible rating.
There is even a Dark Sky Festival at Death Valley each year. Camp if you can, or stay past sunset to experience some seriously incredible stargazing – with health benefits. Tune out, turn the phone off, and look up at the wonders of the cosmos to kick off the new year!
FEBRUARY — Yosemite National Park — California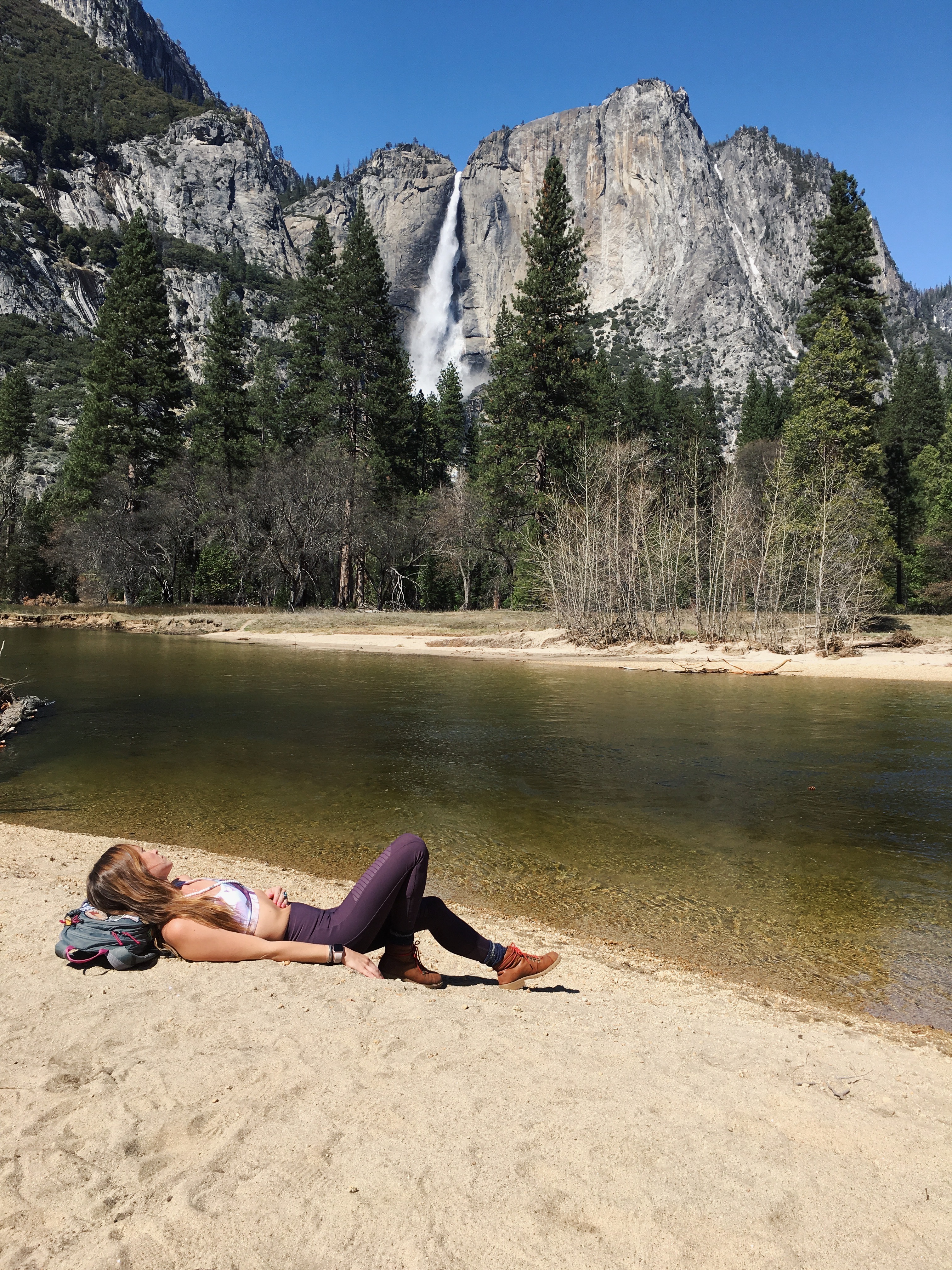 There is truly never a bad time to visit Yosemite. If you ever have the chance, honestly – just go. But if you have the ability to be a little more selective in your travel plans I recommend aiming for a February visit for a couple of reasons. First, the Yosemite firefall occurs in February. While this used to be a fairly niche event for landscape photographers — when Horsetail Falls can glow orange backlit by the sun — in the past few years it has become a complete madhouse of people vying for spots on the valley floor to catch a glimpse of this natural wonder. I've visited twice during the firefall – and honestly skipped it both times due to crowds – but this year is different. The firefall will require reservations on February weekends unlike in years past, which should make it a more enjoyable experience for everyone. And a great excuse to visit one of the most iconic parks in the NPS system.
What to do:
Watch the firefall! Reservations are needed February 10-12, 17-19, and 24-26 (24 hours a day) which can be made here beginning January 13. Once you enter the park you'll want to find a spot near the El Capitan picnic area. Or spend sunset at Tunnel View instead – it will likely be less crowded as the majority of people are diverted to the valley floor.
Where to stay:
I always stay at Sierra Sky Ranch in Oakhurst, but there are tons of options in and around the park. For a luxurious experience, try to book The Ahwahnee, or reserve a spot at one of Yosemite's many campgrounds.
How to maximize wellness while you're there: GO FOREST BATHING
Over the past several years, the term forest bathing (or shinrin-yoku) has burst into the lexicon of outdoor enthusiasts and casual observers. The term for the Japanese practice of mindfulness through spending time in nature is proven not just to improve the sense of well-being, but to lower heart rates and blood pressure simply by stepping into nature – and what better place to do so than in Yosemite?
You can often find guided forest bathing and even retreats throughout Yosemite but if you're outside… you're kind of already doing it.
MARCH — Zion National Park — Utah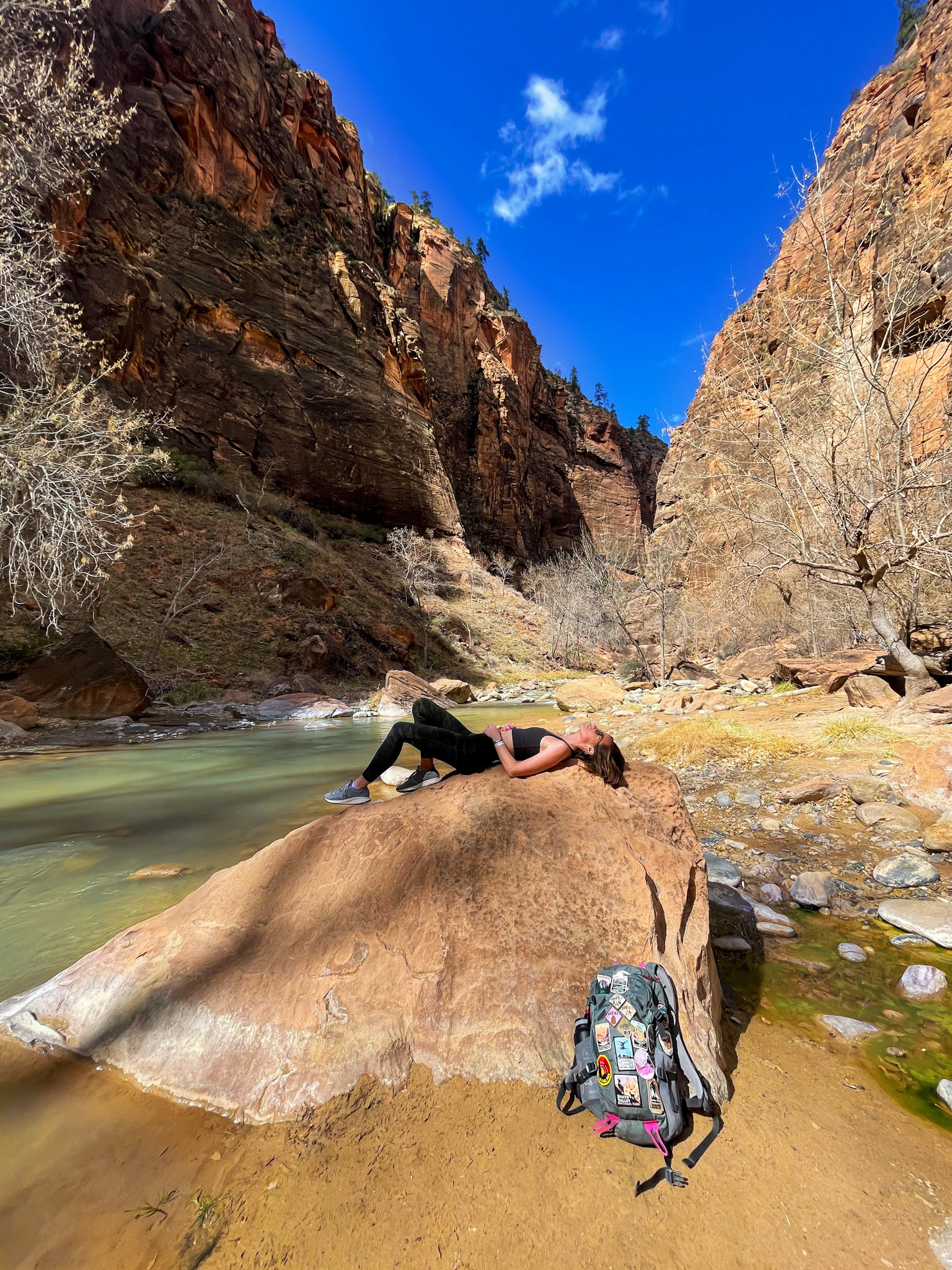 March is the perfect time to visit any of Utah's Mighty 5 National Parks – but Zion is my top pick. As the Utah parks continue to see record visitation, Zion is – by far – the most visited. But as it is ranked just third in land area of the five parks, it feels – and is – crowded for much of the year. But March is sort of a sweet spot for me, with warm weather visitation ramping up a bit later in April, you're more likely to find fewer people and hassle while also encountering temperatures that average highs in the mid-50s.
What to do:
Hike the iconic and thrilling Angel's Landing trail (only with a permit you can acquire here), or opt for a similar view from Observation Point via East Mesa Trail. March is also a great time to hike The Narrows, a very popular hike in the narrowest point of Zion Canyon through The Virgin River. You can prepare for the cooler water temp by renting gear in Springdale.
Where to stay:
Zion is quickly becoming a glamping destination as well as a hiking one. Under Canvas, the upscale glamping chain has a gorgeous outpost bordering the park. There are also many traditional hotels and resorts in and around Springdale. There are three campgrounds in the park and some spots can be reserved here.
How to maximize wellness while you're there: GO FULL "HIPPY SPRITUAL"
If you've ever visited a canyon in the southwest there is a good chance you or someone in your group described it as "a spiritual experience". Often, when surrounded by intimidatingly large sandstone formations on all sides, there are few other words to describe – making Zion the perfect place for a spiritual retreat. With improving spiritual wellness topping many of our 2023 lists, there are ample opportunities in Zion. From guided retreats to opportunities for solo mediation – this is the perfect space for growth. I like to find a rock near the Virgin River and use a meditation app, then spend time journaling.
APRIL — Olympic National Park — Washington
The Pacific Northwest is, in my opinion, at its best in the springtime. And Olympic National Park just outside of Seattle Washington is no exception. While April is still a bit of a crapshoot with the weather in the park, you'll definitely get more bang for your buck and a whole lot more opportunities for solitude than later in the season. I've visited twice in April and both times had many moments that felt like I was the only one on the peninsula. While there may be clouds and rain, April has many nice days and the lush green rainforests are extra spectacular during this time. Lodging is more affordable and wildlife is abundant.
What to do:
Most of the park will be open in April – except for maybe Hurricane Ridge – and you should plan on experiencing it all. Olympic is one of the most diverse parks, with beaches, forests, mountains and lakes – you really can't go wrong. I love to visit the Hoh Rainforest, hike Sol Duc Falls, and watch the sunset from Second Beach.
Where to stay:
There are plenty of options for lodging in the small towns on the Olympic Peninsula. Port Angeles will have the most options, while Forks (of Twilight fame) offers less variety, but easier access to the Western beaches. I'd love to stay at the stately and historic Lake Quinault Lodge – which is open year round – on my next visit.
How to maximize wellness while you're there: TAKE A SOAK
Chances are, if you see an epic Instagram Reel of a mineral or hot spring in a lush forest, it's somewhere in the Pacific Northwest. Whether natural or developed, there is nothing like a hot soak after a long day hiking and exploring. Not to mention the health benefits of mineral springs: pain relief, stress reduction, mineral absorption, healthier sleep, blood circulation and skin detox – the benefits have been known for years by indigenous groups and scientists alike. And in Olympic National Park there are some readily available at Sol Duc Hot Springs and Resort. Rent a cabin and spend time in the healing waters of the hot springs while surrounded by one of the United States most beautiful National Parks.
MAY – Glacier Bay National Park — Alaska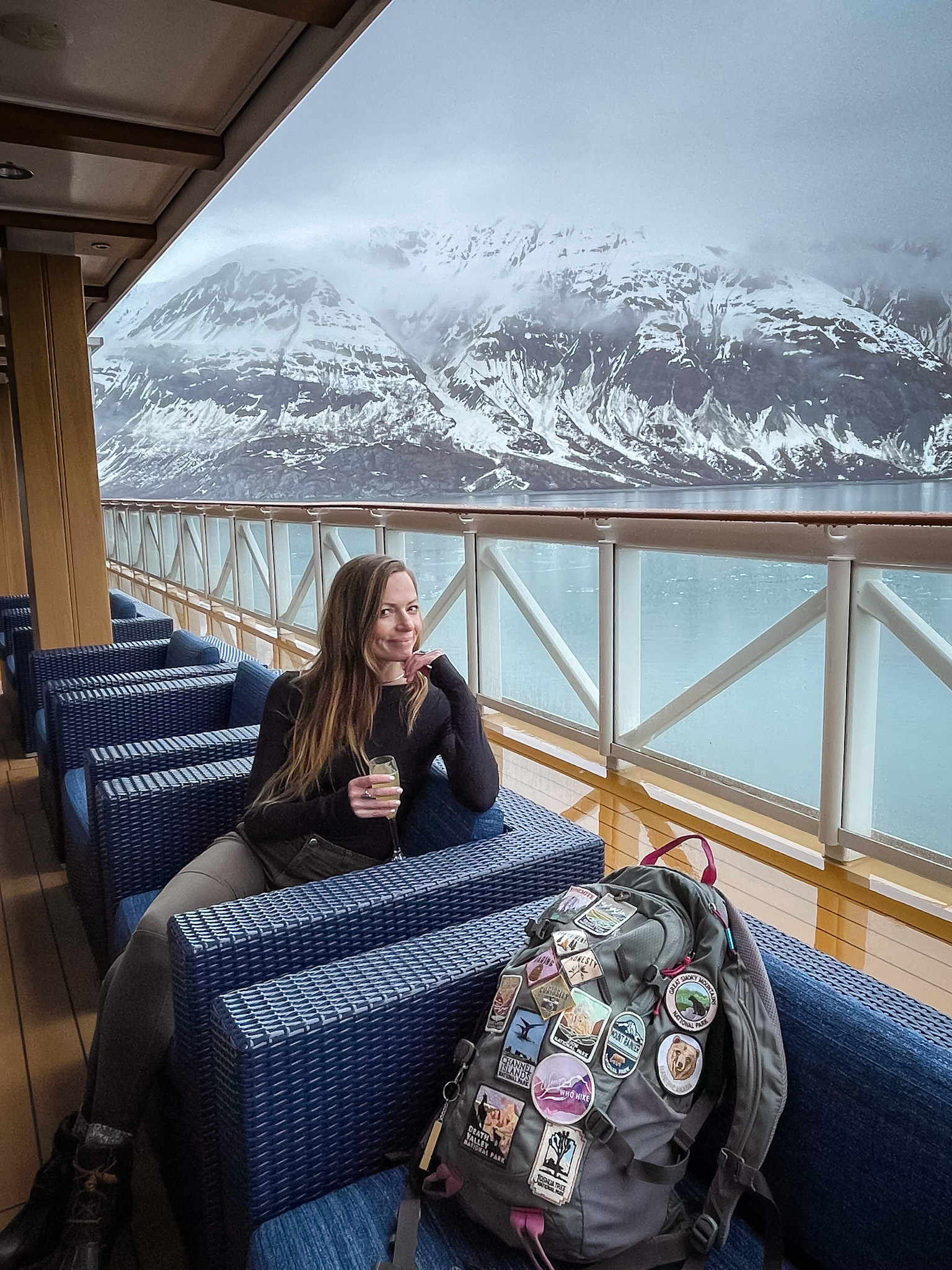 Of the 63 parks with simply the "National Park" designation, eight are in Alaska – and the majority are as remote as you might imagine. These are the parks you often see on the "Least Visited," "Hardest to Travel To," and "Most Underrated" parks lists. Glacier Bay National Park belongs on just a couple of those lists because despite its remote location (there are no roads into the park) there is one fairly easy – while not necessarily cheap – way to visit: on an Alaskan cruise. And May is the perfect month to sail. May is a shoulder season for Alaskan cruises, the first full month of operations, making crowds and pricing slightly lower than the more popular summer months. And while you might be skeptical of a cruise visit, it's how the huge majority of visitors enter the park.
With just two ships given permits into the park per day, Park Rangers that come on board for narration and interpretation and a front row seat to glaciers and well, the bay that you are there to see — it's a unique and truly awe-inspiring experience.
What to do:
When I sailed to Glacier Bay on the Norwegian Bliss, truthfully I spent most of my time on my balcony with some pizza and binoculars (and maybe a couple of glasses of champagne). The ships traditionally spend 9-10 hours in the park and have scheduled stops at some of the highlights – but it's all incredible. Watch for calving glaciers and wildlife while slowly traveling through what feels like a dream world.
Where to stay:
In your cabin! You'll definitely want to opt for a balcony room on a Glacier Bay Cruise. You can book sailings through Norwegian, Princess, and Holland America.
How to maximize wellness while you're there: TREAT YOURSELF TO A SPA DAY
A day at the spa may seem like an indulgence to many, but the health and wellness benefits are legit. From reduced inflammation and improved circulation to the boost in mental clarity and confidence that comes from pampering yourself – spas can be an integral part of a health and wellness routine. And cruise ships have figured this out – from massages to saunas, hot tubs, steam and relaxation lounges, a cruise is a perfect time to give your wellness a boost through some pampering.
JUNE — Grand Teton National Park — Wyoming
When pressed to choose a favorite National Park, I always come back to Grand Teton. The jutting peaks of the Teton Range are a sight to behold in all seasons, but summer is when they really shine. With the park and hiking starting at over 6,000 ft above sea level, the winter season is beautiful – but long – but June is when it finally feels like summer in the park. While there will still be snow on some of the higher elevation trails, you'll have great access to much of the park and lakes in June – the crowds are also just starting to come in. In June you'll be able to raft the Snake River, admire the wildflowers, and be able to shed some layers on the trails midday while still feeling a chill next to a campfire at night.
What to do:
I love to start my day in Grand Teton with a hike to Taggart Lake, followed by some pizza at Leeks Marina. Stop by String Lake for a casual hike or to sit and watch the water with a good book. Raft down the Snake River or take the boat tour on Jenny Lake to get out onto the water. End your day with dinner at Dornan's and watch the sunset at Jackson Lake with some wine at Colter Bay Swim Beach.
Where to stay:
I like to camp when I'm visiting Grand Teton, but there are plenty of lodging options if you prefer a bed frame. There are many lodges within the park – I'd love to stay at Jackson Lake Lodge — and outside just a short drive away in Jackson. If you don't mind a longer drive into the park, the Idaho side of the range is much calmer and has many unique short-term rental options (I love this one).
How to maximize wellness while you're there: WILD SWIMMING
I've recently been reading about "wild swimming" – a possibly new term for something many of us have been doing for decades, now with proven health benefits. Wild swimming is simply swimming in natural bodies of water with benefits similar to a cold plunge. There have been studies that show open water swimming's effect on mental health, along with reduced inflammation and better stress response. And Grand Teton is the perfect place to try it for yourself, with an abundance of cold lakes ready for a plunge after a long hike.
JULY — Denali National Park — Alaska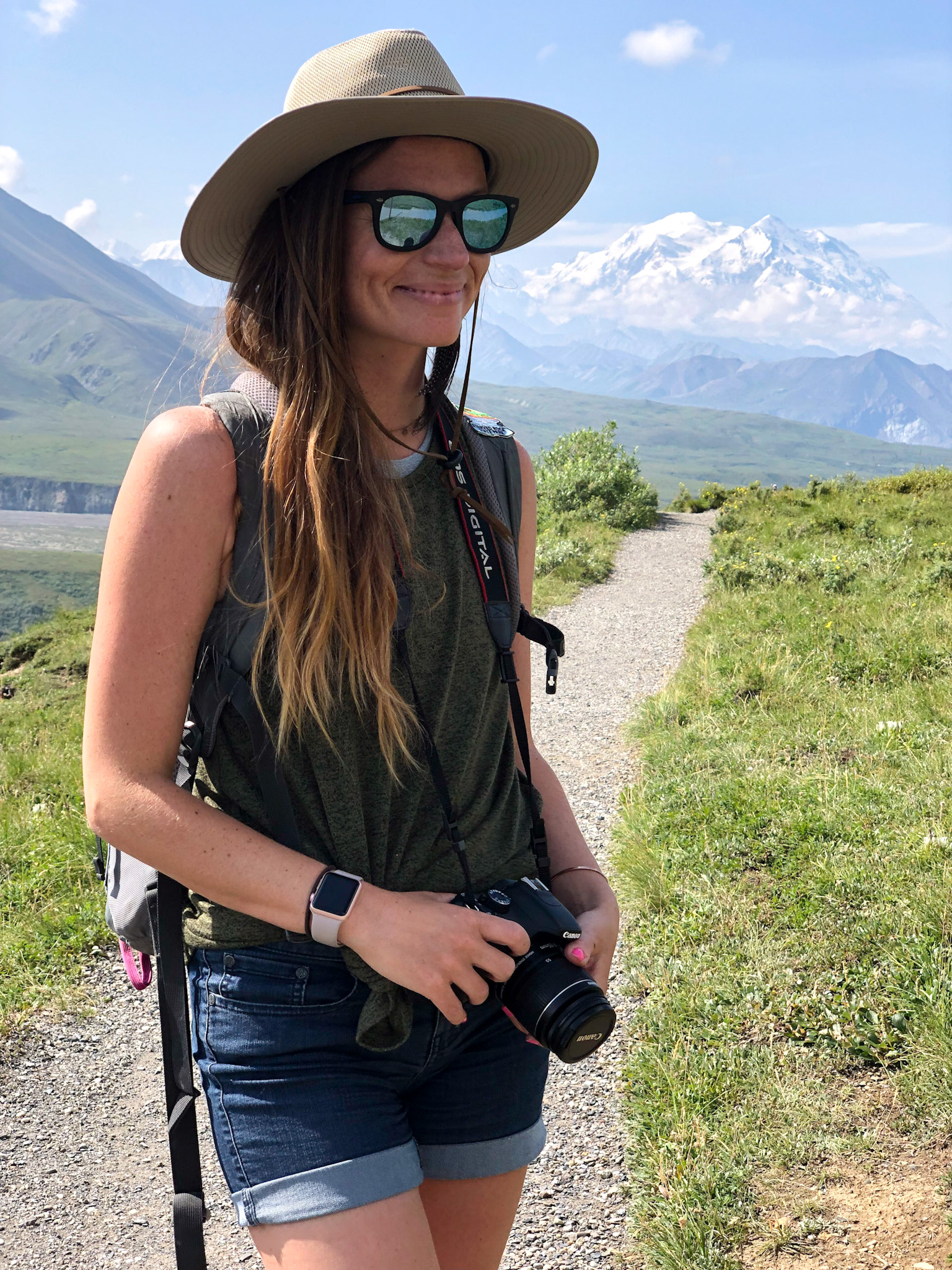 July is prime vacation time in the United States. With great weather and kids out of school, it feels like everyone is traveling. Visit any National Park and you will see – they are. But rather than forgo a National Park getaway altogether during peak season, I recommend heading somewhere with a short visitation window: Denali. While the park is open year-round, the main and only road for visitors is open from just late May to mid-September. And while any visit to the home of the towering 20,310 ft tall mountain would be a bucket list experience, I recommend going in July. The weather is warm and you'll have long days to enjoy the incredible scenery. Wildflowers are blooming during July, and wildlife is abundant.
You'll be grateful for the midnight sun with all that there is to see.
What to do:
To access most of the park you'll have to ride one of the many buses down the Denali Park Road. While the first 15 miles are accessible by private vehicle, there isn't much to see of the 89-mile road in that distance. Aim for a bus ride that goes the furthest for a day trip, or camp within the park and take advantage of the transit buses. Hike Triple Lakes Trail, around Mountain Vista Loop and Savage River. Make sure to visit the Denali Canine Rangers – the sled dog kennels.
Where to stay:
There are campgrounds within the park as well as some privately owned remote wilderness lodges, but most people stay outside of the park. Healy is just north of the park, but there are several hotels and lodges on The Parks Highway that leads to Denali. During my visit, I rented a sprinter van and camped legally at campgrounds and on the side of the road all across Alaska.
How to maximize wellness while you're there: BASK IN A FULL DIGITAL DETOX
By now we all know there are countless benefits to digital unplugging, from improved productivity, better mental health outcomes, improved sleep and a better outlook on life. But, it's just so hard to actually do it. With more National Parks becoming connected in some way, it's harder than ever to truly feel as if you are off the grid. But it's not only possible at Denali, it's guaranteed. With cell service only within three miles of the park entrance, you're in for a day without any notifications.
AUGUST — Glacier National Park — Montana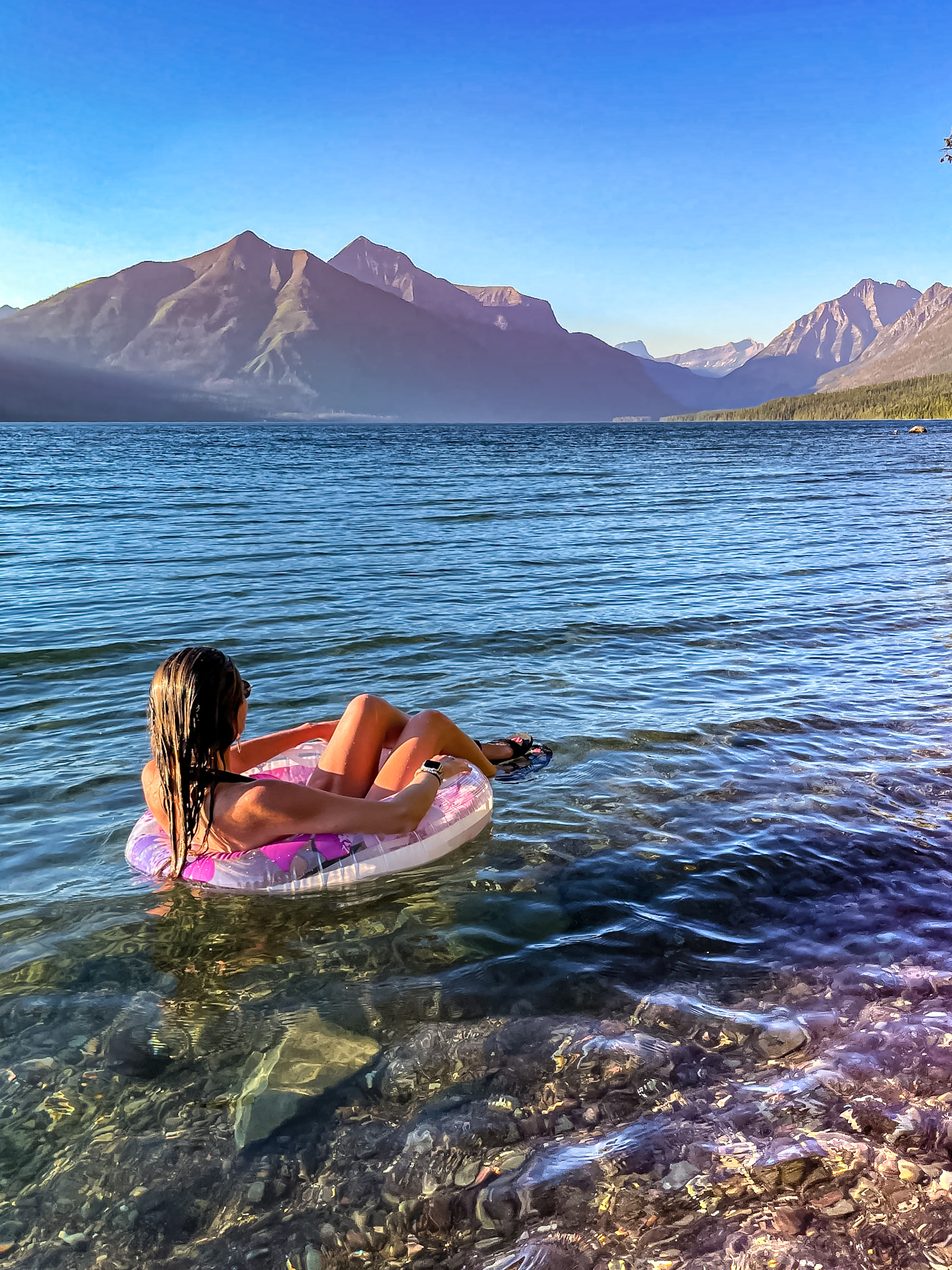 My jaw dropped the first time I entered Glacier National Park. The scale of the mountains towering above me and the wildlife that appeared at every turn. I felt like I had stumbled into a secret utopia. On subsequent visits I've felt similarly, but am now reminded at every turn that it is no longer a secret. Glacier is quickly becoming one of the most popular National Parks, and for good reason. The epic drive through the mountains on the nearly 50-mile Going-To-The-Sun Road is truly a bucket list unforgettable experience. And while August is definitely a crowded time to visit, it is still my pick for the best month of the year to experience all the park has to offer. The warmer weather means you'll be jumping in alpine lakes all day while the late sunsets give you ample time to hike on the incredible hiking trails that will be clear and open at this time of year. You will need to secure a reservation in advance for four areas of the park this season: Going-to-the-Sun Road, the North Fork, Two Medicine, and Many Glacier.
Reservations for August will be released on April 1 with a small amount of remaining vehicle entrance reservations released at 8 am MST each day for the next day.
What to do:
You can't visit Glacier without driving the Going-To-The-Sun Road, but make sure to get out and take some hikes. I love hiking the Highline Trail, Grinnell Glacier and Avalanche Lake. Cool off with a dip in Lake McDonald and stop by Polebridge for a classic Huckleberry Bear Claw.
Where to stay:
You can reserve camping or lodging within the park (which is in some cases a workaround for the reservation system) or stay in a nearby community. I loved staying in Glacier Park Lodge just outside of the park boundaries on my last visit, and next time would love to snag a room at the Swiftcurrent Motor Inn and Cabins in Many Glacier.
How to maximize wellness while you're there: TAKE A HIKE
The best thing to do at Glacier is also one of the simplest things you can do to improve your health and well-being: simply hiking. We all know that increased movement is key to physical and mental health, but it can feel like a slog in our daily lives. Glacier has some of the most epic hiking trails in the country that will get your blood pumping and leave you feeling sore – in a good way.
SEPTEMBER — Rocky Mountain National Park — Colorado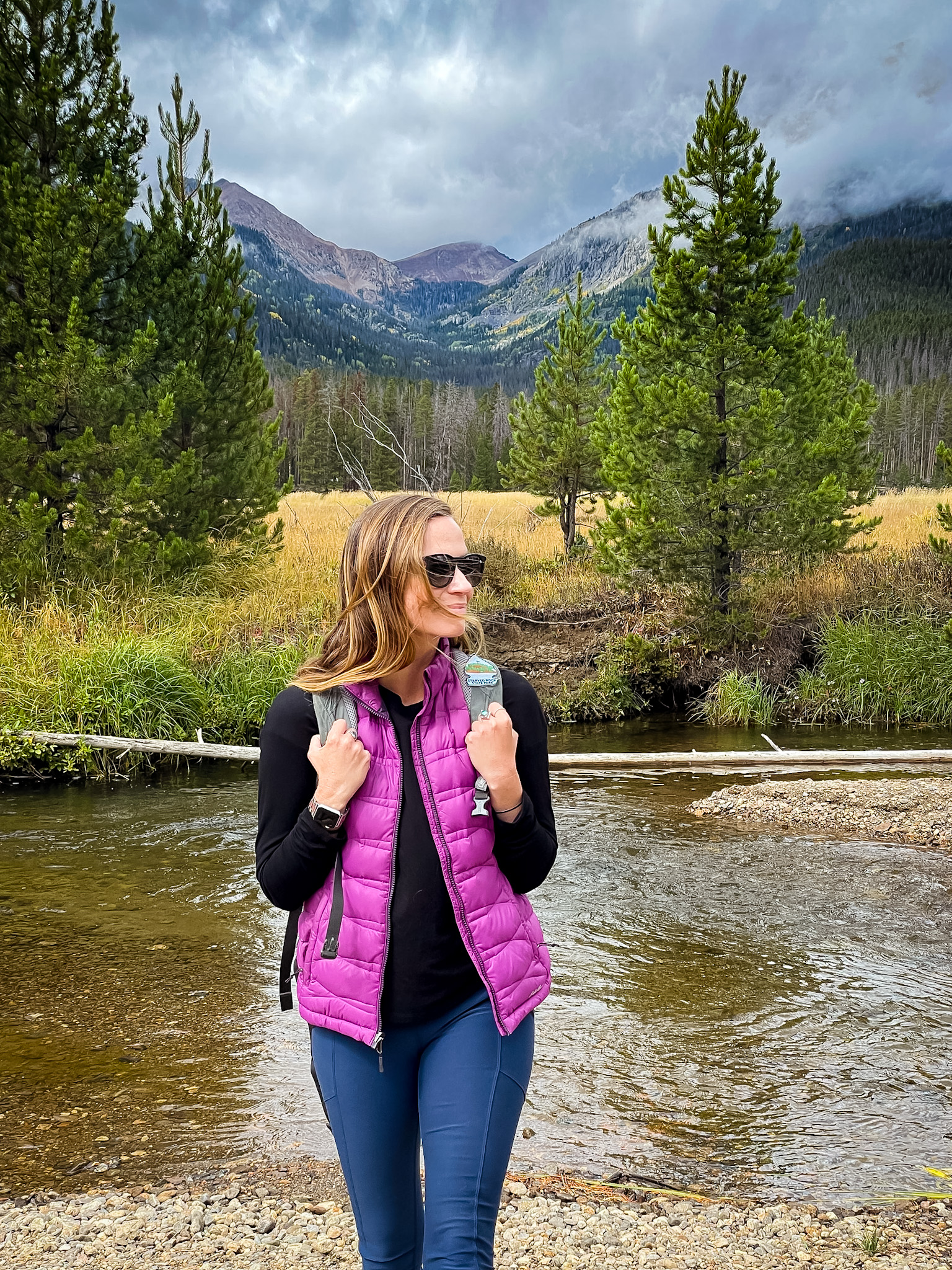 Fall colors are temperatures come early to the higher elevations, so September is a perfect time to visit Rocky Mountain National Park. From vivid yellow aspen trees to the beginning of elk bulging season, fall is an unbelievable sight at RMNP. But the window before winter sets in is thin, making September prime time. You will need a timed entry reservation to visit during this month, with September permits released on August 1.
What to do:
You have a lot of options at this park. If you secure a permit for the Bear Lake Corridor, you can't miss hiking around Bear Lake and onto Emerald Lake. Take a scenic drive on Trail Ridge Road – the highest continuous paved road in the United States.
Where to stay:
There are some campgrounds still open during September in the park, but with the proximity to Estes Park and Grand Lake, many visitors opt for a motel, lodge, or cabin rental. Grand Lake Lodge is a historic property with incredible views just on the edge of the park.
How to maximize wellness while you're there: SETTLE INTO A FEELING OF AWE
If you've seen the Rocky Mountains, you surely remember just how it felt. The delight and inspiration and respect – all of it, for me, can be distilled down to a feeling of pure awe. Research on the effect of awe is incredibly fascinating, showing that experiencing this emotion can actually lead to lower inflammation and stress, makes us humbler and happier, think more critically, and has even been shown to combat symptoms of PTSD. How to do it? Just simply be present, in the moment, and recognize the incredible world around you – which is easy to do in Rocky Mountain National Park.
OCTOBER — Acadia National Park — Maine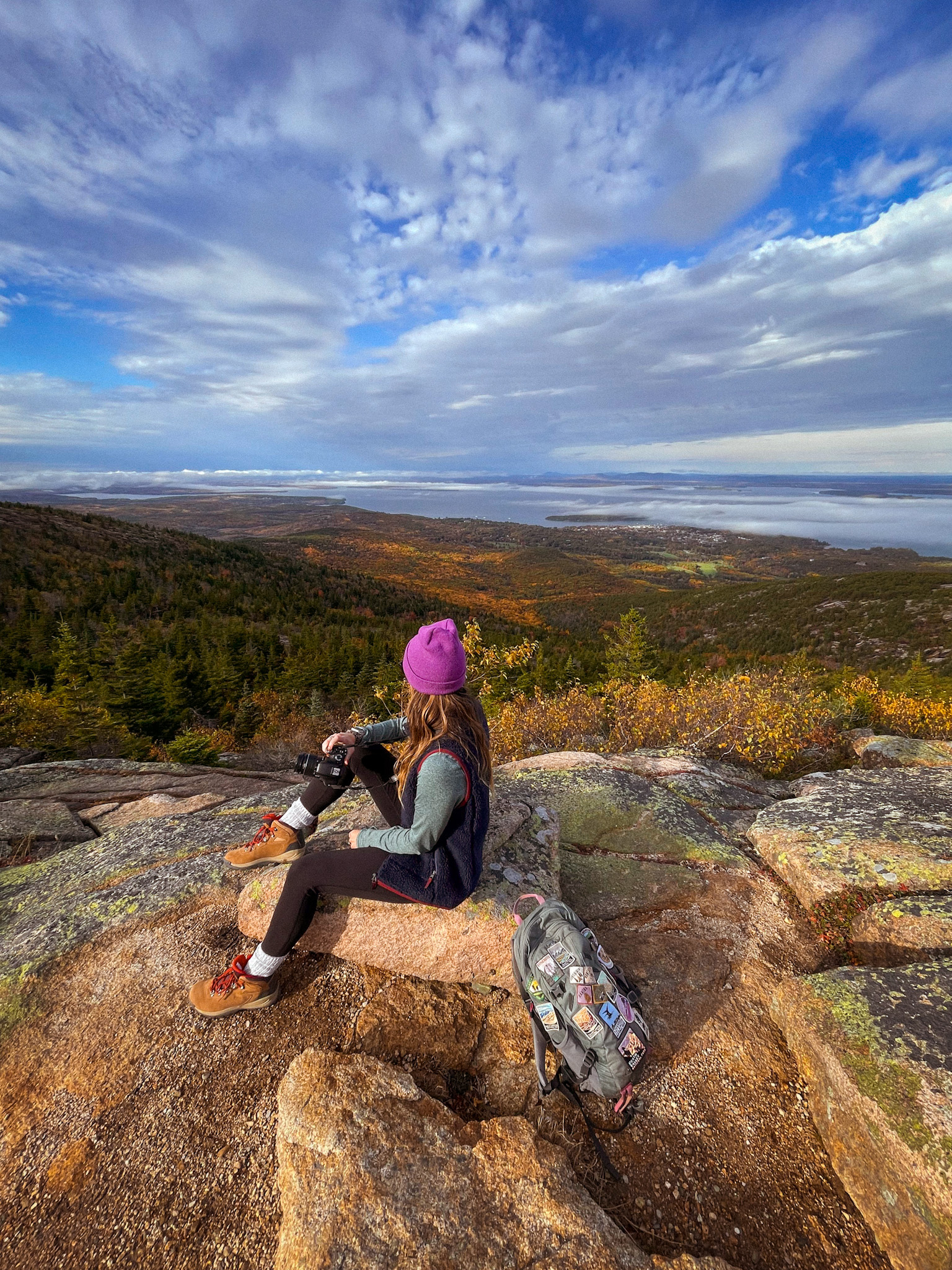 October is peak foliage season in the Northeast, and the crown jewel of any New England road trip is undoubtedly a visit to Acadia National Park. I have enjoyed visiting the park in the summer months, but after everyone (literally everyone) recommended I come back to experience fall in the park, I couldn't resist. And I'm so glad I did. While yes it is extremely crowded, it is also one of the most jaw-droppingly beautiful — not just National Park experiences, but experiences period – that I have ever had. The fall foliage in October is unlike anywhere I've seen in the United States, and the temperatures are just cool enough to be comfortable hiking one of the epic trails.
What to do:
Make a reservation to drive to the summit of Cadillac Mountain at sunrise or sunset if you can. Then spend the day on the trails – I love the Ocean Path, Beehive, and Jordan Pond to Bubble Rock. Rent a bike to ride the carriage roads or hike the thrilling Precipice Trail if you're looking for an adrenaline rush.
Where to stay:
The park is extremely conveniently located just minutes from Bar Harbor, a quaint coastal town with all the lobster rolls, bookstores and ice cream shops you could ever desire. There are copious bed and breakfasts along with short-term rentals and an Under Canvas glamping outpost that is open into the first week of October.
How to maximize wellness while you're there: SEE THE SUNRISE
One of the biggest draws at Acadia National Park is securing a spot at the summit of Cadillac Mountain to watch the sunrise. At times the first place to see the sun in the United States (including most of October), it is a bucket list experience. It is also the perfect time to practice mindfulness meditation. Sunrise meditation, like all meditation, has many proven health benefits from better memory to reduced stress and lower levels of anxiety. If you have your own meditation practice, put it to use while watching the sun come up or download an app like Calm or Headspace (with earbuds) and be completely present for one of the most beautiful things you will likely see in a National Park (or otherwise).
NOVEMBER– Joshua Tree National Park — California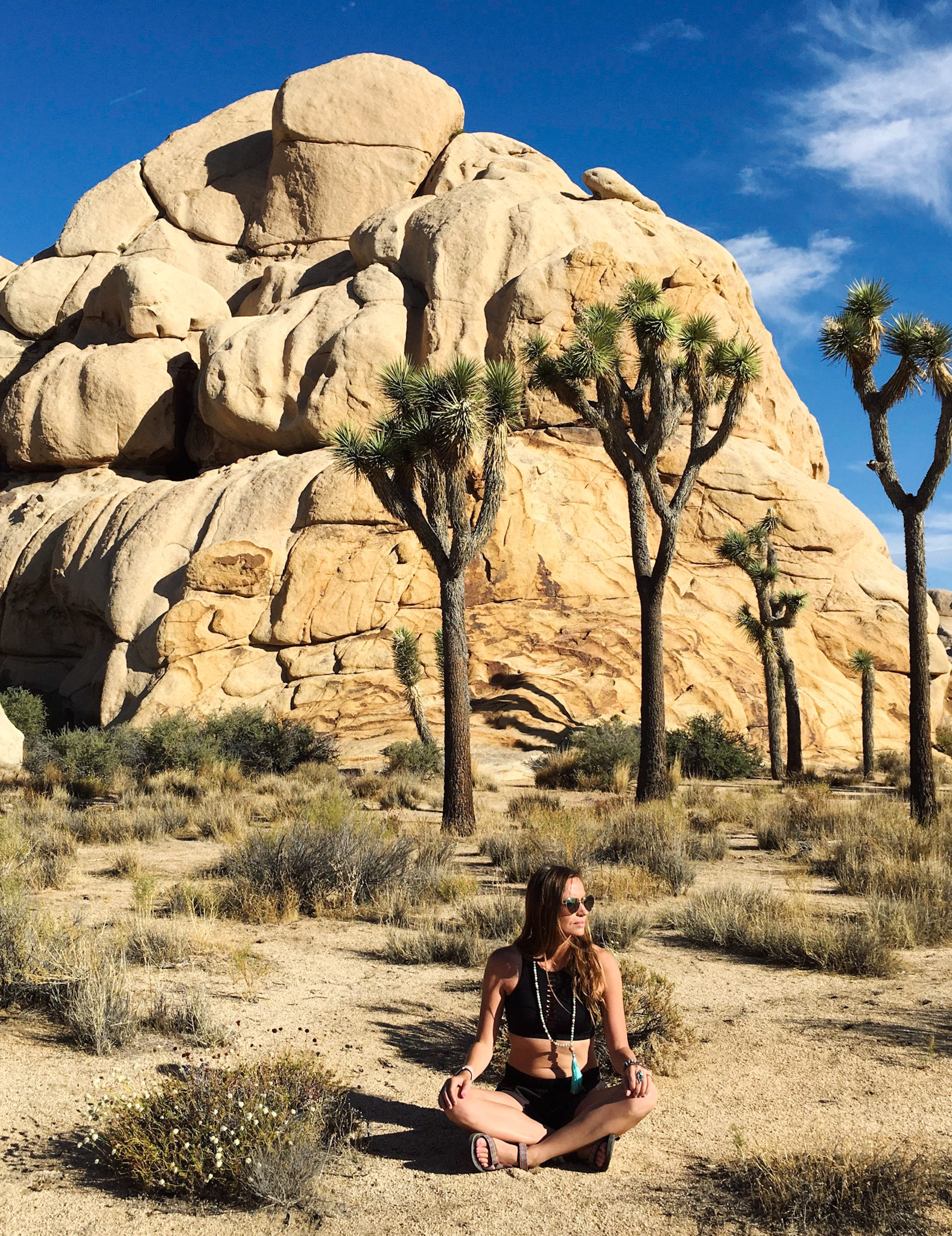 Just two and a half hours outside of Los Angeles lies one of the most otherworldly National Parks in the vast NPS system: Joshua Tree. Famed for the namesake Joshua Trees, the area encompasses three ecosystems – the Mojave and Colorado deserts, as well as a higher elevation region dotted with juniper trees and piñon pine. The rock formations are stunning and perfect for climbing or hiking in the cooler spring or fall months, but November is my pick due to the somewhat lessened crowds (this area has blown up the last several years) and great weather with highs in the 70s.
What to do:
Be sure to visit Skull Rock and the Cholla Cactus Garden. Hike Barker Dam Nature Trail and to the summit of Ryan Mountain. Go on a guided climb or spelunking with an outfitter in the area.
Where to stay:
There are campgrounds within the park, and many resorts and unique short-term rentals in the area. If you don't mind a slightly longer drive, I love staying in Palm Springs for a best-of-both-worlds experience.
How to maximize wellness while you're there: TRY A SOUND BATH
Joshua Tree has become a mecca for those seeking spiritual and wellness experiences. From yoga retreats to breathwork retreats, there is something for everyone in the area. But one thing that you can't miss while visiting is a sound bath at Integration. While not in the park itself, a sound bath is almost a rite of passage for a visit – with proven health and wellness benefits of sound like lessened stress, relaxation, and rejuvenation. You'll rest during the sound bath as quartz crystal singing bowls are played around you, as you delve into deeper and deeper relaxation.
The cost for a space at a public sound bath is $50 with private sound baths available for groups.
DECEMBER — Dry Tortugas National Park — Florida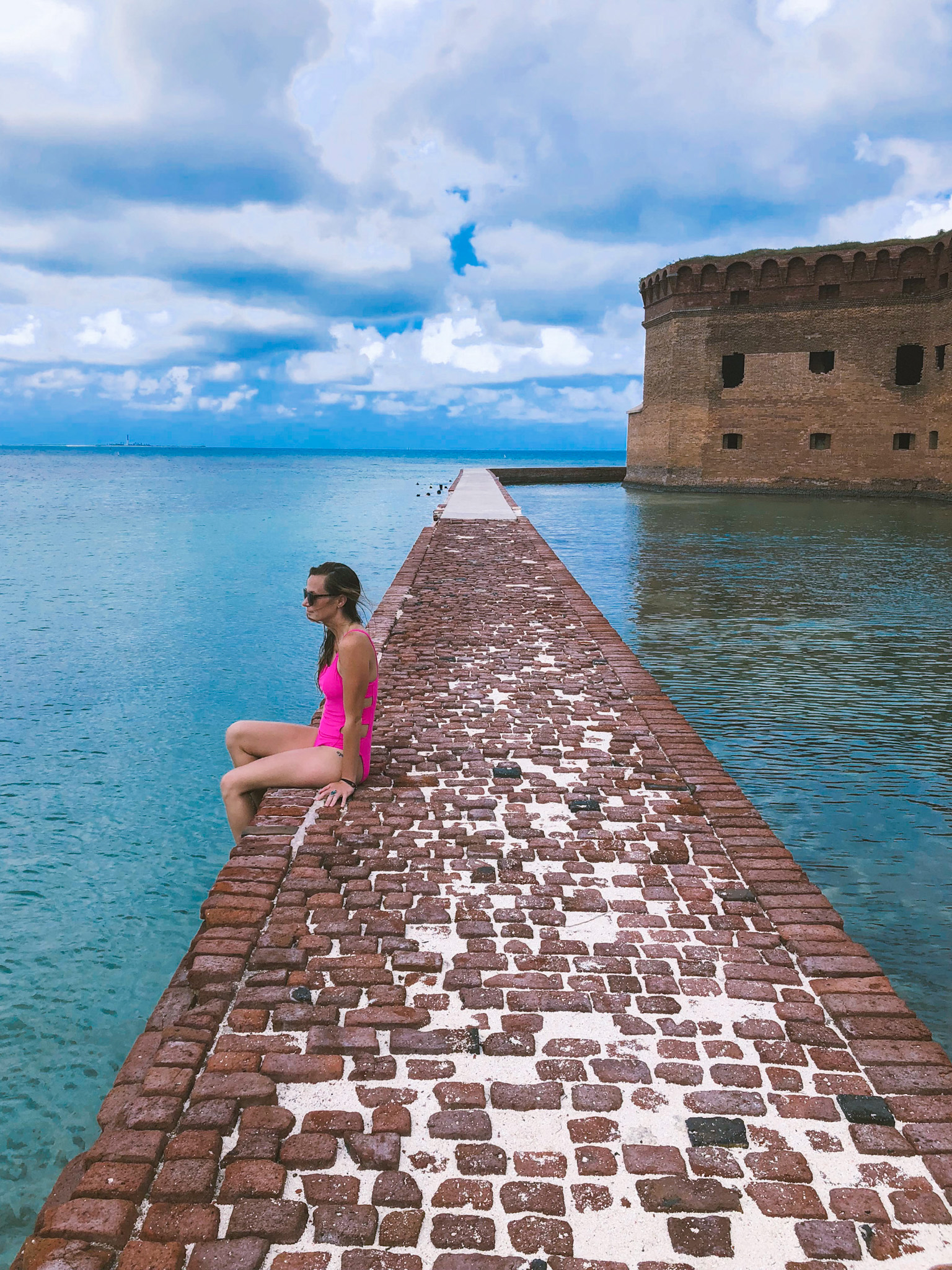 As you wrap up your year of epic National Park travel, it's time to relax a little – and the crystal clear water and glistening sand of Dry Tortugas National Park is perfect for that. The 100-square mile park is mostly water nearly 70 miles west of Key West Florida. Home of the massive Fort Jefferson – an unfinished fortress made up of over 16 million bricks – the park can only be accessed by boat or seaplane. Once on the island spend your day exploring the history of the fort, lounging on the beach, and snorkeling amongst the incredible marine life.
December is a perfect time to visit with more tolerable temperatures and a reprieve from the cold that is enveloping most of the country.
What to do:
Although Dry Tortugas is made up of seven small islands, you will arrive at Garden Key via boat or seaplane. There is plenty of history to explore in and around Fort Jefferson, including narrated tours and ranger programs. On Garden Key, you can spend the day on the beach or the reefs snorkeling, or visit Loggerhead or Bush Key via a private vessel. If you're lucky, Bush Key may be accessible by a land bridge to Garden Key.
Where to stay:
There is one campground on Garden Key, but you will have to bring everything with you (and out, of course). Most people will want to stay in or around Key West – where the ferry departs from. I loved staying at Parrot Key Hotels and Villas on my last visit.
How to maximize wellness while you're there: SWIM IN CRYSTALLINE WATERS
There's just something about being near water, I'm sure we can all agree. But did you know that there are also proven health and wellness benefits to simply being in or near it? From relaxation to reduced stress to higher instances of positive mood and social interactions. And, obviously, as an island far off the coast, Dry Tortugas is the perfect place to literally be surrounded by water. Watch the blue water from Fort Jefferson or snorkel into the reef – you'll experience benefits either way.