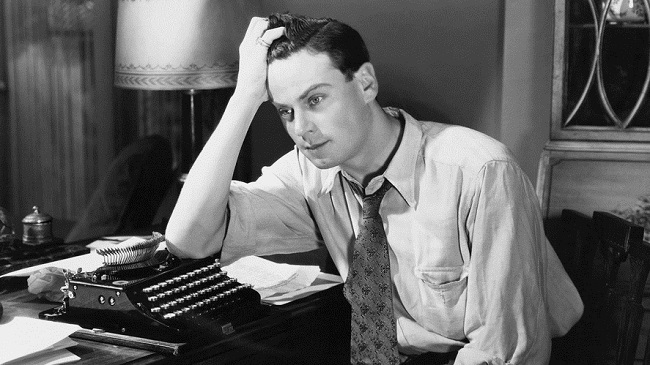 Writer's block. It's happened to everyone at one point or another. Whether you're a high school student working on a book report, or a middle manager putting together a memo, or a big fancy author working on your fifth novel, you surely know the feeling. The cursor taunting you with its unrelenting blinking, the hours flying by as your deadline approaches, the growing sense of dread. It's miserable all around, and can leave you feeling unproductive and incompetent.
Luckily, I am here to help. Over the past few years, I've developed this little 7-step guide to overcoming writer's block, and now I'm going to share it with you. Let's go through it together. Hope is not lost!
STEP 1: Find a quiet place to think.
Any place will do, as long as you can concentrate on the task at hand. I like to write in my living room. The sun hits the main window in the late afternoon, and it creates a really nice, peaceful environme-… wait, what's that ticking sound? Is it the air conditioner? Oh wow, that's really annoying. But we can deal with this. We'll just ignore the ticking and focus on our writing. Yup, just over here, focusing on the writing, not thinking about the air conditioner. Laser focused. Definitely not thinking about the ticking. Gonna start writing this first sentence any second now. Just have to figure out how to st-…
tick…
tick…
tick…
… how to start…
tick…
tick…
JESUS CHRIST. NO HUMAN ALIVE COULD WRITE UNDER THESE CIRCUMSTANCES. SOMETHING MUST BE DONE ABOUT THIS IMMEDIATELY.

STEP 2: Eliminate distractions.
A-HA! Let's just turn the air conditioner off! That'll solve the ticking issue! The there'll be nothing to prevent us from starting to write. I mean, sure, it'll get a little warm in here with the air conditioning off, but Dickens didn't have air conditioning, and that guy wrote a ton of stuff. We can do this!
[turns air conditioning off]
Here we go. Time to start writing. Wow, it is really warming up fast in here. But that's okay. Maybe the heat will get the creative juices flowing. Think Dickens!
[five minutes later]
OH GOD. IT IS TOO HOT. HOW CAN ANYONE POSSIBLY WRITE IN HEAT LIKE THIS? HOW CAN ANYONE DO ANYTHING IN HEAT LIKE THIS? WHAT WAS DICKENS, SOME KIND OF SUPER HUMAN? DID HE ONLY WRITE FROM OCTOBER THROUGH MAY OR SOMETHING? NO ONE SHOULD EVER TRY TO WRITE IN AUGUST.
STEP 3: Create a mood conducive to creativity.
Okay, here's the plan. We'll turn the AC back on, but we'll play a little music to drown out the ticking. That's it! A little relaxing music. Then we'll be able to focus on our writing. Maybe some smooth jazz or something.
[opens Pandora, creates smooth jazz station]
There we go. Time to write. Paragraph one, here we come. It's just… man, this station might be a little too soothing. We don't want to get lulled to sleep here. Let's try something a little more peppy, to keep the ol' brain sharp.
[creates Top 40 hits playlist]
[skips track]
[skips track]
[skips track]
Ugh. We'll never get any writing done at this rate. Let's just stick to the old standard.
[creates '90s hip-hop and R&B playlist]
There we are.
[30 minutes pass, is now rapping into empty water bottle]
HERE I GO, HERE I GO, HERE I GO AGAIN. GIRLS, WHAT'S MY WEAKNESS? MEN. OKAY THEN. CHILLIN', CHILLIN', MINDING MY BUSINESS…

STEP 4: Try writing whatever pops into your head.
Okay, enough screwing around. We really have to get started now. Let's try a free-writing exercise to get the ball rolling. We'll just write whatever pops into our head for the next two minutes. Start the clock!
"What do you think they call the city hall in Kansas City? Kansas City City Hall? That's just ridiculous. Way too many Citys. But 'Kansas City Hall' doesn't make sense, either. Makes it sound like it's the City Hall for all of Kansas, like the state is one giant municipality. No, it's probably the first way. Which, again, is preposterous. And who the hell decided to put a second Kansas City in Missouri? This means there are at least two buildings in two different states called 'Kansas City City Hall.' For the love of God, Midwest."
Aaaaaaaaand time! Look at that. Actual words on the page! Not a single one relevant to our topic (or anything, for that matter), but it's a start!
STEP 5: Become a master of your subject.
We're off and writing! Now just a quick zip over to Wikipedia for a fact check of one little thing in the opening. Don't wanna start off with a mistake. Two seconds.
[45 minutes later]
JULIA LOUIS-DREYFUS HAD A COMMUNIST GREAT-GREAT UNCLE NAMED LOUIS LOUIS-DREYFUS?!

STEP 6: Take a short break to clear your mind.
Alright. Okay. This isn't working. There's no point in banging our heads against the wall. Let's take a little break and come back refreshed. Thirty minutes. An hour, tops. Just enough to reboot the thinker. And then when we come back… time to write!
[watches entire three-hour marathon of Diners, Drive-ins & Dives, gets hungry, drives 20 minutes to the diner two towns over that puts the little cranberries in their chicken salad, stops at Ikea on the way home to look at couches even though current couch is perfectly fine]
Crap.
STEP 7: Know when to cut your losses.
One positive aspect of wasting the whole day: It is now cool enough outside to turn off the AC and remain comfortable! No more ticking, no more oppressive heat, no need for that distracting music. And all that dilly-dallying is out of our systems. Perfect writing conditions, finally.
But… it's like 8 p.m. Suits will be on in an hour. We can't miss Suits! And we don't wanna have to stop in the middle of writing when the show starts. What if we lose our inspiration?! No, probably best to just call it a day now, rather than risk it.
But tomorrow morning? Then it will be time to write!