In a community as tightly-knit as MMA, you're bound to see some familiar faces pop up on the rare occasions when the sport crosses over into the realm of Hollywood. Bas Rutten is a regular fixture in the comedies of Kevin James, Randy Couture is something of a cut-rate action star these days, and I've already discussed at length the sublime excellence of Georges St-Pierre's performance in the latest Steven Seagal vehicle, Killing Salazar.
Of course, there has arguably been no greater/more terrible melding of the MMA and entertainment worlds than in MTV's Bully Beatdown. Hosted by former Strikeforce star turned legitimate-crazy person Jason "Mayhem" Miller, the short-lived reality show brought in MMA fighters from around the world to ruthlessly obliterate so-called "bullies" on a weekly basis, emboldening the sport with a much-needed message of tolerance, acceptance, and hiring someone to solve your problems when all else fails.
As it just so happens, none other than current lightweight champion Eddie Alvarez was one such fighter to lend his talents to Bully Beatdown, appearing on both the show's second and third seasons to inflict vengeful acts of karmic retribution on woefully underprepared dude-bros. While his first appearance was not without its highlights, it was Alvarez's second fight that became an instant classic in the Bully Beatdown canon.

The Bully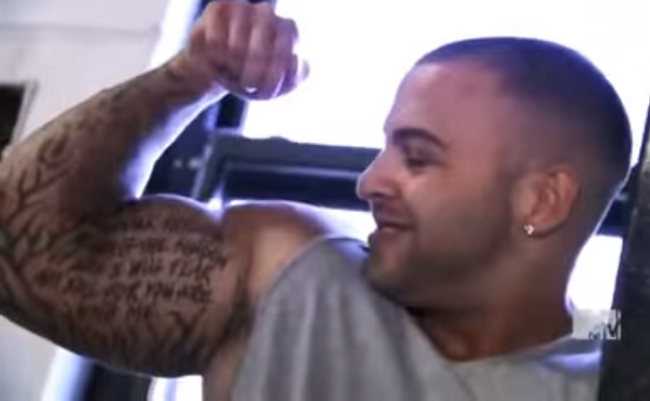 For those of you who have never seen an episode of Bully Beatdown in your lives, first of all, congratulations (also, whattayou think you're bettah than me?!). Secondly, the setup typically went like this: Some actor nerdy kid with some dork name like Cedric or Milhouse or Bookshelf would reach out to the show in a last bid effort to deal with a bully, because if there is any major network out there that is firmly anti-bully, it's the one that created Jersey Shore. MTV would then fly out the victim and a stuntmen pretending to be his bully his bully to their compound, where said bully would then face off against an MMA fighter for the chance to win (or lose, depending on how well they fared) $10,000.
In this particular episode, that bully happened to be the walking can of creatine above known as "Mike."
Standing at an intimidating … 5'4, Mike tells Bully Beatdown that he was "put on this Earth to smack guys that act like bitches" (sub-6 foot division, I'm assuming). It's a tough, lonesome life, and in this case, the "bitches" he has deemed worthy of smacking come in the form of Lorenzo and Joey, two Bronx-born nice guys who describe Mike as "basically Napoleon on steroids."
You see, Mike is a friend of Joey's family and has been picking on the pair since high school, but now as grown-ass men, Lorenzo and Joey have decided to fight back the only way they know how: by staring woefully through fences and praying that the network behind I Want a Famous Face, A Shot at Love with Tila Tequila, and Date My Mom will save them.

(*'Mad World' plays quietly in background*)
Luckily, Mayhem Miller was mentally sound enough at the time to do just that, and pairs Mike up against none other than current Bellator champion and future UFC champion Eddie Alvarez. To Mike, this is considered an insult on par with questioning his decision to wear a child's tank top out to the club. He may only weigh 160 pounds, but Mike believes that his ability to bench 315 all day, every day should allow him to fight a couple weight classes up, if not at heavyweight. Clearly, this is a man in need of a Bolo-style "brick don't hit back" talking to, with wagon wheels taking the place of bricks in this case.

The Fight
After placing his rampant homophobia on full display during a pre-fight interview with Miller, Mike finally gets the chance to square off with Alvarez, and it goes pretty well for him if you just stop watching the episode at this point. In the preliminary grappling round, Alvarez submits Mike five consecutive times with an arm triangle, a rear-naked choke, a flying omoplata, a regular triangle, and a peruvian necktie, respectively, and even mixes in a few brutiful (which is a word I made up just now) slams for good measure. Mike, on the other hand, appears to gas out in less than 30 seconds' time, which makes the case that maybe he should have fought at heavyweight after all.
As a result of being subbed five times, Mike is forced to render half of the $10,000 over to his victims, who are once again relegated to staring through chain links like dogs in an ASPCA commercial.
The second, striking-based round goes even worse for Mike, sadly. When given the chance to demonstrate his proclivity for handing out slap-based life lessons to the bitches that surround him, Mike freezes up like a deer in headlights (or a bitch in headlights, for that matter). Rather than attempt to pancake Mike with one of his patented Falcon Punches and simply call it a day, Alvarez opts for a rarely-seen leg-based attack, chopping down his already stump-sized opponent with a trio of snapping leg kicks before finishing him off with a missile to the chest on his way down. Mike never gets back to his feet, and is counted out having thrown even fewer punches than CM Punk did at UFC 203.
The Aftermath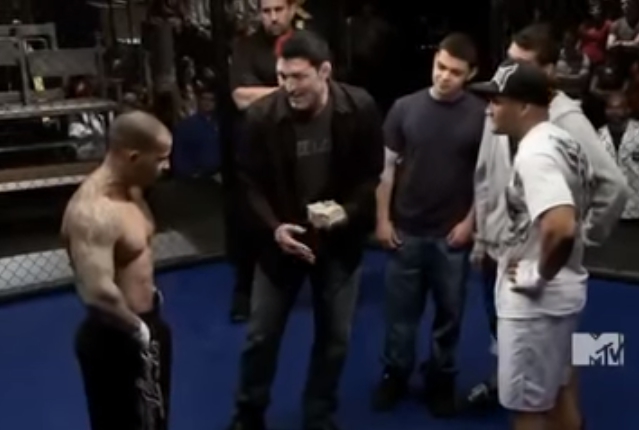 Alvarez celebrates with a backflip off the cage, and Mike is forced to hand over all of the $10,000 he started with to Lorenzo and Joey. He apologizes to them both and tells them that "he's not going to bother them anymore." In a moment that surely stung more than his fifth nautical star tattoo, Mike is forced to admit that lifting weights doesn't necessarily make you a good fighter. The lesson here? Bullying is bad, I guess, and the only way to defeat a bad guy with muscles is a good guy with muscles (a line of logic that has thankfully never been applied to any other hot-button issue in our rational, civilized society).
Considering how much he was pushed around at the UFC 205 press conference last week, Alvarez's lessons are ones that Conor McGregor should pay close attention to if he truly hopes to capture the lightweight title in November. If you act like a bully, drink Muscle Milk every goddamn day and abandon your training regimen in favor of one based completely around bench-pressing, then you're in for a world of hurt.