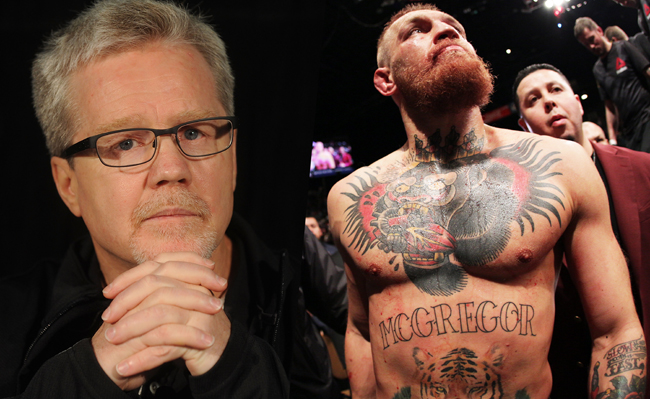 If you're waiting for that Conor McGregor/Floyd Mayweather superfight, you might not want to hold your breath. Freddie Roach spoke with Inside MMA about the prospect of training McGregor to enter the boxing ring, including rumors that he already agreed to the deal, and the answer won't instill much confidence in fight fans:
"There are a lot of rumors out there that I'm getting calls from Conor, asking me to train him; they're not true. He has not called me yet but Mayweather did come by my gym last week and he asked me to take that job if it's offered to me. He told me the fight is gonna happen and we're gonna make a lot of money."
So the desire for the fight is there, so is the fan interest. But what about McGregor's skill in the ring? Roach didn't have much positive to add there either, noting that any possible fight would need a lot of time for preparation:
"As I told Mayweather, I said, 'It would take me three years at least to get him ready to fight you.' I don't really think it's possible for an MMA fighter to fight a boxer and I don't even really think it's fair. Depends on what rules you fight under, one person has too big of an advantage. Mayweather would outbox him all day long. Conor McGregor seems like a tough guy and all that but being a tough guy doesn't really help you in boxing…

But I do know that he's trained at Wild Card West which is one of my gyms on the west side and he's sparring with a couple of my professional fighters over there and I hear he's not doing that well with my professionals.

Mayweather is the best boxer in the world and I think he would absolutely not even lose a round against a guy with Conor's experience. I mean, he looks like an okay boxer, he's a very good MMA fighter but the thing is this is boxing and he's kind of a beginner at boxing."
It isn't like we haven't waited forever to see Mayweather fight a superstar in the past. His fight with Manny Pacquaio was way past its due date, leading to a fight that could never rise up to expectations. Rushing in this situation wouldn't be great either, especially if it meant some sort of weird exhibition match.
We don't need another Chuck Wepner against Andre The Giant or Muhammad Ali against Antonio Inoki on his back. Maybe these could two could just have a trash talk debate instead? Something like Dirty Dozens from In Living Color?
(Via Bro Bible / MMA Fighting)