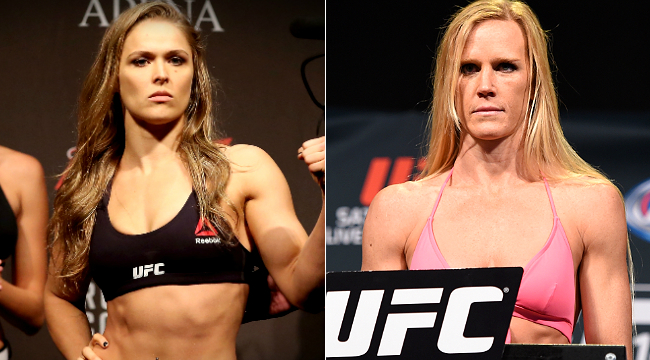 Ronda Rousey announced on Friday that her next fight will be against Holy Holm at UFC 195 on January 2nd (learn more about Holm). And while everyone is pretty excited to see the judo master take on a striker of Holm's pedigree (Ring Magazine named her their Female Boxer of the Year twice), there was some confusion surrounding the match. Hadn't UFC president Dana White already said numerous times that Miesha Tate was next for Rousey?
Now, Dana has come out and explained the last second switcheroo to the LA Times:
"We were talking about Miesha from the start, then as we started sitting around we were saying, 'Everyone has seen the Miesha fight already. A third fight in a rivalry usually comes after the stuff we'd see in [Arturo] Gatti-[Micky] Ward," White said of the classic boxing trilogy. "With Miesha, the result has been the same twice. Everyone's already seen that fight."

[…]

White insisted that Tate did not complicate negotiations with outrageous demands and he added that there was no contractual requirement that Holm receive a title shot in her third UFC fight.

"Everyone has jitters in their first fight. Holly came back from that and destroyed a woman who'd looked damn good in her previous fights," White said. "When you talk about the possibilities of what Holly can do … she's a world-class boxer … the Holly Holm fight for Ronda is way more intriguing."
That doesn't mean Tate will be left out in the cold completely. White says he's working on setting up a fight between Tate and No. 4 ranked bantamweight Amanda Nunes for the same card.
Also planned for the same UFC 195 card: another women's title fight. Champion Joanna Jedrzejczyk will defend her strawweight title in the co-main event against Claudia Gadelha, pending medical clearance on a hand injury Gadelha suffered earlier this month.
It sounds like UFC 195 is going to be a huge card full of the best female fighters in the world. Conspicuously absent as usual is Cris Cyborg, who hasn't said much since declaring she could make 135 pounds to fight Rousey at Cowboys Stadium. Ronda has demanded Cris fight at bantamweight once before she'll accept a fight with the Brazilian powerhouse.
If that happens around the same time as the Holm fight in January, it's hard not to speculate about the match-ups that could occur at another event that's quietly appeared on the UFC's schedule: UFC 200 on July 2nd, 2016.