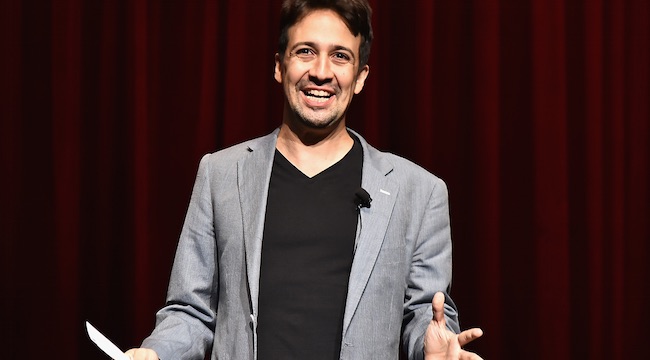 Lin-Manuel Miranda has had a huge year. Not only did he perform the titular role of Hamilton for most of it, but he then moved on from the musical to go film a new Mary Poppins film in London, compiled an entire Hamilton mixtape based on the show's songs, host Saturday Night Liveand is in the midst of a never-ending press tour for Moana (get that EGOT Lin!). On top of all of that, he also managed to carve out time to welcome the Drunk History team into his home and get incredibly sloshed while telling the story of Alexander Hamilton and Aaron Burr's rivalry. He's nothing if not a multi-tasker.
So after all of that, as his year is finally winding down, Lin is finally taking the time to answer some questions about his experiences and assess where the year has taken him. In interview with Entertainment Weekly, Lin reveals whether he kept the New Year's Resolution that he made last January. The answer was yes, but even more surprising is what he was aiming for in the first place. Miranda says,
The resolution of the year was to survive it. And I have. And I'm grateful for it! This has been such a remarkable year in my life. It's been really crazy. The fact that I'm even talking to you from London is a sign of how crazy it is. I don't even have words for it. I can't remember what my resolution was. I've had a lifetime's worth of memories just this year alone.
That's a tough resolution to top for next year, especially seeing as his 2017 won't quite be so full. Or maybe it will be somehow even busier now that he's agreed to projects such as a new Sony animated musical and the adaptation of The Kingkiller Chronicles. Read the full article to find out about Lin's Hamilton-related dreams, emotional hangovers, and the one thing he definitely will not be doing in 2017.
(via Entertainment Weekly)