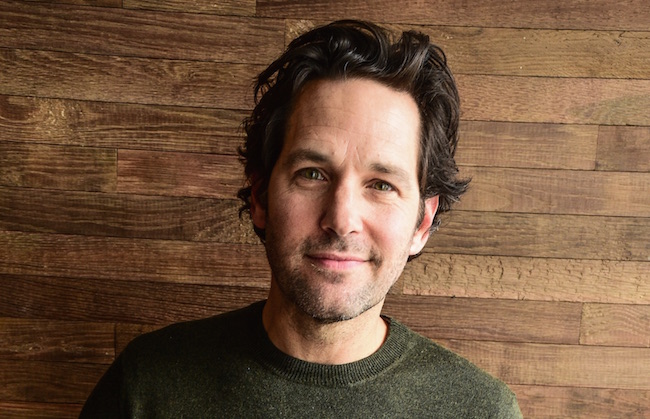 So, yes, 2015 was the Year of Paul Rudd. Not only did he make his Marvel debut in Ant-Man – a movie littered with production drama that nevertheless turned into a success – his beloved Kansas City Royals won the World Series for the first time in 30 years and his beloved Kansas City Chiefs won 11 games in a row and won their first playoff game in 22 years. (The only thing missing was some sort of clue in Back to the Future Part II that foretold that 2015 was the year of Paul Rudd.)
Directed by former Late Show with David Letterman producer Rob Burnett — making an interesting shift from television producer to indie film director — The Fundamentals of Caring is about a divorced man (Rudd) who finds solace in caring for young man with muscular dystrophy (Craig Roberts). This leads to a road trip to visit "the largest pit in America" (which, ironically, does kind of sound like something Letterman would have done on his show). The film premiered this week at Sundance.
Ahead, a slaphappy Rudd and Burnett (it's been a long week) talk about their new film, Rudd does his best not to answer any questions about Ant-Man (Marvel spies are always looming somewhere), and Burnett shares his favorite Letterman memory and gives us his best guess if we'll ever see Dave do another show. But, honestly, after over a week at Sundance, I just really loved listening to Rudd and Burnett argue about grammar. For whatever reason, it was just the funniest thing and exactly what I needed.
When Rob Burnett calls, is your first instinct to say, "I'm honored, but I'm not looking to do a late night talk show…"
Rudd: I mean, I was immediately excited about having a conversation with Rob about whatever it was he wanted to talk to me about and read whatever it is he wanted me to read. Because I knew what great work he did with Letterman on the show and also I knew his other work. I knew the show Ed.
Speaking of Ed, I have a friend and we still reference the ten-dollar bet jokes.
Burnett: Ah, thank you.
Rudd: But, most importantly, I knew from everything that Rob was somebody whose comedic sensibilities I admired from afar.
You assembled a great cast including Paul. How important was that for making this work? I guess that question applies to every movie.
Burnett: I think there's no truer sentiment that could be said about this movie. Every movie relies on cast, no question about it. But this movie, in particular, really relies on the people in it.
And you cast Paul Rudd right after The Year Of Paul Rudd, after Ant-Man, the Royals, and the Chiefs. That's a good coup.
Burnett: I like to say that I'm listed ahead of those things in Paul's life. But that's not for me to say.
I've seen the videos of Paul with the Royals, I'm not sure you can beat that.
Rudd: [Laughs.] Well, the Royals was very special. It was a very great year for a Kansas City sports fan.
I went to high school in Kansas City. I know how it can be.
Rudd: Which is not something we've been able to say for about 30 years.
Last time we spoke you weren't as high on Kansas City sports. Then you found out I went to Mizzou and you made fun of me for about 10 minutes. I believe the store Guns, Liquor and Ammo was mentioned a few times.
Rudd: Yeah, yeah! Rob, there's a real store in Columbia, Missouri called Guns, Liquor and Ammo!
That's not a joke.
Burnett: That's great.
Rudd: Yep.
Going from a well-known producer to an independent film director at least seems like an interesting shift from the outside looking in.
Burnett: I think like all of us, in our own way, like to do different things. I've written a lot and a lot of hard jokes for the late night landscape. And I loved it. And being the head writer of Late Show for four years, that's something I'll never trade. I was about to say, "I loved every minute of it," but that wouldn't be entirely true. No one in a job loves every minute of it. It was a hard job. It's kind of the greatest comedy writer college ever – and I've seen other better than writers than I…
Rudd: It's "better writers than me," Rob.
Burnett: Thank you. Point proven. Wait, that's not true, it's "I," isn't it?
Rudd: No.
Burnett: But you'd say, "I am."
Rudd: Better than me. When you say, "better than me" – you know, I think we're getting off topic.
I'm fine with it. I would listen to you two give a grammar lesson anytime.
Rudd: Oh, the old classic Rudd & Burnett "Me vs. I" bit! "The 2000 Year Old Man" version at Sundance.
Burnett: Then "Who vs. Whom" is next. But to finish that, Dave rejects the first seven things you think of, every time. So it forces you to throw out the first thing anyone would think of, the obvious joke. That's just in my DNA. Dave's voice is in always in my head any time I do anything, "How can this be better?" To be quite frank, I think Paul is very similar and is not easy on himself.
And Paul just beat Stephen Hawking in quantum chess.
Rudd: Yeah, do you know how hard it was to learn the ins and out of quantum chess to the point I could beat Stephen Hawking? You've got to put in the work. And that's my theory of everything.
Speaking of Ed, I got a text message recently from a longtime friend and all it said was "burger me."
Burnett: That's funny because that's the one I get the most. A month ago, these guys, we got to talking, and they said they and all their high school buddies do the "burger me." That's the one of all those ten-dollar bets that seems to have the most resonance with people. It's so dumb. A lot of the jokes for me, you can talk about it and make it "important," but on some level it's just very fun to take the goofiest stuff and make millions of people listen to it. Eight million people used to watch that show and we were out of ideas by the third episode. So we'd sit around and be like, "Really? Can we make eight million people sit through this? And whenever we said "yes," it just made us laugh.
Rudd: Boy, if that isn't an endorsement for network executives…
Burnett: [Laughs.] It's too late, NBC! We're gone! Those checks have been cashed.
If the scene happens in Captain America: Civil War of Hawkeye shooting Ant-Man on an arrow, people are going to be very happy.
Rudd: Well now you tell me.
Well, I hope it happens.
Rudd: [Laughs.] I have no doubt Marvel executives are watching us through cameras.
When Ant-Man came out, I asked Peyton Reed if another Ant-Man movie could be added to that announced schedule if it did well and he was basically like, "I hope." Well now Ant-Man and the Wasp is happening. Was it that easy, just the first film doing well?
Rudd: Well, I'm the wrong guy to ask even though it doesn't seem like I would be the wrong guy to ask. Marvel, they are very smart over there. I don't know exactly what they have planned or have in store or what they talk about or they way they do things. I mean, I've had a couple of peeks behind the curtains, just because I've worked there now a little bit. But yeah, I don't really know.
So you just get a call, "Hey, we're on. We're doing another one."
Rudd: Well, they did do that. [Laughs] They did do that, in so many words. I think there are probably lots of factors and factors I don't know about.
Ever since Letterman left Late Show, he's been popping up in a lot of interviews and is now doing a National Geographic special. He hasn't disappeared like people thought he would and like Carson did. Do you think he has another act in him?
Burnett: I don't have any particular insight, but I certainly hope he does. The one thing I know about him is that he's so funny and so unique, I would love to see him in some kind of smaller form than a big network show – where we can see the unadulterated version of himself. He was largely that on our show, but a big network talk show has certain encumbrances that are just imbued in that experience.
Rudd: That's a good word.
Burnett: Yeah.
Rudd: It's a hell of a word.
Burnett: It's nice, huh. I'm trying to dig out after the whole "I/me" thing.
Rudd: You had me at "encumbrance."
Burnett: But I hope he does do something. You know the old pieces he used to do, "Fun with Rupert," when he'd go out with Rupert Jee?
And he'd give Rupert things to say to people.
Burnett: Yeah. Well, I was in the van on those pieces. And I can tell you, of all the things we ever did, that was the most freakishly amusing stuff I've ever seen. One of my favorites ever, we ended up going out with two guys: Rupert and this guy named Leonard Tepper who was a strange character actor we used to use on the show and Dave had two walkie-talkies.
So, at one point, Leonard Tepper and Rupert Jee are sitting at an outdoor café together. At first we are messing with the waiter, but the waiter goes away and Dave is now talking to each of them to talk to each other. It's like human puppets. There's nothing else going on. And, unconsciously, he's lapsing into these voices. And I'm telling you, it was better than anything any comedy writer could write in a year. It went on for like 40 minutes! I'm just watching him ad-lib a scene and if I could just write one of those jokes in my room, I'd have been happy. So, the shorter answer is: The world would be better off if Dave does do something else.
Mike Ryan lives in New York City and has written for The Huffington Post, Wired, Vanity Fair and New York magazine. He is senior entertainment writer at Uproxx. You can contact him directly on Twitter.