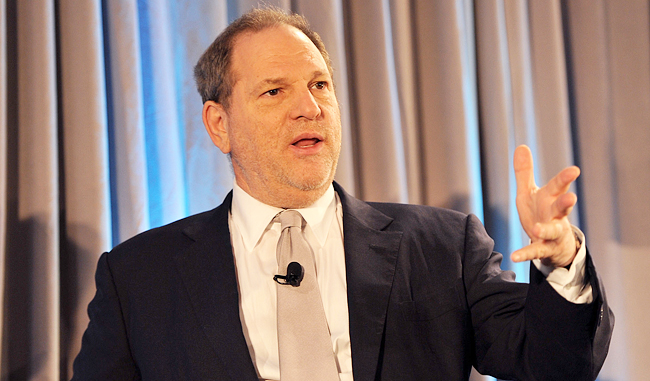 The allegations against Harvey Weinstein that were published in the New York Times earlier in the week came as a shock to some and as confirmation of long-standing behavior for others. The alleged behavior by the Weinstein Company head earned condemnation from people both inside and outside the entertainment industry and forced him to take a leave of absence, leaving his brother Bob Weinstein in charge.
Now the Hollywood staple is facing more allegations, this time courtesy of a report in HuffPost that claims Weinstein "trapped" a local Fox News reporter in a restaurant backand masturbated in front of her when she refused to kiss him. Lauren Sivan, at the time a local news reporter in New York, met the producer at Cipriani Italian Restaurant in Manhattan before heading to Socialista, a club that he invested in alongside restaurant owner Giuseppe Cipriani. It was there where she was taken on a tour with Weinstein and allegedly cornered in the kitchen leading to the uncomfortable incident:
Weinstein then dismissed the two staffers in the kitchen. According to multiple women who spoke to HuffPost on the condition of anonymity who said they had similar experiences with Weinstein, he has started out meetings or interactions with other people in the room and then dismissed them to be alone with women in order to make advances.

Once they left, Sivan says Weinstein leaned in and tried to kiss her. Sivan rejected that attempt and told him she had a long-term boyfriend. Weinstein then said to Sivan, "Well, can you just stand there and shut up."
It is here that the story becomes almost unbelievable, with Weinstein allegedly cornering Sivan in a vestibule and forcing her to watch him as he exposed himself:
The only way for Sivan to get away from Weinstein required her to get past him and go through the kitchen. Sivan says she was trapped by Weinstein's body and was intimidated.

Weinstein then proceeded to expose himself to Sivan and began to masturbate. Sivan said she was deeply shocked by Weinstein's behavior and was frozen and didn't know what to do or say. The incident in the vestibule didn't last long. Sivan says Weinstein ejaculated quickly into a potted plant that was in the vestibule and then proceeded to zip up his pants and they walked back into the kitchen.
Sivan's friend, who had been told to find her if she was gone for more than 10 minutes, showed up just as Weinstein and Sivan were coming back into the kitchen. The reporter then claims she and her friend left, but received a phone call from Weinstein the next day saying he had a great time. She then reportedly ended the conversation quickly and didn't speak to Weinstein again after the incident.
Neither Weinstein or his lawyer Lisa Bloom weren't available for comment according to Huffpost, but Bloom did defend her decision to defend Weinstein to TMZ saying that it is his response to the allegations that earned her support, not the allegations themselves. The publicist for the Weinstein Company also ignored requests to comment on the incident.