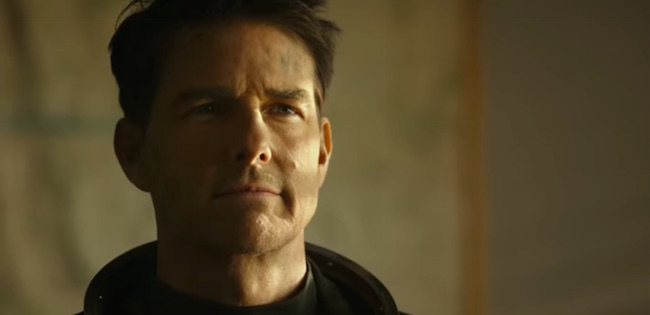 On Thursday, the Top Gun: Maverick trailer was released to the world and, honestly, it looks pretty good! The first Top Gun is not a good movie, but it is highly entertaining. If this sequel can at least be that, well then I'm in.
Look, this movie doesn't come out for another 11 months, so who knows, but I do think there's something else at play here. I think there's going to be a subtext to Top Gun: Maverick that this trailer kind of lays out for us: I get the feeling Top Gun: Maverick is a movie about Tom Cruise's career.
Remember when Tom Cruise used to get nominated for Academy Awards? He's got three nominations, but none since 1999, a supporting nomination for playing Frank T.J. Mackey in Paul Thomas Anderson's Magnolia. Since Magnolia, Cruise has eschewed meaty, Oscar type roles (save for a supporting role in Lions For Lambs, which did not get nominated, but it does qualify as "meaty"), instead opting to go the blockbuster route and, eventually, get to a point where he has now become known for doing all his own crazy stunts. Cruise, today, is closer to being the next Evel Knievel than he is to getting another Oscar nomination. (That's not a dig, his recent output has been exhilarating.) And now, here he is, starring in another Top Gun movie 34 years after the original.
So, let's examine the most notable line of dialogue in Top Gun: Maverick, as Ed Harris addresses Tom Cruise:
"Thirty plus years of service. Combat medal, citations, only man to shoot down three enemy planes in the last 40 years. Yet, you can't get a promotion. You won't retire. And despite your best efforts, you refuse to die. You should at least be a two-star admiral by now. Yet, here you are, Captain. Why is that?"
Okay, there is a lot to unpack there. It's dialogue barely disguised as being "in character." It might as well be Ed Harris talking to Tom Cruise at some sort of career retrospective.
First, Harris brings up that Cruise has been a movie star for over 30 years – and goes on to cite some of Cruise's box office records. But, after all that, Cruise can't get to the next level. He's never stood on that Oscar stage in triumph. Cruise seems to have accepted that it will never happen, but, as Harris then points out, Cruise isn't going to retire. He's going to keep making these insane action movies.
And as we saw in Mission: Impossible – Fallout, there's Cruise doing his own HALO jump and breaking his ankle trying to do a risky jump. If we woke up one day to the news Cruise died while trying a stunt, I don't think we'd be that surprised. Which leads to Harris' line about refusing to die.
The next line, Harris is basically saying that Cruise should easily be a two-time Oscar winner by now. If Cruise had stayed on his '90s career path, there's no way that doesn't happen. Eventually, he'd get the "he's due" vote. But that's not what happened. Instead, Cruise is playing a character he played 34 years ago.
Then Cruise responds, "It's one of life's mysteries, sir."
This isn't to suggest this wasn't the career Cruise wanted. Actually, there's a good chance it's him saying that this is exactly what he wants and he doesn't care what "should have been." Maybe Harris represents "critics." But it's certainly on Cruise and, probably, writer Christopher McQuarrie's mind. At the end of the trailer we hear Harris again, "The end is inevitable, Maverick. Your kind is headed for extinction." Cruise responds, "Maybe so, sir. But not today."
My prediction is Top Gun: Maverick will be Tom Cruise's most autobiographical movie and I, for one, cannot wait.
You can contact Mike Ryan directly on Twitter.