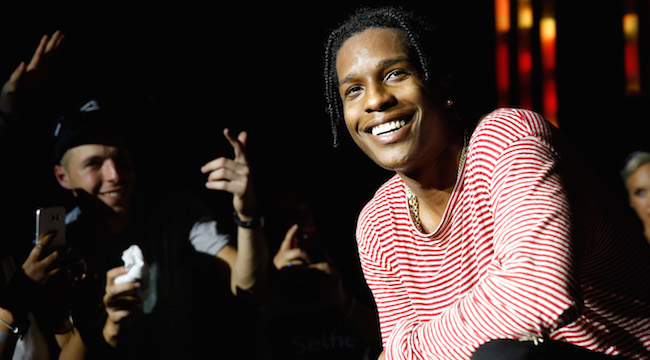 There are plenty of rappers who take over the game by flooding the airwaves with their music every chance they get, whether that's with their own material or features galore. A$AP Rocky has never gone that route.
Throughout Pretty Flacko's career, the flashy Harlem spitter has taken his time when releasing every one of his projects, whether we're talking an album or a mixtape. He's always seemed more worried more about quality over quantity, but he's a well put-together guy, so that makes sense.
Rocky's last project At. Long. Last. ASAP. dropped a year and half ago, receiving critical acclaim from most outlets for his growth and the LP's overall versatility. With such a positive reaction, fans have high expectations for Rocky's third album. Luckily, he's right on schedule and looking to raise the bar for his next release.
Over the past few days, producer Jim Jonsin and Lenny Kravitz posted pictures of themselves working on new music with the Christian Dior model himself. The tracks are apparently Rocky's, so we can safely presume him and Jonsin are looking to recreate the magic they had with "L$D." Or, Flacko is looking to turn his visibility up a notch and use Jim to deliver something closer to one of his old radio killers, like T.I.P.'s "Whatever You Like" or Lil Wayne's "Lollipop."
No matter which route they go, we're glad to see Jonsin getting work, because he's one of the most slept-on producers in the game and whatever these two cook up will be extra fresh.