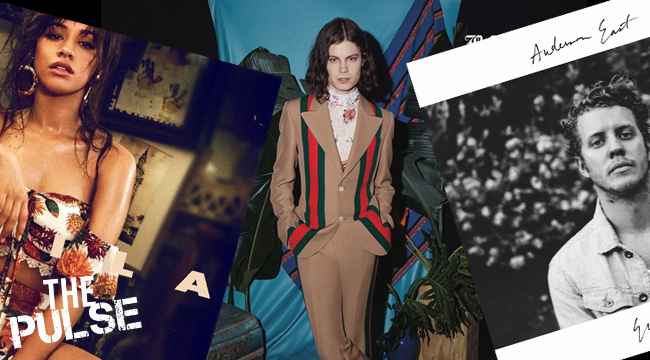 The Pulse is the Uproxx Music guide to the best new albums, mixtapes, and other music releases that matter this week.
Much like the rest of us, it usually takes a minute or two for the music world to wake back up after the holiday season. Now that we're a couple weeks deep into 2018, though, the gears of the big music machine are beginning to turn once again. This week, Camila Cabello proves that she's just fine without Fifth Harmony, and we also have new projects from members of Radiohead and Animal Collective, as well as some other fun nuggets.

Camila Cabello — Camila
It would appear that leaving Fifth Harmony to adventure out by herself has turned out pretty well for Cabello. Not only is her Young Thug-featuring "Havana" is one of the biggest songs in the world, but her debut album is now out today. Thugger is the only feature on the album, so it seems that Cabello is relishing being on her own and the independence that provides.
BØRNS — Blue Madonna
This is an exciting release for Lana Del Rey fans, since she's featured on both the title track and single "God Save Our Young Blood." BØRNS himself is worth getting worked up over, too, since he's perfectly capable of carrying a song on his own, which he's proved on exciting alternative pop cuts like "Faded Heart."

Anderson East — Encore
We previously highlighted East as a new soul act to keep an eye on, and for good reason: His brand of soul is bluesy, but with a contemporary bite that makes it fresh enough for 2018. East is an impassioned vocalist, and songs like "All On My Mind" should please fans of both Booker T. Jones and The Black Keys.
Jonny Greenwood — Phantom Thread (OST)
Believe it or not, Radiohead's Greenwood did something else in 2017 besides feud with Fox News: He provided the soundtrack for the movie Phantom Thread, and it has the broad emotional spectrum (created mainly with piano and strings) that's necessary to match a Daniel Day-Lewis performance.

Panda Bear — A Day With the Homies EP
Since we can't actually stream it, I'll let Panda Bear speak for his new vinyl-only EP:
"I hoped to make something without frills or much embellishment, principally because I've found more fluff tends to equal less power. Since the juiciest action is entirely focused in the deeper zones of the frequency spectrum (at least from where I've sat), power was key. […] My greatest hope with this stuff is for it to live like my favorite songs do, which is to say like comforts or companions."
Black Rebel Motorcycle Club — Wrong Creatures
Black Rebel Motorcycle Club has been a rock mainstay for the entirety of this century, and on their first album in five years, the group returns with a batch of songs that ought to please everybody from classic rock fans to Marilyn Manson devotees to shoegaze head-bobbers. It's a diverse record with an aesthetic that goes all over the place without ever wandering too far away from home.