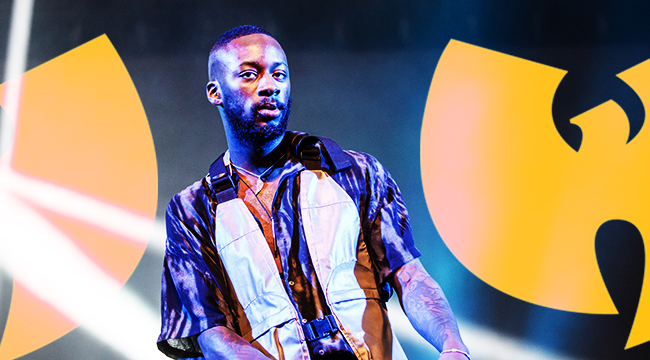 This week we got albums from favorites Megan Thee Stallion and Tyler, The Creator, who both released singles to stir anticipation for their projects. Elsewhere, Schoolboy Q released the video for "Floating" from his CrasH Talk album, while Open Mike Eagle and Father lampooned drug-fueled debauchery in the creative video for "Lit." ASAP Rocky and Ferg also released visuals for "Pups," while the City Girls celebrated a year in the game with a music video for "Careless." But here's the best of the rest that you may have missed this past week:
Goldlink, "Zulu Dreams"
Goldlink collaborated with British-Nigerian producer Maleek Berry and talented singer-songwriter Bibi Bourelly on "Zulu Dreams," a breezy track where the DMV artist tries his hand at the Afrobeats sound which has been making waves in America.
Ghostface & RZA, "On That Sh*t Again"
Wu-Tang is celebrating 25 years in hip-hop via their Mics And Men Showtime documentary and a Wu Museum pop-up shop in New York. Today they also released an EP of music inspired by Mics And Men, including "On That Sh*t Again," a song they released yesterday to stoke anticipation for the project. The track harkens to the >Wu-Tang Forever era, as Ghost and the Abbot trade bars over an ominous piano melody and churning drums.
London On Da Track Feat. G-Eazy, City Girls & Juvenile, "Throw Fits"
London On Da Track is staking his claim as a super producer to be reckoned with tracks like "Throw Fits," where he tabbed G-Eazy, City Girls and Juvenile to do exactly what the title suggests over a New Orleans bounce-inspired soundscape. They also took it down to the N.O. for the colorful, Matt Bauerschmidt co-directed video.
Jeezy, "Suge (Freestyle)"
We haven't heard from Jeezy in a while, but DaBaby's "Suge" charged the snowman enough to drop his own bars over the bouncy banger. The rest of the year could be busy for Jeezy, as he's announced joint projects with T.I. and Master P as well as his final Thug Motivation 104: Trust Ya Process album. If "Suge" is any indication, he's getting locked in for the home stretch of his career.
Young Dolph, "Crashin Out"
Memphis' Young Dolph is used to cashin' out, but now he's switching the format up a bit on his latest single. He asked his fans if they wanted to hear the single, and the answer was a resounding yes, which made him drop the song and a low frills video which shows him cruising through New York City.
Blocboy JB, "Holy Moly"
The prolific Blocboy JB kept the Memphis energy going with "Holy Moly," a trap burner in which he talks his talk with an urgent flow over skittish 808 drums.
DJ Premier Feat. Conway, Westside Gunn & Benny, "Headlines"
Generations crossed paths as iconic producer DJ Premier got with the Griselda camp for "Headlines." Primo laced a soaring string sample with neck-snapping drums ripe for Conway, Westside Gunn, and Benny The Butcher to get grimy over.
Mozzy, "Legal Guardian/Guardian Angel"
Mozzy took advantage of Mother's Day to pay homage to his Grandmother on "Legal Guardian/Guardian Angel." The Sacramento rhymer, who's prepping his Internal Affairs album, spoke for millions with heartfelt bars like, "I ain't have no momma and poppa, but you was that though," over soulful production.
Sheek Louch Feat. Havoc & Fat Joe, "New York Sh*t"
A trio of New York rap legends got together on "New York Sh*t," which may be from Sheek's upcoming Beast Mode 3 project. The three MCs ride a searing organ sample with the intensity their legion of fans have come to expect, linking The Lox, Mobb Deep, and Terror Squad in song and presenting the united front New York has needed all along.
Papoose Feat. Remy Ma, "CC"
The latest word from Remy Ma's recent assault case is that her lawyer has evidence that Britney Taylor, who accused Remy of punching her, is lying. Hopefully, that's the case, and her flute-dominated collab with her husband Papoose entitled "CC" or "Clout Chaser" can be the same kind of dodged-a-bullet anthem that Offset and Cardi B's "Clout" was.
Radamiz, "Save The Youth"
Brooklyn MC Radamiz is still on his come up, but he's concerned for the next generation on "Save The Youth," a hypnotic track that the Payday Records artist paired with a creative visual this week. He rhymes alongside Mogul Club collective partner History and Tedy Andreas, affirming "I'm livin' proof you make it when it's f*ckin time."
Connis, "Kiss The Moon"
Cambridge, MA rapper-producer Connis released the video for "Kiss The Moon" today. The smooth track is from his self-titled debut album and sees him longing for affection and loyalty in his corner. The video follows in the same pensive vibes, as he roams his native Cambridge before ending the video dancing in his room, offering a hopeful conclusion.
Kota The Friend, FOTO
Brooklyn's Kota The Friend released his debut FOTO album, a smooth 19-track offering which serves as a lyrical exhibition, soapbox for pointed social commentary, and joyous chronicle of he and his loved one's life and times in his native borough.
Jamila Woods, "BETTY (For Boogie)"
Chicago's Jamila Woods paid homage to her city's rich house culture on "BETTY," a poignant tribute to Boogie McLarin, who Woods has said introduced her to the house scene.
Some artists covered here are Warner Music artists. Uproxx is an independent subsidiary of Warner Music Group.